What to watch for: Hoosier Hysteria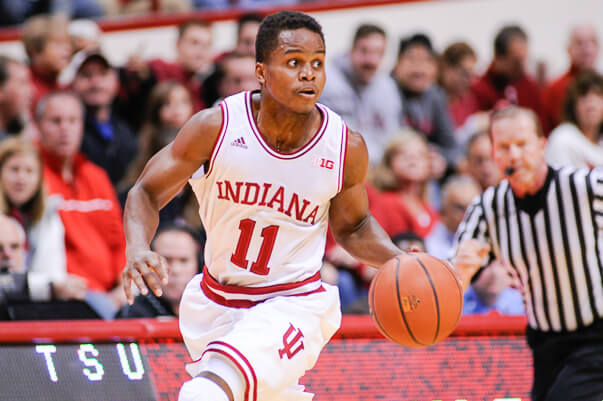 With the 2015 version of Hoosier Hysteria just a day away, here are three things to watch for on Saturday in Assembly Hall:
· Scrimmage provides first glance for fans of 2015-2016 team: Although it's not played with the intensity of a real game, the Hoosier Hysteria scrimmage is usually the most insightful part of the evening.
This year should be no different as Hysteria marks the first up-close opportunity to see the progress of returning players and also get a chance to see the incoming freshmen. Among this year's most intriguing storylines is freshman McDonald's All-American Thomas Bryant, who is expected to make a major impact this season but has been slowed down in the preseason by a sore arch in his foot. Fans are certainly excited to see Bryant for the first time in an IU uniform.
The scrimmage will also provide the opportunity to get a look at what could be the best backcourt in the Big Ten with Yogi Ferrell, Robert Johnson, Nick Zeisloft and James Blackmon Jr., who is of particular interest because of his offseason knee surgery. Blackmon Jr. is 100 percent healthy, but is still playing a bit of catch up to his teammates according to comments made by Tom Crean this preseason. With Johnson and Zeisloft, both have talked about improving their ball handling and defense this offseason. And Ferrell, who is likely to receive the largest ovation of any player when the team is introduced, takes the floor for his final Hysteria as a legitimate contender for Big Ten player of the year.
· Who wins the skills contests? Troy Williams should be the heavy favorite for the dunk contest, but as we saw last year when walk-on Nate Ritchie pulled off the upset, the favorite doesn't always win.
Assuming he participates, freshman O.G. Anunoby is more than capable of pulling off the dunks necessary to challenge Williams. Given that it's likely his final Hysteria, look for Williams to have a few tricks up his sleeve.
The shooting contest is truly wide open as Indiana boasts one of the best perimeter groups in the country. Last year's contest was won by freshman Max Hoetzel and he didn't even end up one of the six best shooters on the team percentage wise. In terms of having the best pure stroke, Zeisloft is the best in the program and should be considered a slight favorite.
· A major recruiting weekend: Hysteria is always the biggest recruiting weekend of the year in Bloomington in terms of the volume of visitors on campus and this year will be no different.
Both 2016 commitments, Curtis Jones and Grant Gelon, will be in Bloomington as will four-star target Mario Kegler. It's the final official visit for Kegler, who is also considering Arizona State, Baylor, Maryland and Mississippi State.
The list of 2017 visitors is loaded as many of the top players in Indiana are expected to attend. Among them: Southport's Paul Scruggs, North Central's Kris Wilkes and Fort Wayne Snider's Malik Williams. Aljami Durham, a 2017 guard from Georgia who holds an offer, will also be making his second visit to campus as will Stevenson, Illinois wing Justin Smith.
In the class of 2018, New Albany's Romeo Langford, McCutcheon's Robert Phinisee and Lawrence North's Kevin Easley are all expected to attend. All three players have IU offers. Other 2018 names of note include Austin Boucher of Ft. Wayne Southside, Damezi Anderson of South Bend Riley, Musa Jallow of Bloomington North and Torrence Watson, a guard out of St. Louis.
There will be several 2019 prospects in attendance as well, including Keion Brooks of Fort Wayne Northside, Chase Jackson of Center Grove and Sydney Curry of Bishop Luers.
Filed to: Hoosier Hysteria