Hoosier Hysteria to be first college sporting event broadcast in virtual reality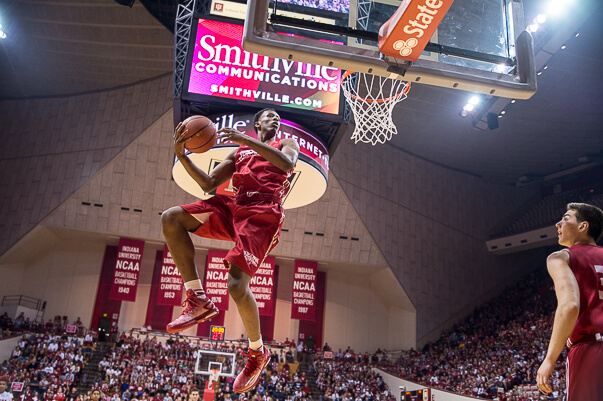 In June, Indiana athletics announced it received a gift of $5 million from Mark Cuban to create a "first-of-its-kind, cutting-edge, student-focused video, broadcasting and technology center."
The Cuban Center is scheduled to be become fully operational in the spring of 2017 in conjunction with renovations to Assembly Hall.
But this Saturday at Hoosier Hysteria, IU basketball fans will get their first opportunity for a hands on experience with some of the technology that will be prominent in the center, which is expected to have a major impact on sports media, broadcasting and analytics on campus.
Inside the Hall has learned that Hoosier Hysteria will be the first athletic event ever on a college campus to be broadcast in virtual reality.
There will be five Samsung GearVR stations set up at the north end of Assembly Hall beginning at 6 p.m. in which fans will be able to put on headsets and be able to experience what it's like to be on the floor in a fully immersive experience.
The experience will only be available to fans in attendance.
It will be recorded so that both the men's and women's program can use it in the future for recruiting purposes. The production is being handled by the Cuban Center in partnership with BigLook360.
Doors open on Saturday at 5 p.m. ET with the IU women's team taking the court at 6:30 p.m. ET.
IU graduate and E! News personality Catt Sadler will emcee this year's event. Admission is free, but fans are encouraged to bring a canned good and donate it to the Hoosier Hills Food Bank.
Filed to: Hoosier Hysteria