Hoosier Hysteria streaming details, other event details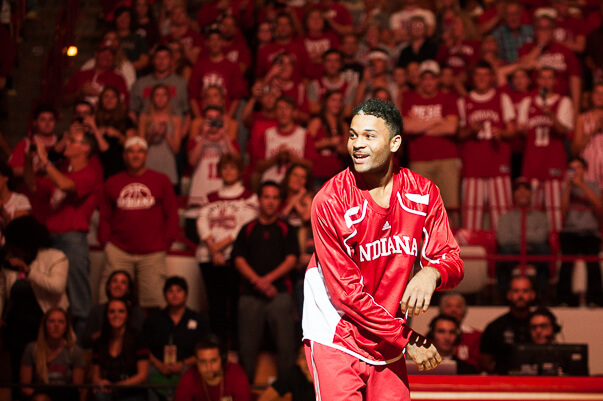 Hoosier Hysteria, the annual tip-off to the Indiana basketball season, takes place this Saturday in Bloomington as Assembly Hall doors will open at 5 p.m. ET with the event beginning at 6:30 p.m. ET.
If you're unable to make it to Assembly Hall, the Big Ten Network will be providing digital coverage via its streaming service, BTN Plus.
BTN Plus already has a page set up for Hysteria, which also has links to sign up for service in order to watch the event. The broadcast will begin at 6:25 p.m. ET and will be student produced.
"The quality of the streams have improved dramatically," IU associate athletic director for strategic communications and fan experience Jeremy Gray said Tuesday. "IU, as manifested by being the first school to broadcast live, directly on national television with an all-student crew and student broadcasters, has made a huge leap in the quality of their streams."
Fans can access the stream via a BTN Plus subscription, which is offered in two packages: school-specific or conference. The school-specific pass is $9.95 monthly or $79.95 annually and the conference pass is $14.95 monthly or $119.95 annually.
A subscription to BTN Plus is not included with a subscription to Big Ten Network.
Indiana's two exhibition games — Tuesday, Nov. 3 vs. Ottawa and Monday, Nov. 9 vs. Bellarmine — will also be broadcast on BTN Plus as well as the season opener on Friday, Nov. 13 vs. Eastern Illinois and a Monday, Dec. 9 meeting with IPFW.
Other Hysteria details
E! News personality, Martinsville native and IU graduate Catt Sadler will host Hysteria, according to a press release issued earlier this month by IU media relations.
Sadler currently serves as the co-anchor of "E! News Weekend," can be seen hosting "E! News," and is also a regular panelist on "Live From E!".
Here are a few other details on Saturday's festivities:
· Fans should enter Assembly Hall using the north entrance and the side stairwell entrances, which were previously closed. The south entrance of Assembly Hall is closed due to construction.
· Hoosier Hysteria will include skits, skill contests, scrimmages and autographs.
· Parking is free in and around Assembly Hall and Memorial Stadium and fans are encouraged to come early and tailgate.
· Admission is free but fans are encouraged to bring a canned food item and donate it to Hoosier Hills Food Bank.
· The men's team will sign autographs for an hour after the event in the Assembly Hall concourse. The Hoosiers will sign one item per person which includes a basketball, or calendar poster from the IU Varsity shop. Otherwise a card will be issued for the fan to obtain signatures. No outside products will be signed.
Filed to: Catt Sadler, Hoosier Hysteria