Johnson determined to build consistency in sophomore season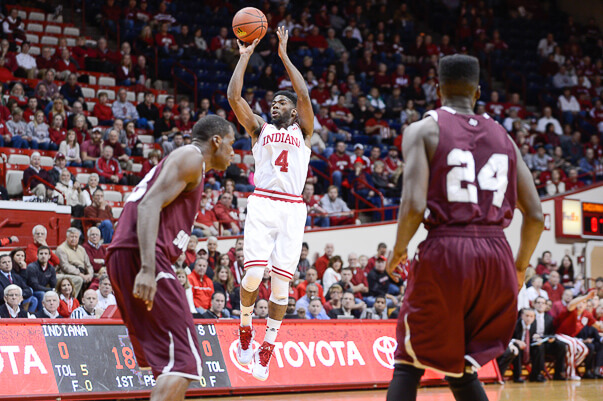 The freshman guard play in last season's Big Ten was exceptional. The conference welcomed three McDonald's All-Americans and several other players who made instant impacts.
Ohio State's D'Angelo Russell was the second pick in last June's NBA draft. Maryland's Melo Trimble led a turnaround season for the Terps in College Park. James Blackmon Jr. scored the third most points ever by an Indiana freshman.
One of the other newcomers who made a strong first impression in the Big Ten but who isn't talked about as often is Robert Johnson.
The 6-foot-3 guard from Richmond, Virginia started 33 of IU's 34 games and shot nearly 39 percent from behind the 3-point line last season. But Johnson, who arrived in Bloomington with a national reputation as one of the best shooters in the 2014 class, spent a lot of the offseason looking to strengthen what was already a very capable part of his game: his shot.
"I think it's amazing that he shot 39 percent and he's still willing to change and they think he can get better at it," Ryan Marable, who coached Johnson at Benedictine College Preparatory Academy in Richmond, told Inside the Hall. "He's so mature. Even as a young kid when I had him as a sixth grader to a senior in high school, his maturity really allowed him to really take the good and the bad away from his freshman season at Indiana."
During his press conference on Thursday, Tom Crean talked at length about what he expects from Johnson as he begins his sophomore season. Decision making, better speed with the ball, defense, playing better without the ball and getting the ball up the court more quickly were all mentioned.
But Crean also talked about some of the changes Johnson made this offseason with his shooting.
"He was a guy who I didn't think shot nearly as good as he's capable of shooting," Crean said. "He's made a lot of strides in his improvement of shooting, especially the way he lands because he's a jump shooter, and a lot of times jump shooters have a tough landing spot. He's really worked on landing in the right place, which is really just a little bit forward."
Marable, who spent time in the gym with Johnson this offseason in Richmond, said that he's hopeful that more attention to detail will help his former player this season.
"I think he's kind of simplifying his shot, like coach Crean talked about," Marable explained. "I was just really impressed with the consistency of his shooting (this summer). We shot a lot and he's always been a good shooter, but kind of a streaky shooter.
"And a lot of that has always been consistency with getting underneath the ball and with his arc. Even in certain games, I could tell if he was going to make or miss a shot just because of the trajectory of the ball. I think he's gotten that really consistent and he's getting his legs underneath him."
Marable, who watched almost every Indiana game last season and attended a few in person, believes consistently landing in the same spot is important for any shooter.
"He's still a jump shooter, but he's paying a lot of attention to detail and there's less wasted motion in his shot," he said. "When you're a jump shooter, sometimes your legs affect where your shoulders go and I think landing in the same spot will keep his shoulders squared to the basket."
In offseason comments, Crean has stated that he expects Indiana to play even faster this season.
The Hoosiers, who return nearly every notable piece from the Big Ten's third best offense, should be well equipped to take advantage of the offseason rule change to a 30-second shot clock.
Continued improvement in terms of fundamentals is something that sounds as if it was a major focus of Johnson's individual workouts.
"We work a lot on both feet, work off both hands, drop both shoulders, all those types of things," Crean said. "In that case, being better with his left hand is going to be big, but being able to decipher situations, concepts, decision-making at an even faster pace, if that makes sense. Also having him be able to play equally as well without the ball so he can get into situations where he's going to get easier shots."
It's also no secret that Indiana needs to make major strides defensively if it hopes to meet expectations that have the Hoosiers in several preseason top 15 rankings.
Like most freshmen, Johnson had his ups and downs in that area last season. Crean said Thursday that Johnson has "just got to be an absolute terror on defense."
As a high school coach who has watched several players transition to college, Marable isn't surprised that there's still plenty of work for Johnson to do on that end.
"I think defensively, any freshman struggles," he said. "We harped on defense as a program in high school. He played great defense and a lot of times he was guarding the best player on the other team. But as you know, the best player on the other team in high school isn't Dez Wells.
"The experience of just playing against those guys every day and knowing how he can guard certain guys now, I think he'll be able to take what he learned last year and be able to guard longer. He showed some flashes, but I think he'll be able to do it more consistently."
Filed to: Robert Johnson