Q & A: Coach recaps De'Ron Davis official visit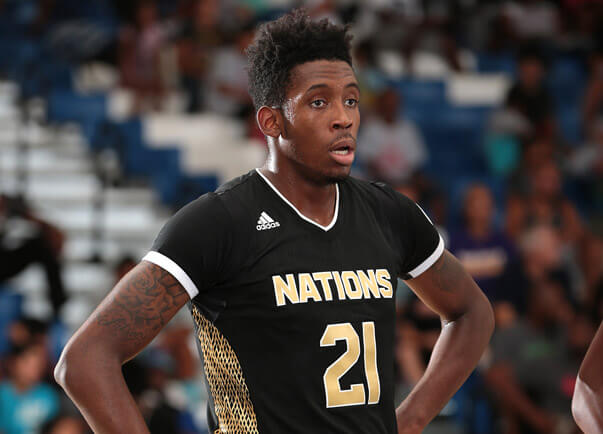 Class of 2016 Overland, Colorado power forward De'Ron Davis took his official visit to Indiana this past weekend and Inside the Hall spoke at length with his high school coach, Danny Fisher, about the trip on Monday morning.
In our conversation, Fisher addressed several topics including the takeaways from the visit, which schools are standing out in his recruitment, a timeline for a decision and much more. The full Q & A is below:
Inside the Hall: From your perspective after talking to him and his mom, what are the takeaways from his time in Bloomington and what did he think of the visit?
Danny Fisher: I think he really enjoyed it. They continue to impress and I think this visit was more about fact checking for him. That's what a lot of these will be after the in-home visits. Everybody says how great they are, but once you're on their campus you really get a chance to see. I thought that everything that Indiana talked about in the in-home visit, he seemed to have an opportunity to confirm. Things like style of play, their strength coach and his ability and intensity, the high level of energy around the campus and in some senses, just to get a feel around the campus. What kind of vibe is going on around the campus? He kind of got a really good feel for that. I think it was fact checking and further confirmation that Indiana is going to be a great option if that's what he goes with.
ITH: I saw him play for the first time back in 2012 in Indianapolis and he was already getting offers back at that time. Indiana was the first school to offer. How big is it for Indiana the time they've put in with him? It seems like he's their guy they really want to get. Does he feel like he's their priority?
Fisher: Most definitely. I think that's going to matter a lot, honestly. I think that will carry some weight because as we all know, it's been well documented that De'Ron has been through some ups and downs as he's developed. He's struggled with his weight a little bit. Some teams have been hot and cold as he started to gain weight and look a little lazy. Some teams backed off a little bit. Indiana has been there the entire time. So I think that matters. That's going to have some weight for sure.
ITH: He's got two other visits set up to Arizona and Mississippi State. Is he going to add any others besides those or is the plan right now just to do the three?
Fisher: I think those are his top three for sure. He may have four, but we're trying not to waste anybody's time and resources. He kind of has honed in on those three. As of right now, those may be it.
ITH: The question most fans will have is whether it's a bad sign that IU didn't get the last visit or that he didn't commit on the visit. Is it fair to say the timing of the visits doesn't have much to do with which way things are heading?
Fisher: It's definitely fair to say. I think Indiana's approach has been to be the first the entire process. They were the first offer, they were the first to recruit him heavily. They were the first to do their in-home visit and they were first to do their campus visit. I understand why people think that they should have been last because that leaves the final impression, but De'Ron is a pretty mature kid and he wants to go through the entire process and make sure he's thorough in going about it. That's why there are two visits remaining. He just wants to see how everything stacks up. I don't think that's going to affect Indiana at all.
ITH: From your perspective going through this process with him, what's the toughest part for him? He's got these schools telling him a lot of the same things. When he's going through it, what's the toughest thing for him to figure out?
Fisher: I think more than anything, it's hard to tell who is being honest and who is kind of blowing smoke. All of these guys are very high level coaches and they're also really good salesmen. They do this for a living. It's kind of hard to tell what is real and what is not. Some of these campus visits kind of help get through that and being able to fact check is big. I just think for a young guy, being able to tell what is real and what's not is difficult. There's certain things that all of them say. Those things are sometimes hard to get through but you've got to get an idea of what fits you well and get through it.
ITH: What's the plan that Indiana has laid out for how they'd use him? How do they envision him fitting in?
Fisher: I think their style of play, they really allow their four man in particular to be fairly versatile and their five, honestly. But they allow their four to be versatile with trailing the play sometimes and getting jump shots and attack opportunities. A lot of opportunity to score and play on the baseline, to face up, to pop off the block. There are some opportunities when they're switching screens, their four man has to switch and guard a wing player sometimes. I think it's pretty consistent with their style of play where De'Ron's strengths kind of fit and how they're telling him he will be used. It seems to be a really good fit for his skill set.
ITH: Is it looking like after these visits are done, he'll be looking to get this done early or do you see this going to the spring?
Fisher: I really don't think he wants to take this to the spring. If he decides that is best, I would understand it, but in a sense, he has a lot to lose if he waits that long because these guys still have to get their guy. And when you wait on a kid until the spring, it's tough to not keep recruiting hard. I think he's going to want to get it done early. He's honed in on the schools that have done the best job and seem to fit him the best. I think he'll be ready after these three visits to kind of hone in on who his top school is going to be.
Filed to: Deron Davis