De'Ron Davis talks IU in-home visit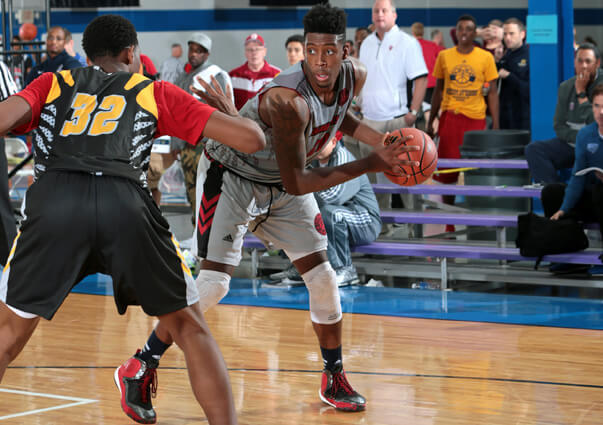 Indiana was the first school to offer De'Ron Davis a scholarship in July 2012. As his recruitment begins to wind down, the Hoosiers remain in heavy pursuit.
The 6-foot-9 forward began hosting schools for in-home visits this week and the Hoosiers were in to see him on Wednesday, the first day coaches could visit prospects this fall.
"It went good," Davis told Inside the Hall on Thursday. "They told me the same stuff they've been telling me for a while. It was really just for them to see my mom for the first time, talk to the coaches, just getting familiar with how they would use me and stuff like that."
It's not hard to see why Davis remains at or near the top of IU's wish list for the class of 2016.
As a junior at Overland High School in Aurora, Colorado, he led the school to its first ever state title while averaging 16.3 points, 11.3 rebounds and 5.1 blocks per game.
Indiana has remained involved in his recruitment for more than three years now and was among a list of three schools he announced near the end of July that also included Arizona and Texas. Davis said on Thursday that he's also now considering Arkansas, Mississippi State and UConn.
"The three schools I added, they're all going to be on TV a lot and the relationships I've built with those coaches, along with the first three, are very special," he explained. "Each one of those schools can help develop me and take me to where I want to go."
The next step following the in-home visits with all six schools will be figuring out a final five and then scheduling official visits.
"The official visits are probably going to be my top five after I eliminate one school," Davis said. "And then after all of the home visits, I'm probably going to make an order for when I'll be taking my official visits."
Indiana has yet to announce a date for this year's Hoosier Hysteria, which is usually one of its biggest recruiting weekends of the year. Is a Hysteria visit appealing to Davis, if the dates work out?
"Yeah, I'd be open to a visit (for Hysteria)," he said. "They really haven't said anything about it. I think my coach is going to put some dates together after all of the home visits."
The other question, of course, is whether an expanded list is an unfavorable development for the finalists he previously announced.
According to Davis, Indiana remains firmly in the mix.
"Indiana, they've been there for just as long as Arkansas, probably even longer," he said. "They were my first offer. Where I stand with Indiana, that's not going anywhere. Adding schools is just giving me a better look. I don't want to narrow it too early. I thought I was pushing it too fast."
Filed to: Deron Davis