Q & A: Grant Gelon talks Indiana commitment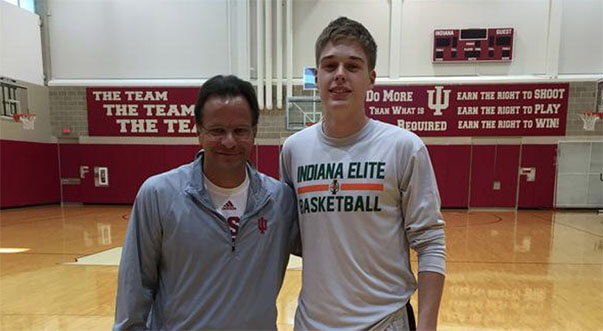 Crown Point wing Grant Gelon became the first member of Indiana's 2016 recruiting class last week when he committed to the program on an unofficial visit to Bloomington.
Inside the Hall spoke at length with Gelon earlier this week and touched on a variety of topics, including why he decided to commit shortly after being offered, the role he envisions for himself at Indiana, whether he grew up a fan of the program and much more. Our full Q & A is available after the jump:
Inside the Hall: Going into your visit, what were you hoping to get out of it? What was the thought process going into the visit?
Grant Gelon: "Going in, I kind of had a little bit of a hope that maybe they would offer. I even told my parents on the way down there, I told them if they make an offer, I really think I might want to take it. They said, 'well, let's hold on, let's not make any decisions right away.' And I was like, 'well, you guys know how I feel.'
"So we got in there and they offered, we talked about it for a little bit, it didn't take long and I committed. Going into the visit, I kind of knew what I wanted, but I was just really hoping to strengthen our relationship a little bit more with the coaches and coach (Tom) Crean. My sister is already going down there (to school), so I have a pretty good layout of the campus. Going around and seeing the campus was good.
"Leaving, being committed, it was unreal. It was great."
ITH: As far as how your recruitment played out, I think one of the questions that most people are asking is about the rankings. They see those and you're not ranked and Indiana was really your first high major offer. Is this a case of you coming on strong this summer and drawing attention from that? How do you feel like Indiana really became involved and got a chance to see you?
Gelon: "I'd never really been on the high level AAU teams. This is the first summer I'd ever been on with Indiana Elite. And I played great. Not that I played over the top or exceeded anything in terms of my capabilities, I know what I can do and I was doing it all summer long. I even made the comment to my mom, who goes to a bunch of all of my AAU games. I even told her, 'I got a call from a coach who said I played great.' And I said to her, 'I don't even think I played that well, it wasn't one of my better games and I was still kind of turning heads.'
"I know what I can do and the rankings, the players on my team that were all ranked told me not to pay attention to any of that and I didn't. It doesn't mean anything to me. I know what I can do as a player and who I am as a player. You put me up against any of them and I proved in Vegas that I can play with the best of them. That has no effect on me and my capabilities as a player."
ITH: Growing up, how much did you follow Indiana?
Gelon: "A lot. I'm an Indiana guy. They were never my favorite team growing up, but they were always up there. I loved watching them. I have to stay true and say that Duke was my favorite team growing up. I love Jon Scheyer and that era of basketball with Duke. And I just fell in love with them.
"But IU, the candy stripes, the legacies, I love it, everything. Bobby Knight, the whole thing. Assembly Hall is the Taj Mahal to me of gyms and I'm just going to love it there. I'm so excited."
ITH: As far as your role at the next level, there have been comparisons thrown out to a guy like Matt Roth or Nick Zeisloft or even Jordan Hulls. Obviously he's more of a point guard, but are any of those comparisons valid and what kind of role do you envision yourself playing at the next level?
Gelon: "I've always really tried to compare myself to Jon Scheyer. And my dad also thinks that I resemble Nik Stauskas a lot from Michigan. And I do aspire to be a lot like those players. I shoot the 3, that's what I'm known for, but I can also do a lot of other things.
"With the coaching staff and the 24/7 access, I'm just going to be putting in so much work. And I know that I'm not even close to the peak of my potential as a player. And I'm really excited to find out out how good I can be and I know I'm in good hands with IU and they're going to push me. I can't wait to get started."
ITH: What are the things the staff has told you they want you to work on between now and the time you arrive on campus?
Gelon: "My defense and doing more on the offensive end, not just shooting the ball, but getting to the rim, drawing fouls. They want me to work on my strength, getting bigger, all of that. I've got a lot of work to do, but I'm excited and I'm going to put all of my eggs in one basket, go all in and we're going to get it done."
ITH: Have you thought about what you want to study in college?
Gelon: "I really have a passion for aviation and flying. I know that's not offered, but that's something I was interested in. Other than that, I really have no preference. I'll find something. Obviously Indiana has so many great programs. I'm just going to have to figure that out, get together with some advisors and figure out what to do. But I'm pretty undecided."
ITH: With AAU winding down and the high school season a few months away, what's your mindset going into the season and what do you want to accomplish?
Gelon: "I just want to get better as a player. Really want to put in a lot of work and get ready for college. I want to have a good season with my teammates and finish out strong. We made it to the regional championship last year and there's no reason we can't get back there this year and hopefully win that regional and get to semi-state, which would be a dream come true for us.
"The group of kids that I play with, we'll have five seniors and we've been playing together since fifth grade. It's always been a dream of ours to get there and last year we came so close. Hopefully this year we can break through and get there."
ITH: I know "The Region" isn't exactly IU country, but what's been the reaction from your friends and people in the area that you're going to Indiana?
Gelon: "Everybody is so happy. A lot of kids from my school, they go to IU. My sister is down there and a lot of kids from her class and last year's class went there. It's really a big deal in our community. Everybody is just so happy for me. Some can't believe it, I can believe it because I was out there doing the work. It's really a dream come true and everybody is so happy for me."
Filed to: Grant Gelon