The Inside the Hall Mailbag: August 18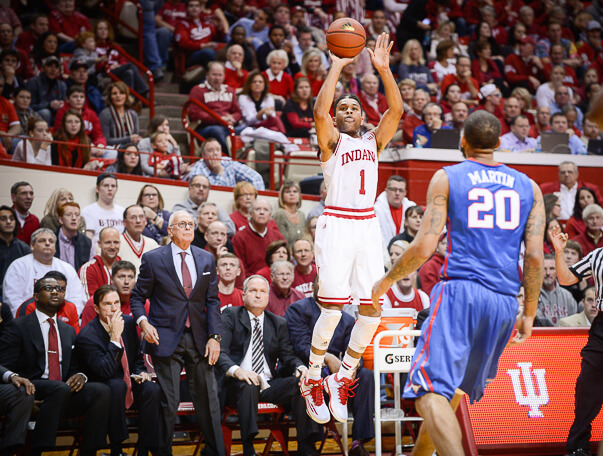 The Inside the Hall Mailbag is a collection of questions tweeted to us via Twitter (@insidethehall), via email, submitted on our premium forum and sent to us via our Facebook page. Submit your questions and we'll answer as many as we can.
@schwartz_chris on Twitter writes: What impact does @adidas announcement have on recruiting?
As I wrote on Twitter last night, my stance on the apparel deal situation is this: IU had to go with the deal that served it best financially. It appears that adidas was that option.
There's been some fans who have been very vocal about the program moving to Under Armour or Nike because they prefer that brand of apparel or they believe that kids like it better, but I don't necessarily agree that staying with adidas will hurt IU's recruiting because it hasn't up to this point. Specifically for basketball, IU has landed a McDonald's All-American for five straight years. No other Big Ten program can say that.
And when you dig into where the players are coming from, three of them are from adidas AAU programs (Cody Zeller, Yogi Ferrell, Noah Vonleh) and two were from Nike (James Blackmon Jr. and Thomas Bryant). Additionally, IU has Troy Williams and Robert Johnson in its program, both of whom played for Nike sponsored programs. Can shoe relationships help in some situations? Sure. But I think IU, just like schools like UCLA, Kansas and Louisville who are all adidas programs, can continue to recruit well regardless of an apparel affiliation. – Alex Bozich
dmacer1227 on the premium forum writes: What do you think was CTC's thought process behind the scholly offer to Grant Gelon?
It's no secret that Indiana needs a large recruiting class for 2016. There are going to be at least four scholarship openings and more likely, this class is going to be five or six players depending on which players decide to leave early.
Tom Crean probably looked at the success of a player like Nick Zeisloft – a knockdown shooter – and he believes that Gelon can fill a similar role. Looking back to when Zeisloft committed, that news was met with plenty of doubt by many and it ended up turning out as a positive for the program.
Indiana's offense needs 3-point shooting to be successful and that's what Gelon brings. Whether he works out like Zeisloft has so far remains to be seen, but he's likely going to be a role player. He also will not be the centerpiece of this recruiting class for IU, either, but if you're adding an elite shooter as your fifth or sixth best recruit in a class, that's not a bad thing. – Alex Bozich
TomJameson on the premium forum writes: Leaving everything else about IU basketball out of the discussion, do you think Coach Crean and staff are unduly criticized by the fan base for their recruiting? I realize that there have been recruits that haven't worked out, and some that he may have "missed". But it seems like Coach Crean gets a lot of criticism from fans when a recruit like Nick Zeisloft, and now Grant Gelon accept a scholarship. To me it seems like CTC has a pretty darn good recruiting record … so when does/should his track record give him a "bye" with the fan base?
Crean will get more of a "bye" with part of the fanbase when he leads the program on a deeper NCAA tournament run than the Sweet 16. Winning big will earn him more of a pass with the fans who question whether he's the right person for the job. It's that cut and dry.
As for whether the criticism on recruiting is warranted, it comes with the territory of being a coach in major college athletics. There are always going to be recruits who don't work out and recruits that are missed on. That's not just an Indiana thing, it happens everywhere. I firmly believe that criticism of Crean comes down to the fact that he hasn't taken Indiana deeper in the tournament and really has nothing to do with recruiting itself. – Alex Bozich
Zachary Farmer on Facebook writes: When do you see the B10 schedule coming out? I remember last year and the year before it came out around this time of the year.
Last year, the Big Ten schedule came out on August 21 and I believe it was out at a similar time the year before, so I would look for it in the coming days and at the latest, by the end of the month.
Once that's out, I would expect we'll see IU's finalized schedule for next season shortly after. – Alex Bozich
mcoghlan on the premium forum writes: Who do you think will lead the team in each major stat?
Points – Yogi Ferrell. Assists – Yogi Ferrell. Rebounds – Thomas Bryant. Easy enough, right? – Alex Bozich
madweber on the premium forum writes: There are several things that will drive our success this upcoming season – ability to defend at a higher level, assimilating 5 new players to the roster, distributing minutes across the talent we have, moving from a perimeter-oriented team to having a threat in the post, and many more. What is your biggest question mark heading into this season?
Defense has to be the biggest question mark. And until IU gets into the meat of the Big Ten schedule, it's not going to be clear how much the defense has improved. There will obviously be tests in the non-conference portion of the schedule, but conference play is when we'll have a much better handle on it.
IU's defense last season was poor and that may be putting it nicely. It was a theme all season long, it's been discussed countless times here, but the real question is: What is going to change that will significantly improve the defense?
It has to start with individual accountability and the bench may need to be used as a motivator. More experience and the addition of Thomas Bryant are only going to yield so much in terms of improvement. Players and coaches both have to make it more of a focus because ultimately, an elite offense is only going to take things so far. Indiana is going to have games where it shoots the lights out and wins because of its offense, but when hot shooting isn't there to fall back on, will it be able to grind out wins? It couldn't last year and it's up to the players and coaches to change that this season. – Alex Bozich
GloryDazeIU on the premium forum writes: There hasn't been much information about Grant Gelon before or even after his commitment, but it seems like the obvious appeal is his outstanding shooting ability. It appears that Coach Crean has specifically recruited superior shooters, even those with low rankings from scouting services, over the last two seasons. Do you think this is the result of the style of play Coach Crean prefers or are these players being under recruited?
When Crean has had an elite offense, he's had great shooting from the perimeter. Two season ago, IU was an average shooting team and it struggled to score. Last season, the Hoosiers lit it up from distance and had a top 10 offense nationally.
We won't know if Gelon was under recruited or if he was a reach until his career pans out, but it's clear that IU prioritizes shooting when it recruits. – Alex Bozich
Justin Harper on Facebook writes: With Blackmon being injured for a good part of the off season, do you feel it will have a bearing on whether or not he declares for the NBA draft after this season?
Blackmon Jr. is expected to be 100 percent for the start of practice, so unless there's a setback, I would not expect the injury to have any bearing on whether he declares for the NBA draft after the season.
If he's going to leave school early, he's going to need to prove he can play both guard spots and show major improvement on the defensive end. NBA teams are going to be focused on both of those facets of his game when evaluating how he plays this season. He's obviously an elite scorer and a good (but not great) athlete, but to stick at the next level, or even make it, being able to play the point and defend at a much higher level are two things he must show. – Alex Bozich
Yale in Chicago via email writes: Despite Eric Gordon being a top 5 ranked high school player and having a solid one season at IU, his NBA career has been disappointing. Injuries and any consistency have been an issue. Vic Oladipo had barely any hype as a recruit minus his athleticism. He couldn't dribble or shoot, but obviously worked his tail off to improve. Safe to say he's in store for a much better NBA career than Gordon after two seasons?
Injuries have definitely derailed Gordon's career, as you mentioned. Before his injuries, he was one of the better young guards in the NBA. He rebounded a bit late last season, but was still viewed as one of the worst contracts in the league by many given his production and salary of over $14 million. He's still young enough (26) to continue to be productive for a long time, but he's certainly not viewed in the same regard as some of his counterparts in the 2008 draft like Derrick Rose, Russell Westbrook or Kevin Love.
Oladipo seems to be on track to have a very successful career, but must stay healthy and continue to improve his perimeter game to work his way into the upper echelon of the league. He's clearly viewed as a player on the rise and his recent inclusion in the USA Basketball mini-camp in Las Vegas proves that. – Alex Bozich
Filed to: Twitter Mailbag