Transcript: Tom Crean on Maui Invitational conference call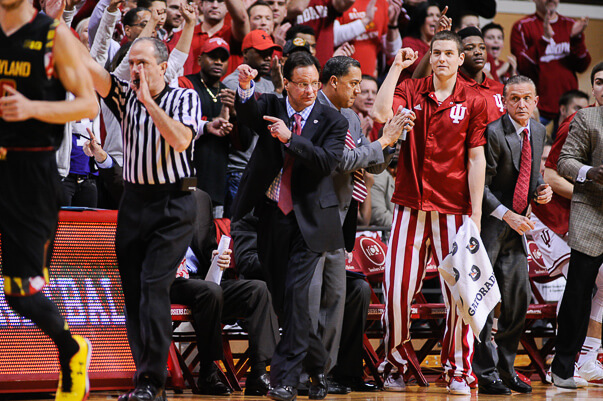 Indiana coach Tom Crean addressed the media earlier this afternoon on a conference call to discuss the 2015 Maui Jim Maui Invitational.
Read a full transcript of Crean's remarks from the call after the jump:
How does Thomas Bryant change and make your team better?
Well, in a lot of different ways. The one area statistically that I think will change is our field goal percentage defense because now we're going to be a little bit better at the rim, which is going to enable us to get out and pressure the ball a little bit more. We didn't block shots very well last year. I think we blocked a shot about one out of every 23, 24 possessions. A team like Kentucky blocked a shot one out of every 11 or 12. You've got to have rim protection, so right away he brings that. He moves his feet pretty well. He's really working hard to get down and understand what he's got to be able to do in the short space as far as two things at once, three things at once, defending the ball, defending in help and then getting back and rotating. He's learning those things. But he's really going to affect us offensively, too. Because he demands the ball in the post with his body and he's getting stronger. His squat went up in six weeks. It went up almost 100 pounds when we tested today. So that's a good sign. There's a guy that really, really understands that he's got to get stronger. He can score. He's an emerging shooter and a guy that's going to be able to not only shoot catch-and-shoot 3s, but a guy that's going to be able to shoot it off the move. We're going to be able to do a lot of things in the ball screen with him, and eventually—I don't know if it will be by November—but it will eventually lead with him handling the ball in the ball screen. But we're excited about him and he's got an infectious energy on his teammates.
I think you've been here a couple times before. If you could remind me of those occasions and just what you remember from those experiences and how they kind of helped your team be ready for the season.
I've been there a couple of times, actually. The one unique one was we were there in 2007—our last year at Marquette. And we played Chaminade and we played Oklahoma State and then we played Duke in the finals. I think we ended up losing the game by…I think it was three or four. It was maybe three. We came down with a chance to tie it at the very end of the game. It was an incredible game. An incredible atmosphere. And then the next year we came back and we opened up with Notre Dame and proceeded to get beat by 38 with our Indiana team that had really been left in a tough spot and we were really starting over with a new group of scholarship guys and walk-on guys. We ended up beating Chaminade by two in the 7th-8th place game, and it was like we were going to the Final Four. That's how exciting that win was for us. So we've seen it on both accounts. There's no question that the year we played at Marquette, it helped propel us to a lot of good things inside of that season to prepare us for the Big East. And in 2008, it was just a little different because we had a whole new team. So we had to learn on the fly, but I do remember this. I do remember sending our team back out to watch North Carolina warm up and play because I wanted them to see at that point at the tournament, this is what it really looks like. So when you're building a team, you want them to see all those different examples of what championship success looks like. And I remember that. But it's an incredible tournament and an unreal honor for us as a team and a staff and certainly a University and a fan base to be a part of it.
How much does this offer you as a coach a chance to look at this team and get a good early gauge for what they're strengths are, what needs to improve. That sort of thing.
Well, I think it starts right off the bat with Wake Forest. They've got their five leading scorers back. They were in the top five in the ACC at getting to the free-throw line. They bring back balance. Danny (Manning) is an excellent coach. He's getting ready to start his second year, so he's got a full year with them under his belt now. And so I think it's a great gauge. We've got to have a mindset that we're always going to be hunting. Indiana is always going to be a destination game for whoever's playing it. That's just the way that it is. And it's been that way for decades and decades and decades and it will be that way forever because of what's been done at Indiana in the past. But for us, we can't look at it like that. We've got to look at it as we've got to be on the hunt constantly. The chip on our shoulder is we've got to be tougher. We've got to be better defensively. We've got to be committed to moving the ball. We've got to be able to play through lulls and successes. I think when you've got a chance to play three games in three days like this with the completion level that it is, it just force feeds that right into you. I think that will be great for us to prepare for, great for us to deal with when we're going through it, and then invaluable to us after we're done.
What kind of benefit will it be to make a more experienced team to Maui this time around?
It's different. There's no question when you go to Maui, it's a different level because of the ambiance, and you want them to enjoy that. But what this team has done in the past, even when we went to Montreal last summer, which gives us maybe the closest view of what it's like to enjoy yourself, bond as a team, but when it's really time to get to work in the film room or on the practice court, and certainly in the games, you do it. You know how to turn that switch on. And I think for us, we have some experience coming back, but we have very little experience on the front line. (Michigan transfer) Max Bielfeldt has certainly has played college basketball and is going to get better and better for us. But in the case of Thomas Bryant, Juwan Morgan and OG Anunoby, those guys are brand new to it. Judging on their summer, all four of those guys are going to be impact factors on our team if we're going to have as good a team as we can have because we truly want to get ourselves to a point where we're two-deep at everything that we do on the court. So it will be different. It will be the first trip for them, but I know we have very good leadership that can help them understand what it means to lock into the films and make that preparation time important and at the same time, as a coaching staff we'll be cognizant in making sure that we have a good time. Because you're fortunate if you get to go to Maui once in your life. If you get to go to it as a coach, you never take it for granted, but you also know that these players may never get back to an environment like this and you want them to be able to enjoy it and remember it for the rest of their lives in a very positive way.
Given the talent that you have returning, how important is it to have quality opponents in consecutive days this early in November?
Oh, I think it's great. I really do. When you can get back-to-back experience, it prepares you for a lot, and you rarely get it before obviously with conference tournament play. But if you can get back-to-back-to-back, that's awesome. It's just absolutely tremendous. We've got to get creative in what we do practice-wise and how we stage it to give ourselves any sense of getting ready for that. Because obviously with the time change and being in Maui and the atmosphere, you're never going to replicate that back in the United States. You've got to do everything you can do to a point where they can play their highest level.
Filed to: 2015 Maui Invitational, Tom Crean