2017 guard Matt Coleman talks Oak Hill move, IU offer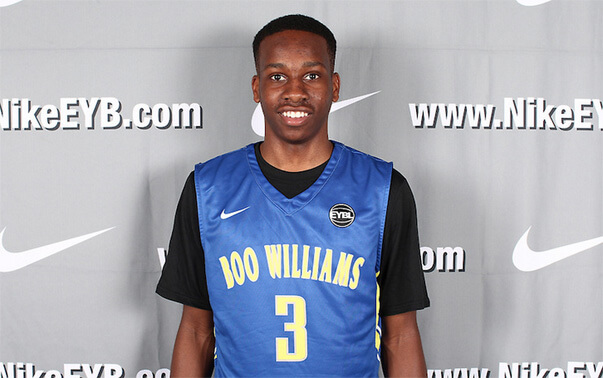 LOUISVILLE, Ky. – Yogi Ferrell's four-year reign as Indiana's point guard will end at the conclusion of this season and the Hoosier coaching staff is making that position a priority in upcoming recruiting classes.
One name that has surfaced this summer is class of 2017 Oak Hill Academy's (Va.) Matt Coleman, who is rated as the No. 28 player nationally in the 247Composite.
The 6-foot-1 Coleman previously starred at Maury High School, but opted to transfer to Oak Hill for his final two prep seasons. Before he made the move, he said he consulted with current IU forward Troy Williams, who transferred to Oak Hill from Phoebus in 2012.
"It's just about playing every day in practice with the competitive, high level guys," Coleman said on Thursday at the AAU Super Showcase, where he's playing for Boo Williams. "Just playing that national schedule. I talked to Troy. He was like, 'you might not like it at first, but during the season it's very fun. Something to get used to, it's a learning and growing experience.'"
Indiana has been active in watching Coleman's games this month as the staff tracked him last week at the Nike Global Challenge in Chicago and has trailed him again this week at the Super Showcase.
The IU offer for Coleman came on Monday, July 13, the day after the close of the first July evaluation period.
"That's a big offer, they're a big time school," Coleman told Inside the Hall. "Big time, high major, great coach with Tom Crean and a very up-tempo team that plays with high intensity. That's how I like to play."
Not long after the offer, Coleman shared an edited photo he received from the coaching staff of him in an IU uniform.
2017 guard Matt Coleman @mattcoleman2_, who picked up an offer from IU, shared this photo on his Instagram: pic.twitter.com/hlvSIi2Gj5

— Alex Bozich (@insidethehall) July 15, 2015
"It was kind of funny because when they sent it to me, it caught me off guard and I was like 'who's body is this?' Then I found out it was Rob's (Johnson) body," he said with a smile. "I look big. I've never looked that big in my life. It was nice and I had to post it because it made me laugh."
Coleman, who has offers from Connecticut, Florida, Texas, Virginia, Virginia Tech and several others, is planning to take an unofficial visit to Bloomington this fall.
"I just to see how the environment," Coleman said. "Because in the future that might be one of my top five schools."
(Photo credit: Jon Lopez/Nike)
Filed to: Matt Coleman