The Inside the Hall Mailbag: July 21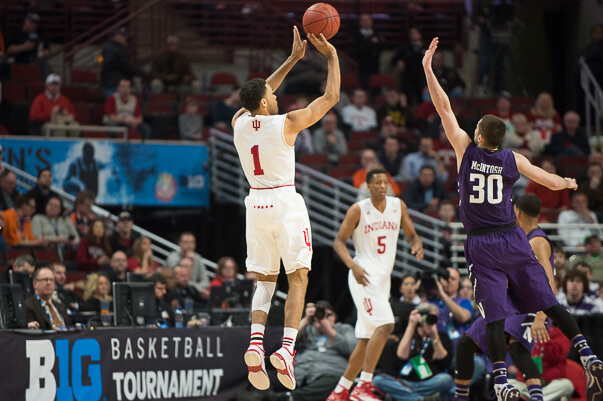 The Inside the Hall Mailbag is a collection of questions tweeted to us via Twitter (@insidethehall), via email, submitted on our premium forum and sent to us via our Facebook page. Submit your questions and we'll answer as many as we can.
Zachary Farmer on Facebook writes: When do you believe the Maui Invitational schedule will be released? I've heard early August was the most likely.
Last year's Maui Invitational schedule was announced on Wednesday, August 6, so if that timing holds true this year, we're probably looking somewhere during that first week of August, which is the 3rd through the 7th.
The eight teams participating are Chaminade, Indiana, Kansas, St. John's, UCLA, UNLV, Vanderbilt and Wake Forest, so the Hoosiers should enter as one of the favorites. – Alex Bozich
TroutyB on the premium forum writes: What can we realistically expect from Tim Priller this year? Is there a chance he cracks the rotation?
I think it would be a major surprise if Tim Priller cracks the rotation on this Indiana team. Nothing against Priller, who by all accounts is a great kid and a hard worker, but on paper, he's the 12th man of 12 scholarship players. To this point, he's played very little in an IU uniform and with the core of last year's team returning and the addition of some very talented frontcourt pieces, it's hard to imagine Priller playing much of a role on the floor. – Alex Bozich
Anthony Baird on Facebook writes: What's going on with the Thon Maker situation?
After much speculation and discussion from his camp that he could move to the class of 2015 or enroll in December, Maker is now a class of 2016 recruit, which means that his recruitment appears to have rebooted a bit.
New schools are becoming involved, new offers are being reported and right now, it doesn't sound as if Maker is anywhere close to making a decision. Indiana has been spotted at many of his games through the first two July evaluation periods, as has Arizona State. Those are the two schools still being mentioned most frequently.
Of course, there are still many who believe that Maker never plays a minute in college basketball and with the number of twists and turns that have already happened in this recruitment, it'll be interesting to watch it play out over the next 10 months or so. – Alex Bozich
KTuck on the premium forum writes: OG and Juwan are listed as 6'7 and 200 lbs and 6'7 and 205 lbs respectively. However, when looking at snapchat and other, more recent video, they both seem bigger than their listed weight (Juwan appears to be a little taller as well) and Juwan even looks as though he could play some minutes at the 5 spot. Do you have any idea how big they really are and what position and how many minutes do you see Juwan playing this year?
The current heights and weights we have listed on our roster page are just fillers based on the best information available at this point. When IU updates its roster this fall, we'll have a better handle on those, but I think the heights are probably close to accurate. Morgan has always looked a bit taller because of his hair, which instantly becomes the best hair on the IU roster.
I'm sure the weights will be adjusted upward based on their work this summer with new strength and conditioning coach Lyonel Anderson. As for a position for Morgan, he appears to be a very good fit at the four, but he would be undersized at the five. It seems more likely that Emmitt Holt or Max Bielfeldt would see minutes at the five before Morgan did. Holt is a little bit bigger and probably a better shot blocker at this point and Bielfeldt has some experience at the five from his days at Michigan. Morgan could be a rotation player this year and I believe around 10 minutes a game is probably a realistic guess right now. – Alex Bozich
Andrew Miller on Facebook writes: Any more recent news on whether Kassoum Yakwe will reclassify to 2015 and if so does IU really have a strong shot at him?
ESPN recently addressed the Yakwe situation in a piece on Insider, which is premium content so we can't quote it here. But the gist of the report is that Yakwe and his guardian are still in the decision making process on whether he'll enroll this fall and become a member of the class of 2015. Indiana is not mentioned in the ESPN report, nor are the Hoosiers mentioned in this report from Zagsblog.com.
Yakwe, who won the EYBL's defensive player of the year award, averaged 11.8 rebounds and 5.8 blocks per game at the Peach Jam earlier this month and would obviously be a huge coup for any program if he decides to move up a year this late in the process. – Alex Bozich
madweber on the premium forum writes: At first glance, the shot clock change will be a good thing for IU's style of play. Who else do you see in the B1G that may benefit from the rule modification and which teams could struggle?
Teams that already play relatively fast and do so with efficiency should be the ones who benefit most from the change, so I'd agree Indiana would be in that category.
Michigan State also seems to fit the description as the Spartans were the Big Ten's fourth best offense a season ago and had the 3rd shortest average possession length. I also think teams like Michigan and Wisconsin, who play slow by design and not because they lack the talent or coaching to play faster, will adjust pretty easily to the changes.
As for who it hurts, I think a team like Nebraska would come to mind as the Huskers played slow last season and weren't efficient. I don't see how a shorter shot clock helps their cause. – Alex Bozich
dmacer1227 on the premium forum writes: How bad is JBJ's knee? Do you think it will hamper his play for 2016?
Tom Crean said that James Blackmon Jr. should be good to go by the start of practice, so it doesn't sound too bad. Knee injuries, of course, can be tricky, but from what Crean said just after the surgery, the expectation is that it isn't an injury that will cause problems for Blackmon Jr. moving forward.
Blackmon Jr. will have some ground to make up from the time he will lose in the offseason in terms of strength and conditioning, but I wouldn't expect the injury to have a major impact on his play or performance for the 2015-2016, barring any unforeseen setbacks. – Alex Bozich
DevoutHoosier on the premium forum writes: Having a more veteran team next year than in recent memory, how many players deep will get significant minutes in Big Ten play (double digits)?
Safe bets for double digit minutes in the Big Ten: Yogi Ferrell, Robert Johnson, Blackmon Jr., Troy Williams, Thomas Bryant, Nick Zeisloft, Holt and Collin Hartman. Bielfeldt is probably in that category, too, and Morgan also has a chance to get in the mix.
Looking back at last season, nine players averaged double figure minutes in the Big Ten with a 10th, Max Hoetzel, at 6.7 minutes per game in conference play. This upcoming season will likely play out in a similar fashion. – Alex Bozich
Filed to: Twitter Mailbag