Sophomore Emmitt Holt seeing benefits of offseason work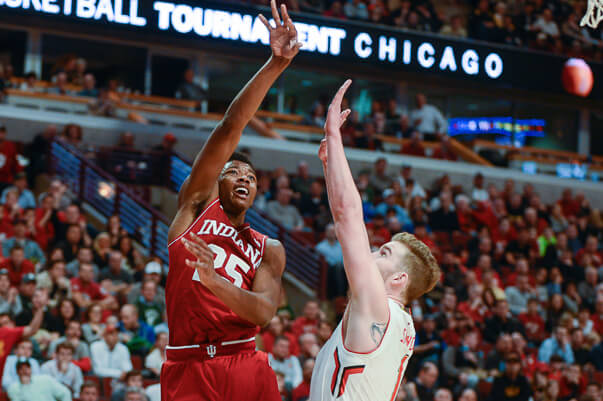 Last summer at this time, Emmitt Holt was playing with the Albany City Rocks on the AAU circuit. In Bloomington, Indiana prepared for its five-game tour of Montreal that was still a few weeks away.
Holt committed to doing a postgraduate season at Vermont Academy, but that changed after the Hoosier staff learned he was open to enrolling as a class of 2015 recruit. He ultimately visited campus in late August and joined the program for the 2014-2015 season.
The later than usual enrollment put Holt behind his incoming peers like James Blackmon Jr. and Robert Johnson, who arrived on campus in early June, took summer school and competed in Montreal.
This summer is Holt's first in Bloomington and on Thursday afternoon, he said he's already beginning to see major gains from the offseason work.
"It's a great experience," Holt told reporters at Assembly Hall. "I feel like we've come together as a team and we're getting better every day."
As a freshman, Holt showed flashes of the player the IU coaching staff hopes he can become on a more consistent basis as a sophomore. In 29 games, he averaged 3.6 points and three rebounds.
In IU's win over Pittsburgh in the Big Ten/ACC Challenge, he went for 15 points, five rebounds and two blocks in 19 minutes off the bench. And in a must-win situation in the Big Ten tournament, he chipped in eight points against Northwestern.
Following IU's loss to Wichita State in the NCAA tournament, Holt had already started to look ahead to next season. At that time, he said he felt like special things could be ahead for the Hoosiers in 2015-2016.
"I think we can be really good next year," Holt said in the locker room of the CenturyLink Center. "Guys coming back, everyone working hard in the offseason, we can really do some damage."
Now, he's looking to do his part to follow through on those words. He's diversifying his game while also strengthening in some of the areas that made him a positive contributor last season.
The Rochester (N.Y.) native said he's added 10 pounds of muscle since the end of the season and is up to 230 pounds.
Several of the videos released by Indiana this summer on SnapChat have showed Holt doing work away from the basket. He acknowledged Thursday that he's working to become a better shooter.
"Definitely trying to develop a shot now, especially beyond the arc, 3-point shot," Holt said. "Trying to get my handles better, my left hand so I can drive more, drive and kick. Those are my main focuses right now."
In addition to the improvement of his game, Holt said things have become more competitive within the program.
He mentioned communication as a major offseason emphasis as IU's players go through individual workouts with the coaching staff as well as a new strength and conditioning program run by Lyonel Anderson.
"From what I can remember from last fall, it's definitely more competitive," he said. "The work ethic is definitely there. The freshmen are still learning, but they're feeding off the upperclassmen.
"The upperclassmen are getting in the gym and getting extra work in because they know champions are made in the offseason."
Filed to: Emmitt Holt