Five-star forward Miles Bridges breaks down finalists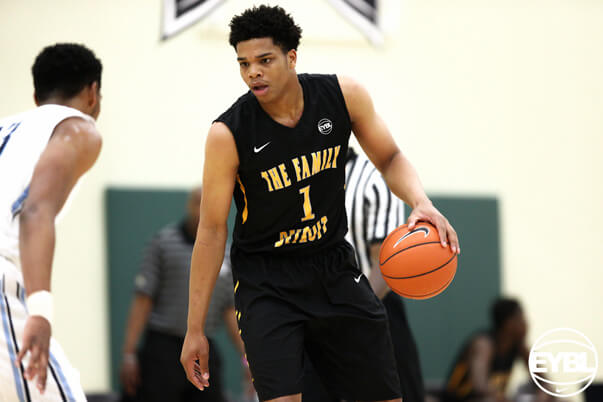 Class of 2016 Huntington Prep (W.V.) forward Miles Bridges released his final five schools at the conclusion of last week's Peach Jam and the five-star prospect will have a hard time going wrong with any of his remaining choices.
Bridges, the No. 18 prospect in the 247Composite, is still considering Indiana, Kentucky, Michigan, Michigan State and North Carolina.
Following a scrimmage for the USA Midwest team last night at the Nike Global Challenge at Whitney Young High School in Chicago, he talked to Inside the Hall's Ryan Corazza about each of his finalists:
Michigan – "It's just a great program. I think I fit in well with them because they run and coach (John) Beilein lets them play. And the most important thing is development because they're taking unranked players and making them into pros."
Michigan State – "They've been recruiting me forever and I'm real comfortable with the staff. (Tom) Izzo, (Dwayne) Stephens, I talk to them all of the time. My mom, she's real comfortable with them, too."
Kentucky – "They just put people in the league. Me and coach (John) Calipari, we've gotten close."
North Carolina – "They're new. They offered me two days ago and I've been talking to coach Roy (Williams). I like their offense."
Indiana – "Their (player) development is good, I like their coaching staff and it's just a great basketball school."
The Hoosiers, who landed Thomas Bryant from Huntington Prep in early April, are also recruiting 2016 guard Curtis Jones who will graduate with Bridges next spring.
Bridges, a native of Flint (Mich.), said Tom Crean and Chuck Martin are the coaches he talks to the most from Indiana.
"They've told me if I come there, I have to earn a spot," Bridges said. "I have to get my ball handling better and my IQ. I know if I go there, I'll be working every day."
The 6-foot-7, 218 pound forward averaged 22.8 points and 10 rebounds per game at the Peach Jam.
As a junior at Huntington Prep, Bridges averaged 15.7 points, 10.6 rebounds, 3.5 assists, 2.8 blocks and 2.3 steals per game. He said his relationship with Bryant, who he played with the previous two seasons at Huntington, is a positive.
"Me and Thomas, we talk all of the time. That's my man," he said. "I've known him for two years now. He talks to me all the time about college and he's doing good."
Bridges said he plans to take official visits to each of his finalists and then make a decision later in the fall.
(Photo credit: Jon Lopez/Nike)
Filed to: Miles Bridges