2017 guard Mitchell Ballock wants to visit Indiana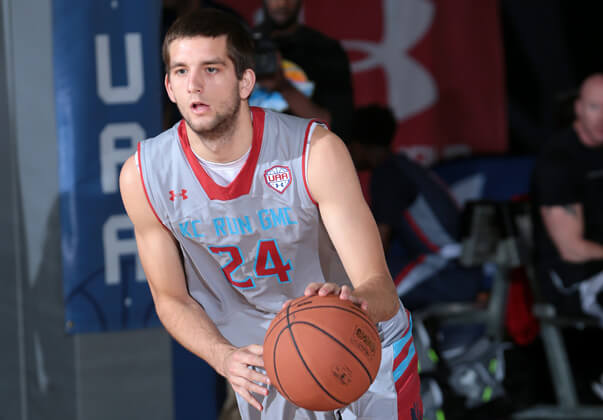 Class of 2017 Eudora School (Kan.) guard Mitchell Ballock, who received a scholarship offer from Indiana in early May, wants to make a trip to Bloomington this season for a game.
In an interview with Krysten Peek of Rivals.com at the Under Armour All-American Camp in Charlotte, North Carolina, the 6-foot-4 guard listed Indiana as one of several schools he'd like to visit this winter.
"I'll probably go to a Kansas game because they're close," Ballock said. "I might go down to Oklahoma and watch a game. I want to go to Marquette and Indiana and watch a game. And Notre Dame, I'd for sure like to watch a game there, too."
The No. 44 player nationally in his class according to the 247Composite, Ballock was a standout in the spring for KC Run GMC on the Under Armour Association circuit.
In 12 circuit games, Ballock averaged 10.4 points, 6.6 rebounds and 2.7 assists per game. In addition to the offer from the Hoosiers, he also holds offers from Kansas, Iowa State, Kansas State and Oklahoma, among others.
The Jayhawks are the program that Ballock grew up following, but he said he's not leaning toward any school at this point.
"I like them a lot," he told Rivals of his interest in Kansas. "But I wouldn't say they're a leader because I'm not really leaning towards anybody. I'm open to everybody and just kind of listening to what everybody has to say and seeing what is the best fit for me."
As for his interest in Indiana, the relationship he's building with Tom Crean and Rob Judson seems to be a positive for the Hoosiers.
"I like coach (Tom) Crean and I like coach (Rob) Judson up there," Ballock said. "When I talk to them over the phone and text, they're good people. I like the way coach Crean runs his team and the style of play. And I'd just like to go up there and see it because I've heard it's pretty cool to be in."
Ballock cited style of play and finding a school that likes to get up and down and is guard focused as a couple of factors that could have an influence on where he ends up for college.
For now, he's enjoying the recruiting process and hopes to begin narrow things down sometime in the fall.
"At the end of the summer and before my school season starts in December, I'll start cutting my list down and go from there," he said. "But right now I'm open to everybody and listening to what everybody has to say."
(Photo credit: Kelly Kline/Under Armour)
Filed to: Mitchell Ballock