The Inside the Hall Mailbag: July 6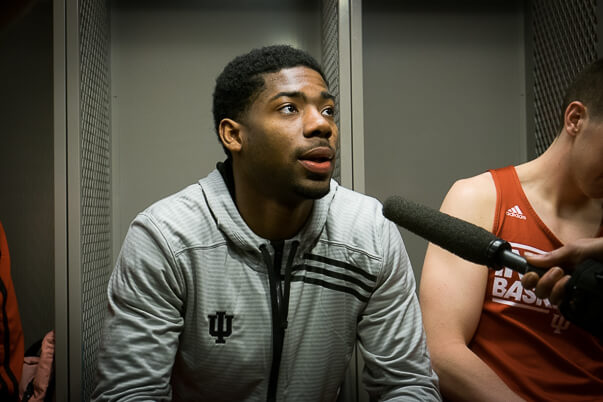 The Inside the Hall Mailbag is a collection of questions tweeted to us via Twitter (@insidethehall), via email, submitted on our premium forum and sent to us via our Facebook page. Submit your questions and we'll answer as many as we can.
Zachary Farmer on Facebook writes: Everyone talks about what Troy (Williams) and James (Blackmon) need to do this off season, but not Robert Johnson. What must he improve this off season besides turnovers?
Fantastic question. Johnson has looked great physically in the offseason workout videos, but skill development is going to be equally important for him to reach his ceiling. His jump shot definitely needs to become more consistent. He was 38.8 on 3s as a freshman, which is very good, but just 29.4 percent on 2-point jump shots.
Johnson was pretty solid finishing at the rim (53.8 percent), but should be able to improve there with an offseason of strength and conditioning work. As you mentioned, the turnovers are really the big piece as his turnover rate (24.2) was the highest mark on the team. And like everyone else on the roster, he must work on doing a better job of containing ball handlers on the perimeter and show more confidence as a defender. – Alex Bozich
lawguyNA on the premium forum writes: Toughest 3 games on this year's schedule?
At Duke has to be the toughest. The Blue Devils rarely lose at home and have never lost at home in the Big Ten/ACC Challenge. The defending national champs in primetime on ESPN in a raucous environment? Go ahead and pencil that in at No. 1.
Some of the Maui games will definitely be tough, but that schedule isn't out yet, so throw those out for now. For No. 2, I'll go with at Michigan State. The Spartans are a preseason top 15 team and winning in the Breslin Center is always a difficult task.
For No. 3, Maryland at home. There's a good chance the Terps will be ranked No. 1 nationally in the preseason and assuming the Hoosiers play to expectations, that should be an electric atmosphere against a great opponent. – Alex Bozich
@LarryMooshaker on Twitter writes: What are the mask the players are wearing I've seen in conditioning photos?
They are elevation training masks. You can read more about them here, but my understanding is that the purpose is to simulate training in higher elevations to help with things like lung capacity. – Alex Bozich
Shknqk on the premium forum writes: With Lyonel Anderson's arrival as strength and conditioning coach, is there any significant difference in the program he runs vs Je'Ney? The snapchat videos have us all pretty pumped up, but is it qualitatively different and if so what's the reasoning for the change and how might it effect our play over the long haul?
It's probably best to defer to Anderson's own words to answer this question. He was asked about this very topic by the media last month and he used phrases like "thinking outside the box" and "different ways to skin a cat." At the same time, he also referenced a strong relationship with Je'Ney Jackson and mentioned him as an influence on his own career.
More than anything else, Anderson is going to look to put his own stamp on the program while aiming to achieve similar results to Jackson, who did a fantastic job for 4.5 years in Bloomington. He's going to use different methods, but I'm not sure I'd call it a drastic change in approach overall for the program. Tom Crean was very complimentary of work Jackson did while with the program and I'm sure he has similar expectations for the work Anderson will do. – Alex Bozich
@WolfLike_Me36 on Twitter writes: Do you think the starting front court will consist of Emmitt Holt and Thomas Bryant? Or will Crean play small?
My guess is that Holt and Bryant will not start together, but there's a good possibility that you'll see lineups with both players on the floor. Bryant can step out and shoot it some and Holt is also working to improve his shot from the perimeter. Playing Bryant alongside Holt is more likely than playing Hanner Mosquera-Perea with Holt because Mosquera-Perea didn't have the ball skills to play out on the floor.
That said, the guess here is that Indiana will continue to use smaller lineups to an advantage when it can. Collin Hartman can be a valuable guy at the four as can Troy Williams. When the Hoosiers aren't going up against a mammoth frontline (like Purdue), it's certainly reasonable to expect the smaller lineups to continue. – Alex Bozich
11th and Done on the premium forum writes: Is Crean still looking for another player for this season?
Looking? Yes. But as the days and weeks go by, the possibility of another roster addition for next season goes down. Landing Holt late last year was more of the exception than the rule. As Crean said last month, an addition at this point is going to need to be able to help immediately. The grad transfer market is getting very bare and all of the top 2015 names are off of the board. Crean has admitted he never stops recruiting, but right now it's looking like IU may enter the fall with just 12 scholarship players. – Alex Bozich
@TheBDotB on Twitter writes: New assistant by Wednesday for new evaluation period?
No updates to report there other than what Tom Crean said early last month at Huber Winery, which is that he's close to making a hire. Even if there isn't an announcement, current director of basketball operations Rob Judson can continue to fill that fourth spot on the recruiting trial during the three July evaluation periods. – Alex Bozich
cdub76 on the premium forum writes: What is the breakdown of time the coaches can spend with the players in the offseason? I think there is a set amount of time for instruction/skills aside from conditioning/working out.
It's eight hours per week for a total of eight weeks (they don't have to be consecutive weeks) with no more than two hours per week on skill instruction. The full bylaw is below:
"In men's basketball, a student-athlete who is enrolled in summer school may engage in required weight-training, conditioning and skill-related instruction for up to eight weeks (not required to be consecutive weeks). Participation in such activities shall be limited to a maximum of eight hours per week with not more than two hours per week spent on skill-related instruction. An individual who is not eligible to use the exception to summer school enrollment (Bylaw 17.1.6.2.1.1.4.1) may participate only during the period of the institution's summer term or terms (opening day of classes through last day of final exams) in which he is enrolled." – Alex Bozich
madweber on the premium forum writes: We all recognize IU's defense is going to need improvement this upcoming year. Which facet do you think is the most important – stopping dribble penetration, help side rotation, closing out on the 3, defending the post, or all of the above?
I'll take all of the above, but if I had to pick a couple of those to focus on, I'd go with stopping/containing dribble penetration and defending the post, which bleeds into defensive rebounding.
Not to say the others weren't issues, but the dribble penetration is obviously a major issue. A lot of it comes down to the individual rather than some type of schematic adjustment. Are guys going to dig in and keep the ball in front of them or just let guys take the ball wherever they want? Last season was more of the latter and it has to change.
As for defending the post, Bryant obviously helps, but IU has to improve on the defensive glass, too. The Hoosiers ranked a pedestrian 188th nationally in defensive rebounding percentage, which isn't going to get it done. The Big Ten is going to be very good in the post next season and allowing second-chance points with regularity is a recipe to lose to teams like Michigan State, Purdue and Maryland. – Alex Bozich
THowenstine on the premium forum writes: The key to winning the Big 10 is being able to win on the road. As you look at this year's team compared to last years, and looking at this year's schedule how do you think we will perform on the road and who will be our biggest challenges and why?
IU got a favorable Big Ten schedule next season. Here's the breakdown of road games and home games:
· Big Ten home games: Illinois, Iowa, Maryland, Minnesota, Nebraska, Northwestern, Ohio State, Purdue and Wisconsin
· Big Ten road games: Illinois, Iowa, Michigan, Michigan State, Minnesota, Nebraska, Penn State, Rutgers and Wisconsin
Avoiding Maryland, Purdue and Ohio State on the road is a positive. The Hoosiers also get, on paper, the four weakest teams in the conference on the road schedule in Minnesota, Nebraska, Penn State and Rutgers. To win the league, those are games that need to be won along with stealing a few of the other road contests. Of course, this assumes taking care of business at home and IU went just 6-3 last season at home in Big Ten play. The biggest challenges on the road schedule are definitely Michigan State, Wisconsin, Iowa and Michigan. The Hawkeyes won't be a top 25 team, but Carver Hawkeye Arena is always tough and Fran McCaffery returns four starters. – Alex Bozich
Filed to: Emmitt Holt, Lyonel Anderson, Robert Johnson, Thomas Bryant