A closer look at the Max Bielfeldt addition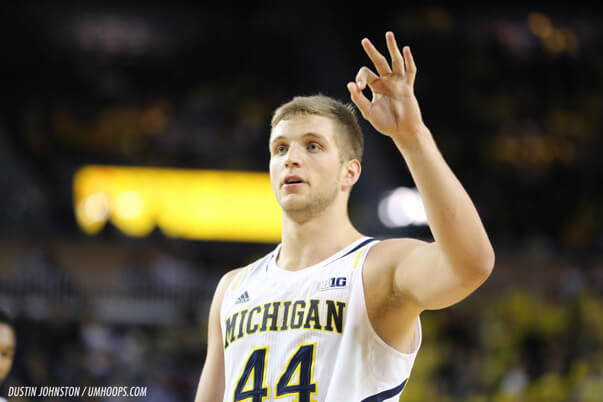 Indiana added a 12th scholarship player to its roster earlier this month in Max Bielfeldt, a graduate transfer from Michigan who will be eligible immediately. The 6-foot-8 Bielfeldt, a native of Peoria, Illinois, has one year of eligibility remaining.
So what will Bielfeldt bring to Indiana?
There's an obvious leadership and maturity ingredient that Bielfeldt should bring to Bloomington given his experience playing for a winning program in the Big Ten. Over four seasons in Ann Arbor, he played on three NCAA tournament teams, including a national runner-up team in 2013 and an outright Big Ten championship group in 2014 that advanced to the Elite Eight.
But beyond the leadership and maturity that Bielfeldt should bring, what kind of production can be expected from him statistically?
Let's examine his numbers from last season at Michigan:

Statistically, last season was the most productive of Bielfeldt's career at Michigan. He played 434 minutes over 30 games, which was more than double the minutes he'd played the previous two seasons combined. A little over 75 percent of his field goal attempts were 2s and he was most effective at the rim, where he finished 71.4 percent of his shots according to Hoop-Math.
He also ventured out on the perimeter and hoisted up 30 attempts from behind the 3-point line, but if you throw out a 3-for-3 performance against Bucknell early in the season, Bielfeldt was just 5-of-27 from distance for 18.5 percent.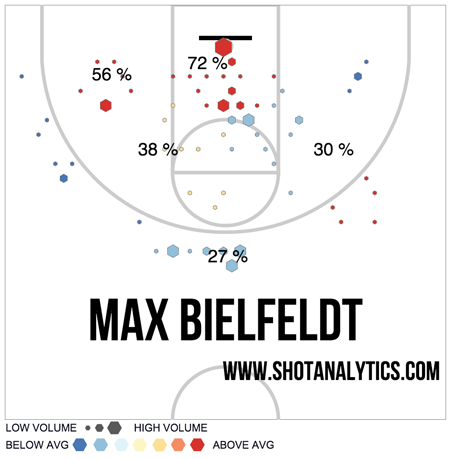 Given that Indiana should be pretty well set from a scoring perspective next season with seven of its top eight scorers returning from the Big Ten's third best offense, his impact may be felt most from a rebounding and depth perspective on a roster that lost two pieces last month in Hanner Mosquera-Perea and Devin Davis.
From a percentages standpoint, he was a better offensive and defensive rebounder than the player he'll likely be replacing in IU's rotation in Mosquera-Perea. Bielfeldt's offensive rebounding percentage of 12.4 was the best on Michigan's roster and had he played the 40 percent of his team's minutes to qualify for Ken Pomeroy's conference leaders, that figure would have ranked second in the Big Ten behind Iowa's Gabriel Olaseni.
On the defensive boards, his defensive rebounding percentage of 19.5 was also best on Michigan's roster and would have ranked him among the top 10 in the Big Ten had he played the minutes necessary to qualify for Pomeroy's conference leaders.
As for the depth and what he is tasked with attempting to replace, Bielfeldt should be a capable fill-in for Mosquera-Perea, although their games are quite different. Where Mosquera-Perea brought athleticism, shot blocking and the ability to make a spectacular play on occasion, Bielfeldt should bring more from a fundamentals perspective. He's less foul prone than Mosquera-Perea, but also won't draw nearly as many fouls and is close to two inches shorter.
The addition of Thomas Bryant was already going to take a ton of pressure off of the complementary players in IU's frontcourt next season and that should still be the case. The Hoosiers didn't really know what they were going to have in Davis next season given the seriousness of his injury. Mosquera-Perea showed flashes of very solid play (the Nebraska and Butler games were prime examples). But he was unreliable, particularly in the early stages of the Big Ten season, due to a penchant for picking up unnecessary early fouls.
Bielfeldt will only use a scholarship for one season, which makes him an ideal pickup given how late things were in the recruiting cycle. From a recruiting perspective, the timing of the dismissals of Davis and Mosquera-Perea couldn't have been much worse for Indiana. Recruiting late is difficult, as IU fans saw last season when the program added three players after the start of the spring signing period and only one, Holt, had an impact on last season's team. Getting a player with Bielfeldt's size and experience that only uses a scholarship for a year is almost a best case scenario as his addition will have no impact on recruiting for 2016.
Filed to: Max Bielfeldt