Indiana ready to begin phase two of offseason workouts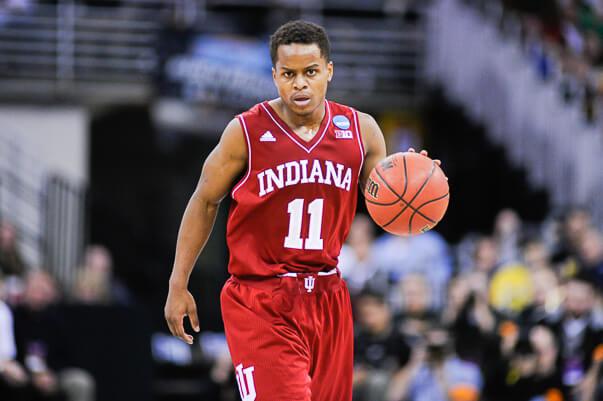 After a strong spring following a loss to Wichita State in the NCAA tournament in Omaha, Indiana is ready to begin phase two of the offseason.
Many of IU's returnees have been working out off campus in recent weeks – Troy Williams and Robert Johnson spent time in Texas working out with John Lucas, for example – but that will change soon.
And as everyone returns to campus and the three freshmen and graduate transfer Max Bielfeldt arrive, it will be back to work for a program that enters the 2015-2016 campaign with significant expectations.
"We start our phase two soon. Our phase one, our spring work, was really, really good," Tom Crean said Wednesday at Huber Winery. "But I know that the majority of them have been doing a really good job on their own and then we start our phase two, our second eight weeks with them, this coming week. So our phase two has gotta be fantastic."
Thanks to rules enacted beginning in the summer of 2012, coaches are allowed an eight week period to work with returning players and newcomers in areas like conditioning, weight lifting and skill instruction. The eight weeks do not have to be consecutive, but no more than two hours per week can be spent on skill-related instruction.
With a strong cast of returning players and several newcomers who are expected to make an impact, it's an important time for individuals to begin building their niche, according to Crean.
"As you go into it, you want guys… Yogi (Ferrell) is a great example, I want him being as concerned about being defensive player of the year and on that all-defensive team as anything else," he explained. "Because if you do that, now you're building an even bigger niche and becoming one of the purest guards in the country when it comes to decision making. Becoming one of the most complete guards in the country when it comes to combining the offensive and the defensive parts."
Ferrell, along with James Blackmon Jr. and Troy Williams, looked at entering this month's NBA draft, but ultimately opted to return to school. Those decisions, along with the signing of McDonald's All-American Thomas Bryant, has Indiana positioned in the top 15 in nearly every preseason poll published this spring.
Crean, speaking publicly to assembled media for the first time since Ferrell's decision was announced in late April, said he wasn't surprised that all three players opted to return.
The challenge now, however, shifts to offseason improvement with the goal of winning big next season.
"I wasn't surprised that any of them came back because they were smart," he explained. "Smart in the sense that they did the research. And if they had looked at the research and still gone, well then you support them. But what they did was look at the research, they knew we could have a really good team, they knew that they could expand their game, their abilities, their athleticism, all of those different things that could make them better players when it comes down to it.
"But the number one thing that's going to differentiate them is if they win and win big. Because if you win big, now you're putting yourself in a different realm. And that's got to be as much of a driving force as anything else."
Filed to: Tom Crean, Yogi Ferrell