Q & A: Max Bielfeldt talks decision to transfer to IU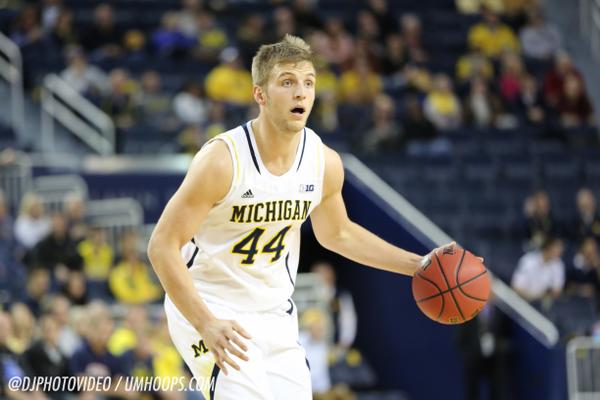 Indiana added a fourth member to its 2015 recruiting class on Tuesday with the addition of Michigan transfer Max Bielfeldt.
The 6-foot-8 forward, who averaged 5.1 points and 3.6 rebounds in 14.5 minutes per game last season for the Wolverines, will have one year of eligibility and will be able to play immediately.
Inside the Hall talked to Bielfeldt in-depth on Tuesday evening on a variety of topics and our full Q & A is available after the jump:
Inside the Hall: What was this process like for you and what ultimately led you to choosing Indiana?
Max Bielfeldt: I think the process was very interesting because, when I was coming out of high school, I was looking at what I could be in four years whereas for a fifth year, you've got nine months to play basketball, get a good degree and basically meshing as quickly as you can. So it's a very interesting way to look at it. I kind of knew what I was looking for, but at the same time, realizing what I'd be most happy with was the hardest part for me.
Nebraska is a little further from home, but they've got a lot of minutes there in the frontcourt. There's just so many different factors. I think I would have been happy at all three places and gotten along with the guys and had a great time, but ultimately you can't pick all three and have to come down to one. I think Indiana offered the best academic as well as athletic opportunity.
ITH: When you went on your visit, what gave you a good feeling about it when you were there and what were your takeaways from it? What stood out about it?
MB: I think some of the biggest things that stood out were that Coach (Tom) Crean had been watching a lot of my film and had a couple of papers broken down of a couple of things I could work on that would make me a threat. We had a little workout there and he took me through some things and just kind of figured out my game a little bit more and gave me some things to develop. That was one.
I also hung out with Nick Zeisloft and Collin Hartman, they were hosting my visit. I got along well with them. Things just went really well. We checked out the Kelley School of Business, which is a remarkable school, and I'm really looking forward to getting into that and doing my thing there. I think just everything you could look for was really good.
ITH: Thinking back to where you were a year ago and how things have played out here, it's very rare that a player is allowed to transfer within the conference, but could you ever have imagined that you'd be playing at a different Big Ten school to finish out your career?
MB: It's interesting. I was looking at schools that would be best for me and close to home and I think most of those were Big Ten schools. Figuring out the teams and rosters there, who I'd fit in best with and just going from there and seeing what would be the best fit academically and athletically, it kind of finally came down to Indiana was the best choice.
ITH: Looking at some of the preseason projections next year, Indiana is being looked at pretty favorably nationally. With what is coming back and with what is being added with the three freshman along with you, how big was that in your decision that this could be a really good team next year?
MB: I think it was a big deal because you're getting recruited for one year. It's a lot different, you have to figure out what the team can do in one year, how the team can be successful and how you can be happy. It's tough to go a place where there's a new coach or a lot of unpredictables. For four years, that would be OK because you'd develop relationships, but you're going to be there for nine months so it's not quite the same.
ITH: As far as academics with the Kelley School, do you have a plan for that?
MB: I think I'll do an MS in finance, entrepreneurship or management in the Kelley School. I kind of have to hone in and figure out exactly what I'm doing, but I've been looking into it a lot. There's a lot of good choices there.
ITH: You've gone through the Big Ten, you've won, you've been deep in the NCAA tournament. What can you draw upon from your experiences at Michigan and kind of bring them to Indiana and help some of the younger guys learn what it takes to take that next step and advance further in the tournament and try to win the Big Ten?
MB: I think with the amount of time I've been around the Big Ten, it's a pretty unique perspective. And now coming to a second Big Ten, it offers even more of a unique perspective. Being able to bring that leadership in and knowing what to expect, what it takes to win and being a part of a lot of winning teams will be pretty valuable.
Filed to: Max Bielfeldt