Justin Smith planning June visit to Indiana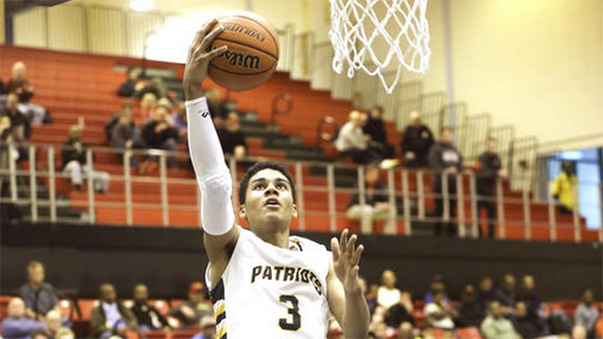 Class of 2017 Stevenson (Ill.) wing Justin Smith, who received a scholarship offer from Indiana earlier this month, is planning a visit to Bloomington this June.
The Hoosier staff has tracked the 6-foot-7, 200-pound forward closely this spring and his strong play has helped attract several new suitors in his recruitment.
"They told me that they like me and I'm planning on visiting there during June," Smith said over the weekend at the Nike Elite Youth Basketball League (EYBL) stop in Minneapolis, Minnesota. "I don't know much about them, but it'll be good to learn more about them."
In 17 EYBL games this spring, Smith averaged 8.2 points and 3.1 rebounds in 16.3 minutes per game for Mac Irvin Fire.
Along with the offer from IU, Smith also has early offers from Illinois, DePaul, Wake Forest and Rice with interest from Duke, Georgetown, Iowa, Stanford, Wisconsin, Villanova and Nebraska.
As he prepares for his junior season at Stevenson, he'll have to adjust to a more prominent role as Jalen Brunson (Villanova) and Connor Cashaw (Rice) both graduated from a team that won the state championship.
Smith averaged 10.3 points and four rebounds as a sophomore and scored 12 points and grabbed seven rebounds as Stevenson beat Normal, 57-40, to win the IHSA Class 4A title.
"Now that we lose Jalen, Connor and all those seniors, we're going to have to break down everything and do more teaching rather than just having things just 'go with it' and roll off of Jalen," he explained. "Now, it's going to be more of a sense of us all being smooth and less chaotic."
Playing up a year in the EYBL is something that Smith believes will help him as he prepares for his junior season at Stevenson.
He said developing consistency in his effort is a major focus moving forward.
"Probably just playing hard all the time (is what I've learned from the EYBL)," Smith said. "Everyone here is playing hard all the time and trying to get better all the time."
Currently unranked by most of the major recruiting services, Smith is likely to be a well known name nationally very soon based on his play so far this spring. During the first April evaluation period, he scored 20 points against Team Final (Pa.), which features several IU recruiting targets.
"I'm an athletic wing that can stretch the floor out and shoot threes or take somebody off the dribble," he said of his game. "I just do whatever is needed."
J.B. Bauer contributed to this story.
Filed to: Justin Smith