Big Ten Power Rankings: Offseason edition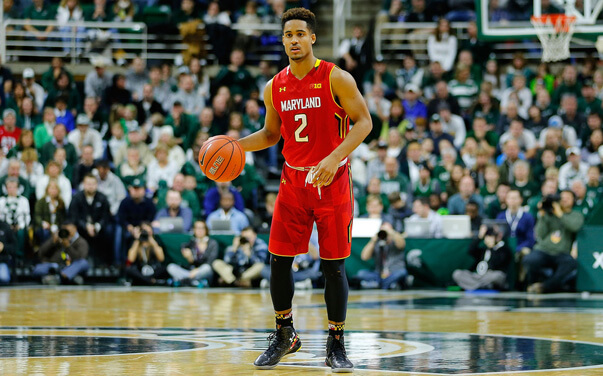 It's May and more than five months separate us from the opening of the 2015-2016 season, but it's never a bad time to check in on the Big Ten landscape.
Here's our first stab at forecasting next season's conference standings with last season's records in parenthesis:
14. Rutgers (10-22, 2-16)
· Arriving: Corey Sanders (247Composite top 100), Deshawn Freeman, Jonathan Laurent, Justin Goode, Kejuan Johnson
· Departing: Junior Etou (transfer), Kadeem Jack (graduation), Kerwin Okoro (transfer), Malick Kone (graduation), Myles Mack (graduation)
Outlook: Eddie Jordan knew it would be a long process to build Rutgers into a respectable program when he took the job and as he enters year three at the helm, there's still plenty of work to be done. The Scarlet Knights did manage to sign a top 100 recruit in point guard Corey Sanders. But in a loaded Big Ten, any optimism for a move up the league standings in Piscataway should be guarded.
13. Minnesota (18-15, 6-12)
· Arriving: Dupree McBrayer, Jarvis Johnson, J.R. Gilbert, Jordan Murphy, Kevin Dorsey
· Departing: Andre Hollins (graduation), Deandre Mathieu (graduation), Elliott Eliason (graduation), Maurice Walker (graduation)
Outlook: Count me as a skeptic of Gophers coach Richard Pitino, who enters his third season in Minneapolis and was mentioned for several jobs across the country despite never reaching the NCAA tournament in three seasons as a head coach. Minnesota underachieved last season, lost its three best players and this is one of the league's weakest rosters in terms of talent.
12. Penn State (18-16, 4-14)
· Arriving: Josh Reaves (247Composite top 100), Mike Watkins (247Composite top 100), Deividas Zemgulis
· Departing: D.J. Newbill (graduation), Ross Travis (graduation), John Johnson (dismissed/graduation)
Outlook: Newbill, who many believed was deserving of All-Big Ten first team honors last season, is gone, but the Nittany Lions return two solid guards in Shep Garner and Geno Thorpe and add Reaves, who had significant high major interest. Jordan Dickerson and Brandon Taylor are also back in the frontcourt and Watkins, the No. 95 prospect in the 247Composite, should provide some inside scoring and rebounding help at 6-foot-8 and 225 pounds.
11. Nebraska (13-18, 5-13)
· Arriving: Andrew White (Kansas transfer), Barkari Evelyn, Ed Morrow, Glynn Watson (247Composite top 100), Jack McVeigh, Michael Jacobson
· Departing: David Rivers (graduation), Tarin Smith (transfer), Leslee Smith (graduation), Moses Abraham (graduation), Terran Petteway (early entry), Walter Pitchford (early entry)
Outlook: The Huskers were a trendy preseason top 25 pick last season, but failed to meet expectations and lost several key contributors, including Petteway. However, the pickup of Watson is significant for a program that rarely lands top 100 talent. Pairing him with White, a former top 60 recruit, should give Miles a nice backcourt combo. Shavon Shields also returns for his senior season and Morrow, a Chicago Simeon product, could step in immediately at the four.
10. Northwestern (13-18, 5-13)
· Arriving: Aaron Falzon, Dererk Pardon, Joey van Zegeren (Graduate transfer from Virginia Tech), Jordan Ash
· Departing: Dave Sobolewski (graduation), Jeremiah Kreisberg (graduation), Jershon Cobb (graduation), Johnnie Vassar (transfer)
Outlook: This is where things get interesting in attempting to rank the league. The Wildcats have Bryant McIntosh, Alex Olah, Scottie Lindsey, Vic Law and Tre Demps back and also added a solid recruiting class. The ceiling for Northwestern will likely be determined by how much it can improve its defense, which was the worst in Big Ten play at 1.12 points per possession allowed.
9. Iowa (22-12, 12-6)
· Arriving: Ahmad Wagner, Andrew Fleming, Brandon Hutton, Christian Williams, Dale Jones, Isaiah Moss
· Departing: Aaron White (graduation), Gabriel Olaseni (graduation), Josh Oglesby (graduation), Trey Dickerson (transfer)
Outlook: The Hawkeyes return four starters. Knowing that, placing them ninth may seem like a snub. But the losses of White and Olaseni are hard to overlook. White was one of the league's best all-around players and Olaseni was Iowa's best offensive rebounder. There's no replacement for either player on the roster. There's still plenty of experience with Adam Woodbury, Anthony Clemmons, Peter Jok, Jarrod Uthoff and Mike Gesell all returning, but losing two very good frontcourt players is a lot to overcome.
8. Illinois (19-14, 9-9)
· Arriving: Aaron Jordan, Darius Paul, D.J. Williams (247Composite top 100), Jalen Coleman (247Composite top 100), Mike Thorne (Graduate transfer from Charlotte)
· Departing: Aaron Cosby (transfer), Ahmad Starks (graduation), Austin Colbert (transfer), Nnanna Egwu (graduation), Rayvonte Rice (graduation)
Outlook: John Groce enters season four in Champaign with pressure to win. While a No. 8 spot in these rankings may not be flattering to Illini fans, this is a team with potential to reach the NCAA tournament. Illinois returns plenty of capable pieces (Tracy Abrams, Kendrick Nunn, Malcolm Hill, Leron Black), added a potential upgrade for Egwu in Thorne and also welcomes a trio of coveted recruits, including Coleman, a Jordan Brand All-Star. If the Illini can improve offensively (45.5 eFG% in Big Ten games last season), a finish in the top half of the league is possible.
7. Ohio State (24-11, 11-7)
· Arriving: A.J. Harris (247Composite top 100), Austin Grandstaff (247Composite top 100), Daniel Giddens (247Composite top 100), JaQuan Lyle (247Composite top 100), Mickey Mitchell, Trevor Thompson (transfer from Virginia Tech)
· Departing: Amir Williams (graduation), Anthony Lee (graduation), D'Angelo Russell (early entry), Sam Thompson (graduation), Shannon Scott (graduation), Trey McDonald (graduation)
Outlook: The Buckeyes lost the league's most talented player in Russell and two experienced veterans in Thompson and Scott, but Thad Matta reloaded in a big way with this recruiting class, which ranks as the Big Ten's best. Four top 100 recruits and Thompson will join Jae'Sean Tate, Kam Williams, Marc Loving and Keita Bates-Diop to give the Buckeyes the pieces necessary for another trip to the NCAA tournament.
6. Michigan (16-16, 8-10)
· Arriving: Duncan Robinson (Williams College transfer), Moritz Wagner
· Departing: Max Bielfeldt (transfer)
Outlook: The Wolverines were competitive a season ago despite not having Caris LeVert and Derrick Walton available for large portions of the season. Both are expected to be healthy next fall. Their absences allowed guys like Aubrey Dawkins and Muhammad Ali-Abdur Rahkman to gain experience and with solid depth and shooters across the roster (Zak Irvin also returns), Michigan looks like a top 25 team. The one question mark here is the interior as Ricky Doyle, D.J. Wilson and Mark Donnal are going to have to hold their own against a gauntlet of legit bigs in the Big Ten.
5. Wisconsin (36-4, 16-2)
· Arriving: Alex Illikainen, Brevin Pritzl (247Composite top 100), Charlie Thomas, Khalil Iverson, Andy Van Vliet
· Departing: Duje Dujan (graduation), Frank Kaminsky (graduation), Josh Gasser (graduation), Sam Dekker (early entry), Traevon Jackson (graduation)
Outlook: Is this the year the Badgers finally finish outside of the top four in the Big Ten under Bo Ryan? Nigel Hayes and Bronson Koenig are back, but the national player of the year (Kaminsky), likely lottery pick (Dekker) and savvy veterans (Gasser and Jackson) are not, which means there are significant holes to plug. Wisconsin won't be able to duplicate the offense that nearly carried it to a national championship last month, so there's going to be dropoff. The only question is, how far down the standings will the Badgers fall?
4. Purdue (21-13, 12-6)
· Arriving: Caleb Swanigan (247Composite top 100), Grant Weatherford, Johnny Hill (UT-Arlington graduate transfer), Ryan Cline
· Departing: Bryson Scott (transfer), Jon Octeus (graduation)
Outlook: Good luck guarding Purdue in the post next season. A.J. Hammons and Isaac Haas are back and will be teamed with Swanigan, Indiana's Mr. Basketball, to form a difficult to stop frontcourt. Questions linger at point guard with Hill and P.J. Thompson as the two options to fill the spot. Neither appears capable of replacing Octeus. Purdue was a poor 3-pointing shooting team last season, but if a bounce back season from Kendall Stephens occurs along with the presence of Dakota Mathias and Cline, that problem could be rectified.
3. Michigan State (27-12, 12-6)
· Arriving: Deyonta Davis (247Composite top 100), Eron Harris (West Virginia transfer), Kyle Ahrens, Matthew McQuaid (247Composite top 100)
· Departing: Branden Dawson (graduation), Travis Trice (graduation)
Outlook: The Spartans return a significant chunk from a roster that made an improbable run to the Final Four and add a McDonald's All-American talent in Davis, who should help replace some of the production vacated by Dawson. This roster is incredibly balanced and deep as Tom Izzo will have a legitimate chance to go ten deep on most nights. If Harris is as good as advertised, he should allow Denzel Valentine, a legitimate player of the year candidate in the league, to not take on too heavy of a scoring load.
2. Indiana (20-14, 9-9)
· Arriving: Juwan Morgan, O.G. Anunoby, Thomas Bryant (247Composite top 100)
· Departing: Devin Davis (dismissed/transfer), Jeremiah April (transfer), Hanner Mosquera-Perea (dismissed/transfer), Max Hoetzel (transfer), Stanford Robinson (transfer)
Outlook: The Hoosiers return four starters and more importantly, add a McDonald's All-American big man to address a major void in the post. There's a very good chance Indiana will have the Big Ten's best offense with its stockpile of shooters (Yogi Ferrell, James Blackmon Jr., Robert Johnson, Nick Zeisloft and Collin Hartman) and a dynamic driver in Troy Williams. The defense, of course, still has plenty of room for improvement and depth took a hit with the dismissal of Mosquera-Perea, but there's plenty of reason for optimism in Bloomington.
1. Maryland (28-7, 14-4)
· Arriving: Diamond Stone (247Composite top 100), Jaylen Brantley, Rasheed Suliamon (Duke graduate transfer), Robert Carter (Georgia Tech transfer)
· Departing: Dez Wells (graduation), Evan Smotrycz (graduation), Jon Graham (graduation), Richaud Pack (graduation)
Outlook: The Terps won't be as big of a favorite to win the league as Wisconsin was last season, but this is the league's best roster on paper. Melo Trimble, Jake Layman, Jared Nickens and Dion Wiley are all back and will be joined by Stone, Suliamon and Carter to form a core that can match up with anyone in the country. Maryland didn't have a consistent inside presence last season. Stone and Carter will address that. Combine those two with the leadership and playmaking ability of Trimble, the scoring ability of Layman, a former McDonald's All-American in Suliamon and the shooting prowess of Nickens and Wiley and it's easy to project Maryland as the favorite.
Filed to: Big Ten Power Rankings