Recruiting notebook: New offers, final class of 2015 rankings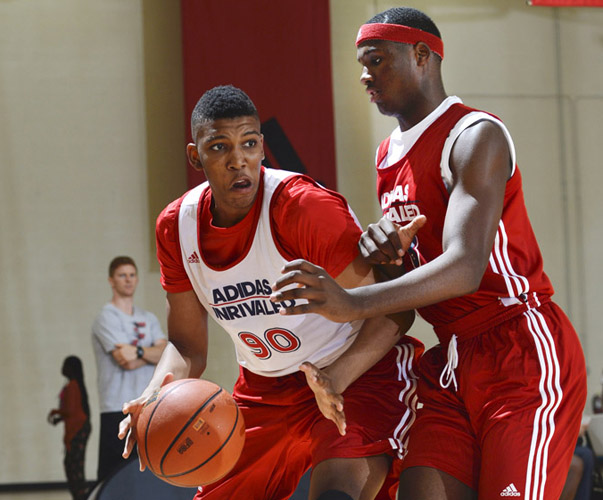 The two April evaluation periods have concluded, but it has still been an active week on the recruiting front for Indiana.
According to multiple reports, the Hoosiers have offered three new scholarships this week. The new offers include class of 2016 forward Tony Bradley of Bartow (Fla.), class of 2017 forward Justin Smith of Adlai Stevenson (Ill.) and class of 2017 guard Mitchell Ballock of Eudlow (Kan.).
Bradley (pictured) is ranked the No. 31 prospect in his class according to the 247Composite and Ballock is ranked No. 30 in those same rankings for the junior class.
According to his profile on 247Sports, Bradley has more than 20 scholarship offers. The 6-foot-10, 230-pound big man is averaging 12.6 points and 8.7 rebounds per game for E1T1 Elite in the Nike Elite Youth Basketball League (EYBL) this spring.
Ballock, a 6-foot-4 guard who plays AAU for KC Run GMC, is averaging 12.4 points and 6.8 rebounds this spring on the Under Armour Association circuit. Ballock also has offers from Kansas, Iowa State and Creighton, among others.
The 6-foot-7, 200-pound Smith is playing up a year on the Mac Irvin Fire Nike EYBL team and is averaging 9.9 points and 3.3 rebounds through 12 games.
Final class of 2015 rankings
Final rankings for the class of 2015 have been issued by all of the major recruiting services and here's a look at how each of Indiana's signees checked in: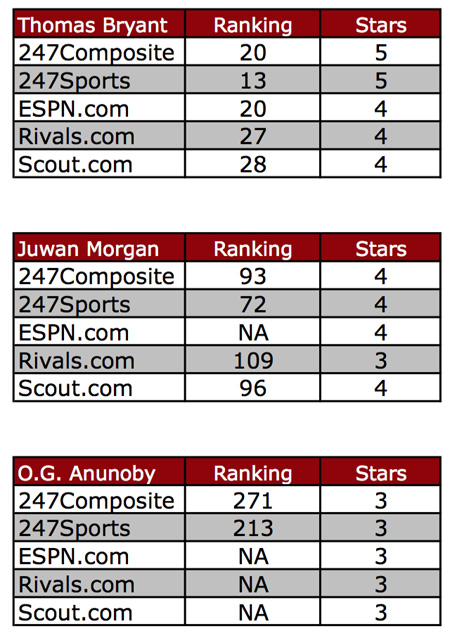 Indiana's recruiting class is ranked No. 24 nationally in the 247Composite rankings behind Ohio State (10), Illinois (16) and Michigan State (17).
Filed to: Justin Smith, Mitchell Ballock, Tony Bradley