Mindset unchanged, Williams ready to put in work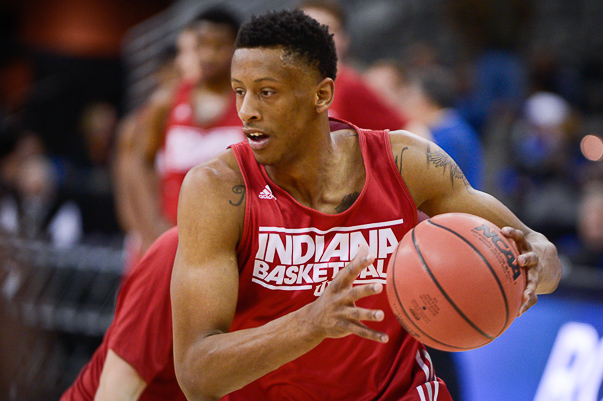 The transformation Troy Williams made between his freshman and sophomore seasons at Indiana was significant.
The 6-foot-7 forward went from a player Big Ten defenses were often able to take away as a freshman to one that carried the Hoosiers at times as a sophomore because of his ability to impact the game in a variety of ways.
Williams improved his efficiency offensively, cut his turnover percentage by more than five percent, led Indiana in rebounding and showcased a much more polished stroke from the foul line and occasionally from behind the 3-point arc.
When Williams played well last season, so did the Hoosiers in most cases. In Indiana's nine Big Ten wins, he averaged 15.5 points and 8.4 rebounds in 29.3 minutes per game.
His improvement from his freshman to sophomore seasons gave Williams the opportunity to explore his NBA draft options at the end of this past season, but he chose to return to Bloomington to continue to grow his game. He is also on schedule to earn his degree next summer.
With its top eight scorers returning and the arrival of a three-man recruiting class featuring McDonald's All-American Thomas Bryant, there's great optimism surrounding IU basketball as the Hoosiers prepare for the 2015-2016 season.
But as Williams sees it, the approach won't change much this offseason from last even with greater expectations present.
"We just want to do the same things," he said Monday at Assembly Hall. "Working out, lifting, nothing new. We have the same mindsets. New people coming in, and that's it. We're going to keep everything the same."
The spring academic semester wraps up this week and several players, including Williams, will get a chance to go home for the first time since the beginning of the year.
After that, it's right back to work.
"We'll go work out like we always do, go work out with John Lucas," Williams said. "I'm going to hone some point guard skills, since I don't know when I'll be put in that situation again. I might play more point guard next year, I may not. Shooting, of course, as well as making the right decisions."
Last summer, Williams shot 10,000 3-pointers and he said Monday that he may do something similar this year.
His shooting and working on his core strength were the two major feedback pieces he took away from NBA teams when exploring his options at the conclusion of last season. Now it's a matter of taking that information and getting back to work with the goal of another significant offseason leap in mind.
In the end, the amount of work Williams is willing to put in this offseason will determine just how much more he can improve from a sophomore to a junior.
"Does Troy need to get stronger?" Tom Crean said last month. "Does he need to get better with the ball? Does he need to become a better shooter? Does he need to become a better defender? Yeah, you see the same things that other people see, but the trick is, 'will he work at that point to put himself in the position that he could be in?' And that's really important, too, and the answer to that remains to be seen.
"But that's the crux right now. Are you going to work at the level that you need to work on your own to put yourself in that position, because we're not going to change how we push you and work with you."
Filed to: Troy Williams