The Inside the Hall Mailbag: May 5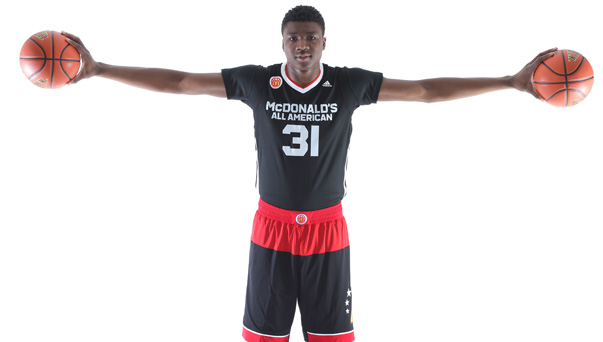 The Inside the Hall Mailbag is a collection of questions tweeted to us via Twitter (@insidethehall), via email, submitted on our premium forum and sent to us via our Facebook page. Submit your questions and we'll answer as many as we can.
Anthony Baird on Facebook writes: Will (Thomas) Bryant really be that big of an improvement? Crean has proven he can't get it done with bigs. I mean look what he did to Cody Zeller. I'm looking more forward to the return of Devin Davis!
Yes, Thomas Bryant will be a major improvement and a major factor from the minute he steps onto Branch McCracken Court. He's a high energy guy who is coachable and makes hustle plays. He chose Indiana for a variety of reasons, one of which I'll get into now as I tackle your second comment regarding Zeller. That reason is player development.
If "not getting it done with bigs" is putting a guy into the lottery for two straight years, I'm not sure what else you'd like to see. Zeller came to Indiana ranked just outside of the top 10 nationally in his recruiting class and went No. 4 overall in the NBA draft and was an All-American. When he left campus, he was a much better player than he was when he arrived. Those are all facts. You can certainly argue that IU should have advanced further than the Sweet 16 back in 2013, but that is a separate discussion. In terms of making guys better that put in the effort and helping them reach their potential, it's hard to dispute what Crean has been able to accomplish. – Alex Bozich
mcoghlan on the premium forum writes: Assuming there are no more departures or additions in the Big Ten, where do you think IU will end up in the Big Ten standings?
Right now, I'd put IU third behind Maryland and Michigan State. I think the Terrapins are the favorite on paper based on the strength of their returning pieces (Melo Trimble, Jake Layman) and two interior additions (Diamond Stone, Robert Carter). The Dez Wells loss obviously hurts, but Mark Turgeon has some other young players in Dion Wiley and Jared Nickens who should also be better as sophomores.
I'd give the edge to Michigan State over IU right now because the Spartans have the less challenging Big Ten schedule. Michigan State only plays IU and Maryland one time each and both games are in East Lansing. The Spartans also return Denzel Valentine, Bryn Forbes, LouRawls Nairn, Matt Costello, Gavin Schilling and add West Virginia transfer Eron Harris and a pair of McDonald's All-American big men in Caleb Swanigan and Deyonta Davis. That's a very solid roster with depth. Michigan and Purdue should also both field strong groups and if the Boilermakers can add a point guard, they can easily challenge for a top three finish again. I do like Michigan's team on paper, but I'm more in wait-and-see mode there as Derrick Walton and Caris LeVert are working to get back to 100 percent from injuries. Wisconsin also can't be counted out as Bronson Koenig and Nigel Hayes are back, but the Badgers will be young and are going to have a ton of production to replace. – Alex Bozich
@PatrickJMaley on Twitter writes: Any word on or thoughts about who will fill the open assistant coaching spot and when? Strength trainer, too?
There's nothing new to report on either front. Director of basketball operations Rod Judson was on the road recruiting for the two April evaluation periods in place of the departed Steve McClain. Beyond that, there hasn't been any indication nor an announcement on who will fill those openings. – Alex Bozich
Tom Jameson on Facebook writes: Alex, what kind of rotation do you see for this season? As detailed as you care to get (I see Yogi, JBJ, Troy, Bryant as certain starters), but also how do you see this very deep team competing for minutes?
I'm not quite ready to project a starting lineup, given that it's early May and there's plenty to play out between now and the start of practice, but I would expect Yogi Ferrell, James Blackmon Jr., Robert Johnson, Nick Zeisloft, Collin Hartman, Troy Williams, Emmitt Holt, Bryant and Hanner Mosquera-Perea to all be in the rotation. That's nine guys right there.
Beyond that, there's still uncertainty surrounding Davis and his situation, but if he's healthy, I think he'll have a role. That leaves Juwan Morgan, O.G. Anunoby and Tim Priller as the other three guys competing for minutes. While there's certainly a chance that Morgan or Anunoby could carve out a role, there's talent and experience in front of both guys and it's not often that you see a team go more than nine or 10 deep with any regularity. – Alex Bozich
dmacer1227 on the premium forum writes: With the addition of Harrison Niego, how does that impact Ryan Burton and Nate Ritchie?
I haven't heard anything that indicates that the addition of Niego will have an affect the status of Burton or Ritchie. – Alex Bozich
@IngramGreg on Twitter writes: What's the experience INSIDE THE HALL going to be like next year given they'll be midway through the renovations?
I see what you did there, Greg. Nice play on words. As for the experience at games next season, I would direct you to the video below from last month where Fred Glass talks about the renovations project. This is really the latest information we've been given on the project and Glass discusses some of the challenges that may be present next season. Hope this helps. – Alex Bozich
GregorySpera on the premium forum writes: After all the highs and lows of the past few years, in your mind, how important is next season when it comes to determining whether or not Tom Crean is really the man to return Indiana Basketball to "elite" status, long term?
It's incredibly important. All of the pieces appear to be there to have a team that should challenge for a Big Ten crown and a favorable seed in the NCAA tournament. Assuming those things materialize, there will be plenty of focus on how this team performs in the tournament.
Glass, who is ultimately the one responsible for the direction of all of IU's athletic programs, was pretty clear in his postseason comments that he wants to see more next season while remaining a strong advocate for the job Crean has done to this point. – Alex Bozich
twoturntables on the premium forum writes: Now that the rosters are mostly finalized and the schedule is out for 2015-2016, which of the top teams (IU, UM, MSU, Maryland, PU) go the best draw? Who got the worst?
The best draw has to be Michigan State. The Spartans have single plays with Indiana (home), Maryland (home), Michigan (away) and Purdue (away). Assuming those are the top five teams in the leagues (I wouldn't could out Wisconsin just yet), getting a single play with each of the other four contenders is a nice gift from those making the schedules.
The worst draw would probably be Maryland. The Terps get IU and Michigan State just once, but both of those contests are on the road. They also get to play the following teams twice: Michigan, Northwestern, Ohio State, Purdue and Wisconsin. I'm expecting Northwestern to be improved and while Ohio State will be young, the Buckeyes have a great recruiting class coming in and are tough to beat in Columbus. If Maryland wins the Big Ten next season, it will certainly be a deserving champion. – Alex Bozich
kmark22 on the premium forum writes: Alex it has been discussed in the forum recently, primarily by me, that IU needs to refocus and get stronger with in state recruiting and not just at the elite level. With one in state recruit in the past two classes do you think this is an issue or are they days of locking up the state's best talent over?
IU certainly tried to make recruiting in the state a focus in 2014, but things obviously didn't work out with Trey Lyles, Trevon Bluiett or JaQuan Lyle. I don't think it was from a lack of focus in the state, I just think some of those situations didn't work out. The Lyles situation obviously hurt, but I'm not sure what else could have been done there.
Looking at 2015, IU got a very good big man in Thomas Bryant who I would argue is probably a better fit for the program than Caleb Swanigan, who went to Michigan State. The only other sure-fire Big Ten recruit in 2015 was Jalen Coleman, who IU tried with for several years before he ultimately chose Illinois.
It's obviously impossible to forecast the future, but IU seems to be making the state a focus in 2017 and in 2016, the Hoosiers seem to be firmly in the mix with Joey Brunk out of Southport and also recruited Kyle Guy diligently before he committed to Virginia. The talent hasn't been as deep the past couple of years in the state, but 2017 appears loaded and should help us answer your question better. – Alex Bozich
"WILL" take charge on the premium forum writes: What are your thoughts about the chances that Thon Maker comes to IU?
I don't believe the chances are good, particularly if the mid-season enrollment is going to happen. That's a situation that would seem to better suit a program like Arizona State that needs to acquire talent more than a program like IU, who will be trying to mold together a team that should compete for a Big Ten championship.
Bringing in a player who appears to be a one-and-done in the middle of the season could be more disruptive than helpful despite the talent. Obviously Maker could end up being a positive for the program that ultimately lands him, but there are simply too many negatives of a mid-season enrollment to take the chance in my opinion if that's what ends up happening with Maker. There are still those – I know Evan Daniels of Scout.com is among them – who still question whether Maker will ever play college basketball as there has been plenty of discussion that he could explore his professional options overseas or maybe just stay in Canada for his senior season and try to enter the NBA draft without going to college at all. – Alex Bozich
brosallman on the premium forum writes: Alex, what are the chances that Devin Davis plays meaningful minutes next year?
IU is planning for Davis to play next year, but there are medical hurdles that still need to be cleared. I think the program has taken the correct approach with Davis in bringing him along slowly and letting the injury heal properly.
Assuming he's cleared to play next season, I think he's going to have a role and play meaningful minutes. Ferrell mentioned his rebounding ability in his comments yesterday, so it seems evident that his teammates are also excited about the possibility of Davis rejoining the rotation.
Given the roster IU has assembled next year, the best role for Davis would likely be as an energy guy off the bench who can rebound and play alongside a guy like Bryant for stretches. To answer the question, the chances appear to be good, but we'll have a better idea later in the summer as he continues to progress in his rehab from a very serious injury. – Alex Bozich
Filed to: Twitter Mailbag