Notes, quotes from availability with IU's assistant coaches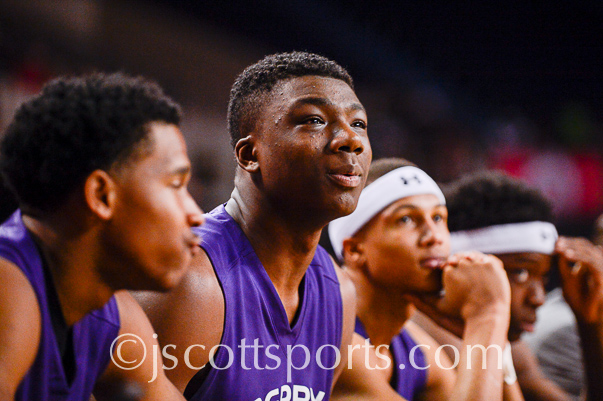 Associate head coach Tim Buckley, along with assistant coach Chuck Martin and director of basketball operations Rob Judson, took questions from the media on Monday afternoon at Assembly Hall and discussed a variety of topics.
We've compiled some notes and quotes from that media sessions which are available below:
· Martin, who was essential in the Thomas Bryant recruitment, was asked about the impact he expects the McDonald's All-American to make on the program next season.
"I just think he's a kid that fits the culture here at IU. He's a great teammate," Martin explained. "All about the hustle plays, committed teammate. Obviously his size plays a major role in how he can impact the program, but more importantly, I just think who he is as a person is the most significant thing. His energy, his thought process, being a part of a locker room. I think those things really help."
· Buckley also discussed Bryant at length and compared his personality to that of Victor Oladipo, but said that he's not as flamboyant. He mentioned Bryant's personality and discussed how it might help IU defensively and also made it a point that Yogi Ferrell needs to hold his teammates more accountable on that end as a senior.
"I think when you have personalities like that, they play defense with that personality," Buckley said. "And you have to play defense with personality and intent. I think he's a guy that is going to talk in that back line, which is very important to your defense. I think he has the ability to erase mistakes because he can block shots, but I also think he's the type of player because of his mentality, he'll slide over and take a charge if it calls for that.
"He's going to need help from the returning guys because this is going to be new to him, people are going to be more physical than maybe he's used to, but that's where I think Yogi (Ferrell) was asked what is he going to do help our defense get better and I think Yogi's got to start holding people more accountable. And I think he will because I think that's part of his development. That's what our team needs and then that ultimately is going to be what he needs to get to where he wants to go."
· Buckley also discussed how Bryant will fit into IU's locker room and IU's associate head coach said he believes the transition shouldn't be difficult because Bryant just wants to fit in.
"The great thing about Thomas is, as highly regarded as he is, he just wants to be one of the guys," Buckley said. "He's not going to come in here and feel entitled or feel like he's a high level guy. He's going to come in here and work every day and he's got the personality to do that."
· Martin, who spent a year as a scout in the Oklahoma City Thunder organization, was asked about the NBA feedback that Ferrell, James Blackmon Jr. and Troy Williams received and the impact it can have in their development:
"It's always good to hear it from a credible source," Martin said. "I think any time the NBA to speaks to any of these kids whether it's here at IU or anywhere else around the country, kids and families have a tendency to listen because they're hearing it directly from an organization. I think for us, it allows us to have someone else echo some of the things we've been trying to get across throughout the year.
"I think those guys take the information, they sit down with their families and they kind of reflect on the type of year that they had as a team and individually and say, 'you know what, that makes sense. I see how I can impact IU.' Whether that's on the offensive end or the defensive end and surely how I can increase my stock for the following year."
· Buckley was asked about the potential for IU to change how it plays defensively based on the new additions in Bryant, Juwan Morgan and O.G. Anunoby.
"One of the things that you don't ever know, especially with new guys, is how they're going to be until you actually work with them," he said. "You can project and think about it. I was kind of chuckling about the NFL draft, they're grading all of these drafts and nobody knows how those guys are going to perform so I think it's the same thing. We feel really good about it because of the mentality of the three guys. We think that they're kind of growth mindset guys, they want to get better, they want to improve, they want to know how they can contribute to the team and it's not just about them. I think any time you have that mentality, you have an opportunity to contribute.
"I think that length, that speed and that athleticism are going to allow us to extend the floor a little bit more, particularly on the defensive end. And then offensively, we're going to want to play even faster. So we're trying to push the pace more on offense and maybe be a little bit more aggressive defensively so we can create offense out of our defense."
· Finally, Buckley was asked how a shift in expectations could affect next season's group as the Hoosiers move from a team with little expected to a group that should be ranked to begin next season.
"Well we didn't believe the expectations last year and we can't believe the expectations this year," Buckley said. "I think it's the same mentality. All that matters is what you believe and the group inside the locker room or that film room, wherever we are. We believed in ourselves and we felt like we could be a good basketball team and now, we can't believe that we're too good. We've got to know that we've got to get better day by day.
"I think it was the same thing with the No. 1 team (in 2012-2013). If Will Sheehey hadn't made that shot to send us to the Sweet 16 (against VCU), would we have been the No. 1 team in the country? I don't know. Maybe top 20. And so that team never felt like we've arrived and we're No. 1. And that's why I think we were able to stay up there in the polls and have the great season and win the Big Ten like we did. So we've really got to have a great mentality and I think the guys have had that. I think the culture here has always been about work and getting better every single day and that continues."
Filed to: Chuck Martin, Tim Buckley