Ferrell: "I couldn't miss out on an opportunity like this"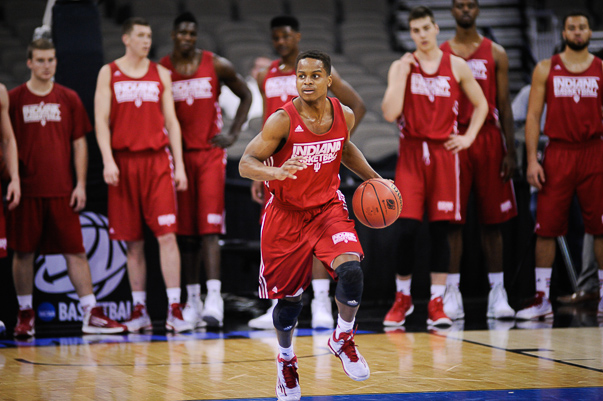 In order to get the most thorough investigation of his options following the conclusion of his junior season, Yogi Ferrell needed time.
With the help of his father, Kevin Ferrell Sr., and the IU coaching staff, Ferrell gathered as much information as possible to assist him in a pivotal decision: whether to return to college for his senior season or pursue a professional career.
His decision, announced on Sunday, April 26, was to come back to Bloomington for one more year. Ultimately, Ferrell said on Wednesday, the opportunity at IU next season on what should be a preseason top 15 was too much to pass up.
"I felt like I couldn't miss out on an opportunity like this at Indiana," he explained in a media availability at Assembly Hall. "Such a great place, I feel like I've had the best time of my life here. Best memories, best teammates, best friends. The next level is always going to be one of my dreams and I'm still going to be pursuing that dream and I feel like that dream is still going to be there at the end of the day."
Ferrell, who has a chance to cement himself as one of the best four-year players in IU history, believes all of the feedback he received during this process will aid him tremendously as he prepares for his final season.
He noted that "maybe half" of the NBA teams he heard from projected him as a second round "at best" had he declared for June's draft. He also said a couple of teams told him they want to see him "mix it up" as both a scorer and facilitator as a senior at IU.
When all of the information was in and it was time to make the call, Ferrell simply made a list and tried to weigh the pros and cons of both scenarios.
"(It was) just writing down pros and cons of leaving IU or coming back and just sitting down with my dad," he explained. "Say I left and I wasn't drafted, I still would have tried to pursue my dream. I was just trying to get every piece of information I possibly could for me to weigh out my options. I felt like this was my best option. This is just a special place and it is just really hard to leave."
Now that he's officially back, Ferrell is already looking ahead to next fall in Bloomington.
The Hoosiers will return their top eight leading scorers from a team that finished 20-14 and lost to Wichita State in the NCAA tournament. The coaching staff filled a major hole on the interior with the signing of McDonald's All-American Thomas Bryant.
Unlike last season where very little was expected out of Ferrell and his teammates, it's clear that expectations are already building.
The pieces appear to be in place to make a run.
"We know expectations are high. The buzz is already out from just reading a few things," Ferrell said. "We need to pick things up a little bit quicker. Not really listen to what anybody else is saying. We know how we want to play, we know how we want to produce."
One thing that could change how Indiana plays next season is the addition of Bryant, who will give the Hoosiers a legitimate shot blocking and rebounding presence in the middle. Bringing in Bryant, as well as Juwan Morgan and O.G. Anunoby, should give Indiana better athleticism, depth and length on the front line.
Indiana finished the 2014-2015 season with the Big Ten's worst 2-point field goal percentage defense, a number that must improve significantly for the team to reach its potential next season.
"I think with the length we have coming in, that's definitely going to help us protect the inside," Ferrell said. "I feel like maybe we can gamble a little more, get more into the ball, maybe press a little more because we're going to have some inside presence and maybe try to take down that 2-point field goal percentage (defense)."
The freshmen won't arrive on campus until June, but the returnees have already started to prepare for next season with weight training, conditioning and individual workouts.
One thing Ferrell said he wants to see next season is a team that is able to "click" from the very beginning. After spending last season as one of the Big Ten's youngest teams, the Hoosiers will be one of the more experienced groups in the conference.
"I feel like next year we can have a really special team with guys coming in and guys returning with a little more experience under our belt," Ferrell said. "I think we'll just be one of the more experienced, older teams now."
Filed to: Yogi Ferrell