2016 forward De'Ron Davis makes changes to his game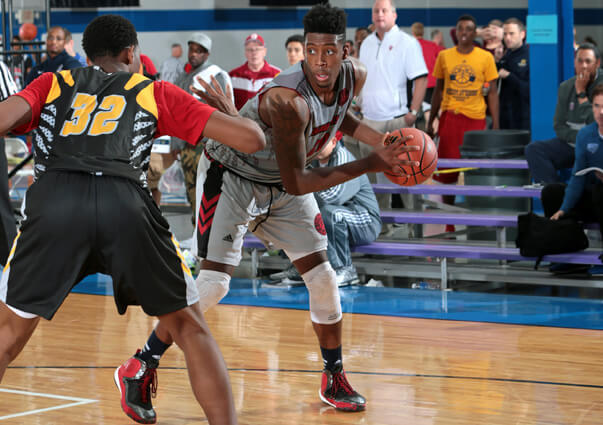 INDIANAPOLIS — De'Ron Davis is done taking a back seat.
As the 6-foot-10 class of 2016 forward is in the midst of his final AAU season with Colorado Hawks, the rising senior said on Saturday from the adidas Gauntlet in Best Choice Fieldhouse that he has made one major adjustment to his game.
He's trying to be more aggressive on the court.
"I've been trying to show everybody I'm being aggressive this year," Davis told reporters. "Last year, I took a sideline to a couple players, so I'm trying to come out and be aggressive."
Throughout 2015 — well before the AAU season started — Davis made that change in his game a priority. Playing in his junior season at Overland (Colo.) High School, the No. 31 rated prospect in the class of 2016 according to the 247 Composite had to adjust his game en route to a state title.
He averaged 16.3 points, 11.3 rebounds and 5.1 blocks per game and scored 15 points with 16 rebounds in Overland's first-ever state title. But as he recalled on Saturday, that didn't come easy.
"High school, especially in Colorado, they tend to double-team and triple-team a lot, and even quadruple-team," Davis said. "So just playing without my teammates, trusting my teammates, that's a big thing for me."
That same belief has translated into this year's AAU circuit, as the level of Davis's competition has improved. No longer is he allowing himself to relax on the court and he acknowledged he wanted to be more aggressive during games.
"I wouldn't say it's natural," Davis said. "I'm just trying to change my ways."
And colleges have taken note of that change. Davis said Texas and VCU recently extended scholarship offers. He also said he has been hearing from UConn, Arizona, Colorado, Arkansas, UCLA and Notre Dame. Indiana is right in the mix, too.
Davis said that former Indiana associate head coach Steve McClain was his lead recruiter, and that changed once McClain left for the head coaching job at Illinois-Chicago. But, Davis noted, current Indiana assistant Chuck Martin has started to develop a relationship with him.
And he said he has heard from all of the Hoosiers' coaches — especially as they had a staff member observe each of his games during this past weekend in Indianapolis. Davis even had the chance to talk with Indiana class of 2015 commitment Thomas Bryant, who was at the event on Saturday.
"I talked to him a little bit, but it's mostly Martin," Davis said. "Because I had a good relationship with the coach that left and he's just trying to fill that role."
But Davis said he's not in any rush to make a college decision. He doesn't even plan to begin cutting his list until the beginning of his high school season. And when he does, he will be looking at schools that have a history of developing its players, he said.
That still is a ways away, though. For now, Davis said he will continue to hear from colleges. And continue to make a more conscious effort to be a force on the court.
Filed to: Deron Davis