Rawle Alkins a priority for Indiana in class of 2016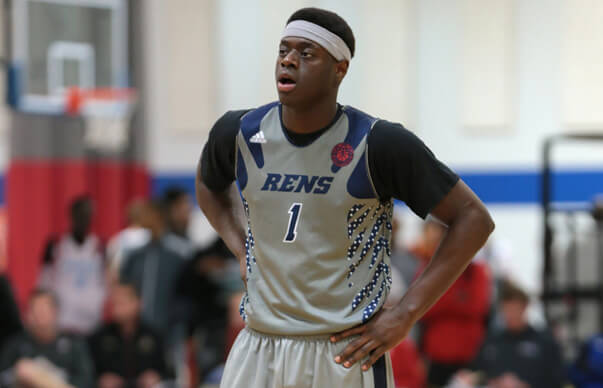 INDIANAPOLIS — On Saturday morning at the adidas Gauntlet Series, Rawle Alkins ran into a familiar face.
Thomas Bryant, Indiana's newest commit, happened to be at Best Choice Fieldhouse to watch several AAU games with his high school coaches. He stopped Alkins in his tracks.
"He said we could take IU by storm," Alkins said. "Me and him would just kill, together."
With Alkins playing just over an hour from Indiana's campus, the Hoosiers this past weekend took the opportunity to continue their prioritization of recruiting Alkins — a class of 2016 prospect and the Christ the King (N.Y.) guard ranked No. 29 in the class, according to the 247 Composite.
The Hoosiers chose to have a member of their staff at every game Alkins played in Indianapolis. They have had Jordan Fuchs — current walk-on and Alkins' former high school teammate — and Bryant recruiting him, as well.
"I would say they're probably recruiting me the hardest right now," he said.
Throughout Alkins' recruitment to Indiana, the two sides have shown reciprocated interest.
Indiana began with a scholarship offer last June and has made it a priority to load Alkins with mail and messages to show their high interest in the 6-foot-5 guard. "Oh yeah, I love their mail," he said.
He took an unofficial visit to Hoosier Hysteria last October. And the Hoosiers watched Alkins multiple times during his high school season, too. Alkins even wanted to visit Indiana again this past weekend but was told he could not because of the live period. He simply has enjoyed his recruitment to Bloomington.
"They want me to be that guy," Alkins said. "They said they see me, if I go to college next year in 2016, they see me as that James Blackmon guy as a freshman. So that's a high compliment.
"IU has shown a lot of love. They told me that they were going to be here. I get all their tweets, they tweet me and I see all their mail, like join the Hoosier Nation, stuff like that. It's great."
But Alkins insisted he has no favorites in his recruitment.
He said he hasn't even thought about making a college decision, yet — that "if any school wants to contact me, I'm more than willing to hear what they have to say." He said he also has been hearing from Duke, Kentucky, Texas, St. John's, Arizona State, Louisville, N.C. State and Auburn recently, among others.
"I want to be able to say, when it's all said and done, I could have went there too, when everyone talks about their recruitment," Alkins said. "Any school."
And that's why, despite the mutual interest between Alkins and Indiana, the New York native said he has no favorites yet. But the Hoosiers have made it clear: They want to be among those recruiting him the hardest.
They just might have to wait for it to pay off.
"I'm just hearing everyone out right now," Alkins said. "My recruitment's wide open."
Filed to: Rawle Alkins