Is Indiana a preseason top 15 team? Experts say yes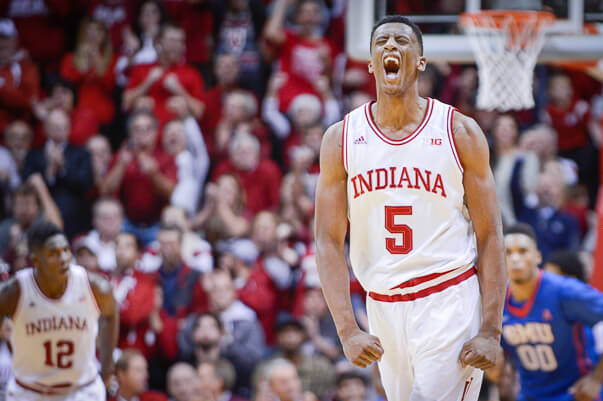 The early entry deadline for the 2015 NBA draft has passed and Indiana appears to be one of the nation's biggest winners as all three Hoosiers who were considering leaving early returned to school.
Along with Maryland and Michigan State, Indiana looks like, at least on paper, a viable contender in the Big Ten next season with its top eight scorers returning and the addition of McDonald's All-American Thomas Bryant.
As a whole, the Big Ten is shaping up to be very deep as Michigan should return to the top 25 with a healthy Caris LeVert, Iowa and Purdue both return four of five starters, Wisconsin brings back Nigel Hayes and Bronson Koenig and Illinois and Ohio State both add talented recruiting classes.
On Monday, Inside the Hall reached out to three of the most well-respected national college basketball writers in the country for their thoughts on where IU could stack up not only in the Big Ten next season, but also nationally.
Pat Forde, Yahoo! Sports
"The wise decisions of several players to return, coupled with the addition of Thomas Bryant, should make Indiana a contender for the Big Ten title and a top 15 team nationally.
"There are some areas in need of serious improvement — especially defensively — but more experienced (and bigger) players should be able to make some strides in those areas. The Hoosiers should be significantly better than the past couple of seasons."
Dana O'Neil, ESPN.com
"If Indiana isn't at the top of the Big Ten hierarchy next season, the Hoosiers ought to be very close. The league itself looks to be in great shape, with players returning to multiple teams, but while fans may not want to hear it, Indiana frankly overachieved last season.
"The Hoosiers were relatively young and inexperienced and the early drama didn't help settle things, either. Now they will be the opposite – old and experienced and having come out on the other side of the adversity. As for the national pecking order, I can't imagine the Hoosiers starting outside of the top 15 in the nation."
Eamonn Brennan, ESPN.com
"Just after the national title game, the Way Too Early Top 25 slotted Indiana into a top-20 spot, and the only reason we didn't have them higher was because of the somewhat bizarre uncertainty surrounding Yogi's decision. (I found it hard to believe he'd want to leave, given how disinterested the NBA was; Europe isn't going anywhere. But like you guys at ITH, a lot of folks who track the program closely insisted he was truly on the fence, and given how long the decision took, they appear to have been correct.)
"Nevermind all that. Getting back Ferrell — who will, barring injury, leave Indiana as one of the most productive players in program history — elevates IU from an interesting collection of pieces to a borderline top-10 team to start the 2015-16 season. There will be one Big Ten group with more sheer talent (Maryland) and even that is arguable, given IU's overall depth and stylistic cohesion.
"Will they get to the line every now and then? Will they guard anyone, ever? October is a long way off. But for a program whose athletic director had to openly give its coach a vote of confidence as recently as March, the 2015-16 season is shaping up quite nicely, isn't it?"
Evan Daniels, Scout.com
"I think adding an energy guy like Thomas Bryant and with the return of Yogi Ferrell, it changes the outlook of their season. Bryant is an immediate contributor and will instantly compete with the best post players in the Big Ten. He's a terrific rebounder and shot contester and always plays hard. IU fans know how important Ferrell is to their team and their success. These were big decisions for Tom Crean and ones that will help in the win category this year. "
Filed to: 2015-2016 season preview