Blackmon Jr. gets NBA feedback, opts to return for sophomore season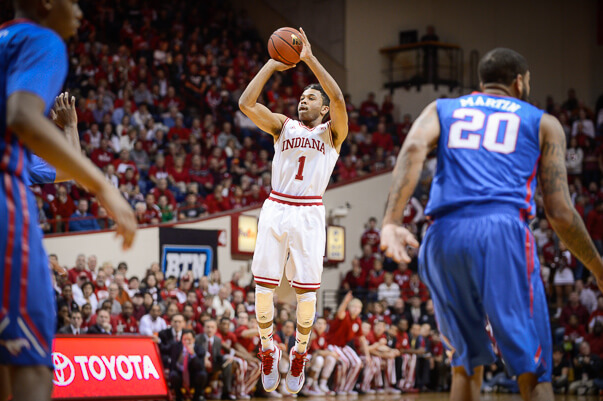 Not long ago, James Blackmon Jr. had a meeting with Indiana coach Tom Crean.
It started as a discussion about the Indiana freshman's chances at being selected in the 2015 NBA draft. It ended with Blackmon Jr. leaving straight for the gym.
On Thursday afternoon, Crean and Blackmon Jr. sat together once again, this time in the Assembly Hall press room. The 6-foot-4 guard made his announcement public. He would be returning to Indiana for his sophomore year.
"It was just positive and negative things for me, but the greatest thing about that was I could see what I need to get better at," Blackmon Jr. said. "Every day you look forward to being there (in the NBA). But right here, I love it at Indiana and this is a place where I can just get better every day and for the long run I'll be ready for."
After a freshman season in which Blackmon Jr. averaged 15.7 points and 5.3 rebounds per game, he chose to explore his NBA draft options with Crean.
As with any player, Crean said he made it a priority to get feedback from those with real insights — the decision-makers, the general managers and coaches of certain NBA teams. Forget NBA draft boards, he said. The only opinions that matter were those from who would be deciding Blackmon Jr.'s future.
"All you want to do is make sure you're giving them every bit of factual information you can get," Crean said. "You give them real insight. You try to take opinions out of it, including your own, but when you're his coach, you better have proper insights."
Throughout that process, Blackmon Jr. heard what he needed to hear. He recalled NBA teams saying that they like his athleticism and his ability to score.
But beyond that, he said he didn't remember much else about what NBA teams liked about him.
"I just remember the negatives more than the positives," he said.
Above all in that process, he found out NBA teams want to see him play better defense — both on the ball and off the ball. He felt he could improve his leadership and his strength.
But he also mentioned the importance of showing improved point guard skills next season — an aspect Crean further harped on, unprompted.
"He's got to become even more of an initiator," Crean said. "Initiator doesn't mean a facilitator. An initiator means initiating what's there offensively — whether it's a shot, a drive, a next pass, a cross-court pass, pick and roll, whatever it is, and continue to understand how to play off what the defense is giving you."
As Blackmon Jr. announced his return to Indiana, there was no regret. In fact, he said hearing the NBA feedback "made me want to work even harder."
Crean noted when Blackmon Jr. leaves, he wants it to be when he will make an impact and be a contributor at the next level.
"That's what the separator becomes," Crean said.
And Blackmon Jr. is at peace with that. He knows he can make a difference at Indiana next season. It's something he already is looking forward to.
"I'm going to be playing with a great team," he said. "We have a huge chance to do something great this year. I definitely looked at that, and the teammates I have push me every day. I want to be a part of that."
Filed to: James Blackmon Jr.