Oladipo on Bryant: "He's gonna be a huge help"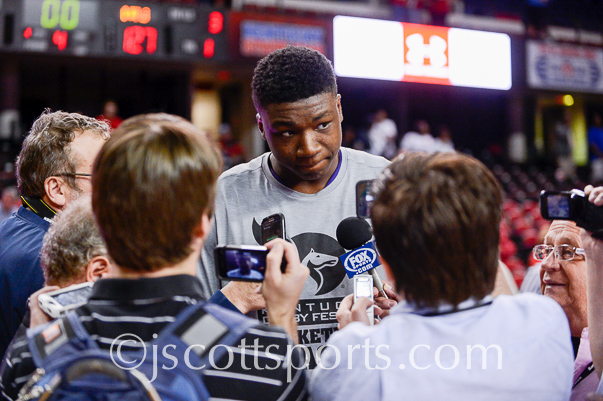 Former Indiana All-American and current Orlando Magic guard Victor Oladipo was courtside for Friday night's Jordan Brand Classic at the Barclays Center.
Oladipo, who averaged over 17 points in his second NBA season, is a Jordan Brand athlete, along with Cody Zeller and Noah Vonleh.
In an interview with ESPN2 during the broadcast for the Jordan Brand Classic, Oladipo was asked for his thoughts on class of 2015 big man Thomas Bryant, who committed to the Hoosiers earlier this month.
"I thought they did a great job (this past season), but we do need an inside presence," Oladipo said. "They need an inside presence, especially defensively, someone to protect the paint and rebound. So he's going to be big for us. He's gonna be a huge help."
Bryant finished with 11 points and eight rebounds for the East team, which fell 118-116 to the West, in the Jordan Brand Classic.
He was 5-of-10 from the field, 0-of-3 on 3-pointers and 1-of-2 from the free throw line.
The Jordan Brand Classic was the third all-star event this spring for Bryant, who also participated in the McDonald's All-American game and the Derby Festival Basketball Classic.
According to his high school coach Arkell Bruce at Huntington Prep (W.V.), Bryant was scheduled to sign his National Letter of Intent on Friday, but Indiana has yet to announce or comment on the signing.
Filed to: Thomas Bryant, Victor Oladipo