Derby Festival Basketball Classic recap: Juwan Morgan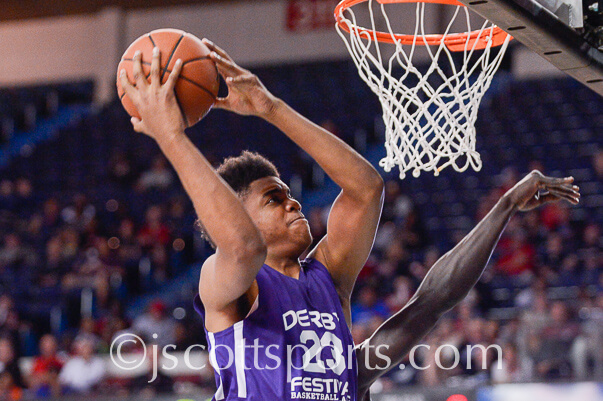 Class of 2015 Waynesville (Mo.) forward and IU signee Juwan Morgan was one of three future Hoosiers who participated in the Derby Festival Basketball Classic at Freedom Hall.
Inside the Hall was there for both practices, the Night of the Future Stars event and the game and will be recapping the weekend for all three recruits.
Game stats
12 points (6-of-7 FG), six rebounds (three offensive), two steals in 20 minutes
Player observations
For a player who told us Thursday he envisions himself doing the "garbage type of deal" on the floor when he arrives in Bloomington, the platform of an all-star game to showcase his talents wasn't necessarily the best to get a feel for Morgan. He's been listed at 6-foot-8 by most of the recruiting services, but his length is going to allow him to play taller. The addition of Thomas Bryant will allow him to play his natural position, which is the four, and he isn't going to need the ball in his hands to be effective.
Most of his offense over the weekend came from either setting screens and rolling to the basket or simply picking up loose balls around the basket and going up to score. Like most incoming freshman, he's going to need work in the weight room to be ready for the physicality around the basket in a Big Ten that is going to be much tougher in the post next season with the talent arriving. Morgan also has a solid stroke from the perimeter, although that's unlikely to be part of his game early on in college. His length and athleticism should certainly help Indiana's post defense and depth right away and he looks like a candidate to crack the rotation from day one.
Quotable
"One thing I know I'll be able to bring for sure is the garbage type of deal. Getting offensive boards, setting screens, loose balls, hustle plays, things like that. That's the one thing I know for sure I'll bring." – Morgan on his potential impact next season for Indiana.
Video recap
3-point shootout
Interview
Filed to: Juwan Morgan