IU releases new details on Assembly Hall renovations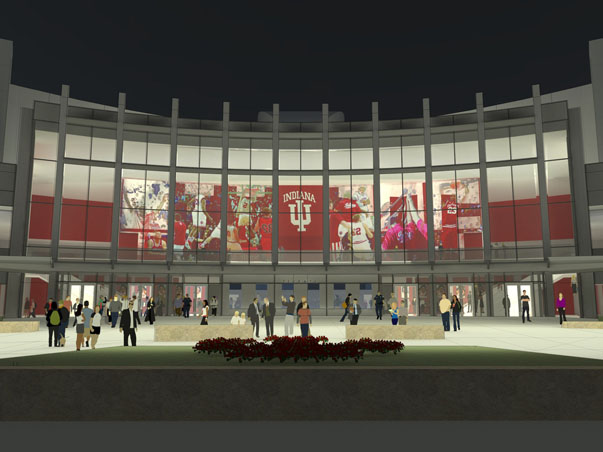 Indiana will hold a public groundbreaking ceremony later today for the Asssembly Hall renovations that are already underway and today the university released new details about the project along with several new renderings.
The full release from IU is available below, along with a gallery of the new renderings:
BLOOMINGTON, Ind. — Indiana University Vice President and Director of Intercollegiate Athletics Fred Glass announced today that renovations have commenced at Assembly Hall. A public groundbreaking ceremony for the future Simon Skjodt (pronounced SCOTT) Assembly Hall will take place today on the Cook Hall Entry Plaza at 3:30 p.m.
Assembly Hall has been home to IU basketball since 1971, and since then has hosted more than twelve million fans. Due to its unique, large-capacity design with the majority of its 17,472 seats on either side of the court, Assembly Hall – with the nation's largest student section (7,800) – is regarded as one of the loudest, and most intimidating venues in college basketball. A 2012 poll of Big Ten basketball players judged Assembly Hall to be the toughest home arena in the league. Assembly Hall has been home to three men's basketball national championship teams and the Hoosiers have a 533-106 record in the 44 seasons at the arena.
As part of preserving college basketball's greatest home court advantage, the renovations will: improve the fan experience through renovating every restroom and adding new ones, improving the concession stands, refurbishing all non-bleacher seats, installing a new large video board with improved visibility in the balconies and throughout the seating bowl, replacing metal railings with acrylic panels to improve safety and sightlines, and adding premium seating and hospitality to generate revenues to reinvest in the building's maintenance; improve fan accessibility through new escalators in the north and south lobbies and improved access for people with disabilities; enhance the look through a dramatic new "front door" and entry plaza and new branding and flooring throughout the building; and rebuild the infrastructure of the building through improvements to its emergency alarms, mechanical, electrical, plumbing and HVAC systems.
Demolition, construction and renovations on Assembly Hall will continue through Fall, 2016.
"I am thrilled that this project will preserve the best home court advantage in college basketball while also greatly enhancing the total game day experience for every fan, player, coach and visitor," said Glass.
"As we mark the first steps in IU's effort to preserve and improve one of college basketball's most iconic venues, it is fitting to once again recognize the generosity and vision of philanthropist and IU alumna Cindy Simon Skjodt," said Indiana University President Michael A. McRobbie. "This extraordinary gift, which is the largest in IU Athletics history, will make it possible for future generations of Hoosier fans to continue to enjoy the type of unforgettable experiences we have witnessed at Assembly Hall for more for than 40 years."
Assembly Hall Construction and Renovations Made Possible Through Simon Skjodt Gift
The renovation of Assembly Hall was announced in December 2013 when IU Athletics received a $40 million gift — the largest in its history — from alumna Cindy Simon Skjodt. In honor of the landmark gift made by Simon Skjodt and her philanthropic organization, the Samerian Foundation, IU will rename Assembly Hall the Simon Skjodt Assembly Hall at the completion of the construction and renovations. The Simon Skjodt gift also launched IU Athletics capital campaign, which is part of Indiana University's Bicentennial Campaign.
"I grew up going to Indiana University games and have great memories of watching basketball games with my father," said Cindy Simon Skjodt. "The atmosphere in Assembly Hall is truly unmatched anywhere in college basketball."
"Everyone in our family has enjoyed incredible experiences with Indiana University," added Simon Skjodt. "We feel fortunate for our IU relationships and it is rewarding to give back. We hope others in Hoosier Nation who are able to do so will also give back to help make the IU Athletics capital campaign a success."
Simon Skjodt's late father, Melvin Simon founded what is now known as Simon Property Group along with his brother Herb in 1959. Simon Property Group is one of the largest real estate companies in the world and is now led by David Simon, Cindy's brother and IU graduate.
New Assembly Hall Construction to Occur on South Side
New construction will focus primarily on the south side of Assembly Hall with the creation of a new grand entrance and entry plaza. Complimenting nearby Cook Hall, the new south entrance of Assembly Hall will feature a prominent glass atrium allowing fans to see the court from the lobby and new inside signage and branding viewable from the outside. The new Ken Nunn Champions Plaza will welcome fans and visitors with new sidewalks and walkways, landscaping, raised planters, a rain garden, stone pavers and stone seating walls. Students will also enjoy a new south entrance to make queuing up for general admission seating on game days easier and more efficient.
The new entrance to Assembly Hall will include new ticket windows, concourse flooring, branding, signage and lobby restrooms. Construction will also include new escalators in both the south and the north concourses.
Inside the south lobby the IU Athletics Hall of Fame will become a fully interactive experience. A large multimedia digital display will feature the more than 200 members of IU Athletics Hall of Fame. Fans will be able to search by name to access portraits, photos, bios and videos for each Hall of Fame member.
Assembly Hall's new club seating will also be accessible from the south lobby. A lounge/event space will host up to 200 guests and the club's arena seating will host 96 guests on game days. Revenues from this new area will be used to maintain the newly renovated Assembly Hall.
"The new and expanded south lobby will serve as a beacon toward the rest of campus and for all of those coming to Simon Skjodt Assembly Hall," said Tom Morrison, IU Vice President, Capital Planning and Facilities. "On the inside, Hoosier faithful will also find all of comforts that fans could hope for on game days."
Assembly Hall Renovations to Occur Throughout Entire Facility
A significant portion of the construction will be dedicated to the renovation of the concourses, restrooms and concession stands. In addition to the new restrooms in the south lobby, all other Assembly Hall restrooms will be modernized and made more family-friendly. Renovations will affect bathroom flooring, walls, ceilings and partitions as well as improvements to accessibility.
Assembly Hall's concession stands will also be modernized and updated with new ceilings, additional sinks and flat-screen digital menu boards.
Throughout Assembly Hall's concourses, fans will see a number of enhancements to the facility. On the walls, fans will be greeted with new graphics and signage that will honor Assembly Hall's storied history and direct fans to seating areas, restrooms and concessions. The addition of flat-screen digital signage will further enhance the fan experience and offer new ways for interacting and presenting special promotions. The venue's concrete flooring will be covered with a new epoxy system accented with red colored flakes.
Inside the seating bowl, all seats on the east and west main sides will be refurbished with new cushioned seat toppers. New acrylic guardrails will be installed throughout to improve views and enhance safety. A new state-of-the-art video board will replace the current bifurcated scoreboard, improving fan experience for all fans in Assembly Hall, especially those sitting in the balcony. The new board will take advantage of technology improvements in digital display and fan interactivity.
There will also be significant mechanical and HVAC improvements to allow Assembly Hall to continue to operate, and operate more efficiently, for years to come.
Accessibility to Be Greatly Enhanced Outside and Inside Assembly Hall
Indiana University engaged accessibility expert Greg Fehribach to develop a construction plan that would improve and increase seating to make Assembly Hall more accessible to those people with disabilities and other needs. Additional accessible seating will be added in three of the four corners of Branch McCracken Court. Seating platforms in both the north and south will be enhanced to significantly increase accessible seating.
"The renovation of Assembly Hall will dramatically increase universal access for fans and guests with disabilities," said attorney and accessibility expert Greg Fehribach. "I am pleased to be a part of the team that has alleviated many of the historical physical barriers. IU's philosophy of inclusive access will expand from the parking lot, to the sidewalks, and into the iconic Assembly Hall."
About Cindy Simon Skjodt
Cindy Simon Skjodt is a well-known philanthropist and passionate community leader. Cindy and the entire Simon family have been particularly generous to Indiana University, with a $50 million gift to the Indiana University Cancer Center in Indianapolis and the creation of Simon Hall on the Bloomington campus as a center for multidisciplinary science. Cindy endowed the Melvin Simon Chair in Philanthropy at the IU Lilly Family School of Philanthropy in honor of her late father. Other recent philanthropic gifts by Simon Skjodt have included a $2 million gift to IU Health Methodist Hospital for a new institute for Cognitive Behavioral Therapy and a Center for Professional Enrichment and a $2 million gift to endow a chair in the Herron School of Art and Design's Art Therapy Program. Simon Skjodt has also helped to fund overseas study scholarships through the IU College of Arts and Sciences, committed funding to help create the IU Health Riley Hospital for Children Simon Family Tower, and supported along with her siblings the Bess Meshulam Simon Music Library and Recital Center on the Bloomington campus in honor of her late mother.
Cindy Simon Skjodt graduated from Indiana University in 1980. She also holds a masters degree from Butler University. The Samerian Foundation is named for the Skjodt's three adult children, Samantha, Erik and Ian Skjodt, who share the Simon enthusiasm and passion for IU's Bloomington campus. Samantha and Erik are 2012 Indiana University graduates. Ian is currently a student at Indiana University. Cindy is married to husband Paul, a former professional hockey player who owns the Indiana Ice of the USHL.
In addition to founding and leading the Samerian Foundation, Simon Skjodt's civic activities include her Board of Director position with the Indiana Sports Corporation and Coalition for Homelessness Prevention, the Indiana Pacers Foundation, Central Indiana Community Foundation, Indiana University Foundation, Indianapolis Foundation, and Methodist Health Foundation.
Filed to: Assembly Hall