Draft Watch: A look at the stock of Ferrell, Williams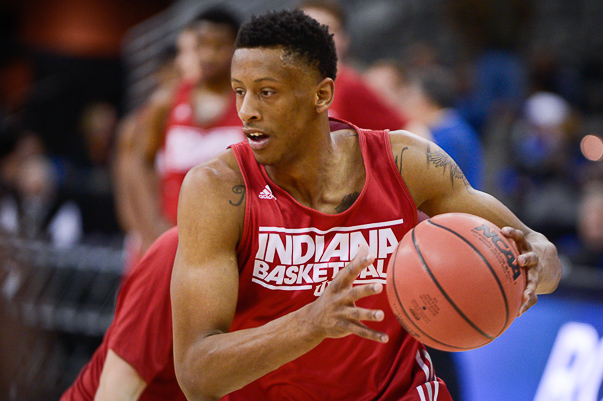 With a pair of lottery picks in 2013 and one in 2014, draft watch was a regular feature on the site the past two seasons. With no clear prospect headed for the 2015 NBA draft, we ditched the feature this season, but have resurrected it for a postseason edition as Yogi Ferrell and Troy Williams appear to be on the radar, but aren't sure things to be picked if they were to declare.
The key date this year for Indiana fans to know is Sunday, April 26, as the NBA's early entry deadline for the draft is that day at 11:59 p.m. ET. The NCAA does have a deadline of its own on Tuesday, April 14, but it has no relevance as it is technically only a withdrawal deadline for players who have already declared to remove their name and retain NCAA eligibility moving forward. Even if a player doesn't declare by April 14, he can still declare up until April 26, but will not have the option of pulling out of the draft if he declares after April 14.
This year's NBA draft combine is scheduled for May 12-17 and team-specific workouts will occur in the weeks leading up to the draft on June 25.
Draft Rankings – Ferrell
DraftExpress: No. 47
ESPN (Ford): No. 104
NBADraft.net: Unranked
Analysis: Clearly DraftExpress is the most bullish on Ferrell's chances of getting drafted and while Ford believes, according to this conversation he had with The Bloomington Herald-Times, that he's a very capable player, he's not sure how his game translates to the NBA. "Yogi's a good floor leader, he's a really good basketball player, and I don't think there's any question about that," Ford told the H-T. "But you think about the Russell Westbrook's and the Derrick Rose's, all of these elite sort of point guards out there, and they'd eat him for lunch."
As we discussed recently on Podcast on the Brink, Ferrell's stock may not change much if he opts to come back for another season. But if he's not going to be picked in the first round, another year in college, which will allow him to finish his degree and have a chance for more exposure and a bump in his stock with an NCAA tournament run is arguably the superior choice to being a fringe NBA player, playing in the the D-League or heading overseas.
Draft Rankings – Williams
DraftExpress: No. 48
ESPN (Ford): No. 48
NBADraft.net: No. 58
Analysis: Williams was asked about the NBA in the immediate aftermath of IU's loss to Wichita State and said it was the furthest thing from his mind. Last night, ESPN reported that he's still undecided on whether to enter the draft, but all of the projections currently slot him as a second round pick at best.
His situation is different from Ferrell's in that another offseason of development could really skyrocket his stock into the first round or higher in the 2016 NBA Draft. Williams already has the athleticism to play in the NBA, but he still lacks a midrange game and a consistent perimeter game in general.
Filed to: Troy Williams, Yogi Ferrell