Thomas Bryant says IU recruiting him the hardest, could decide soon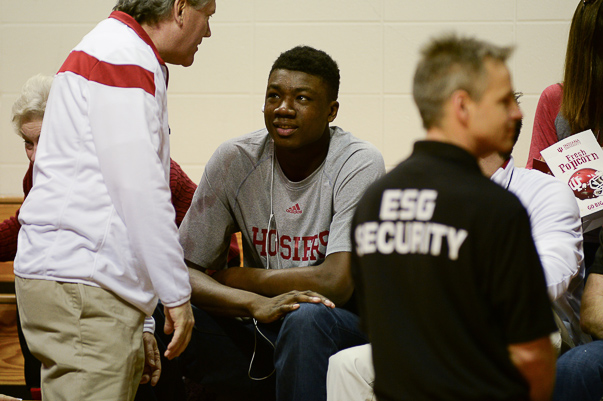 Four-star class 2015 big man Thomas Bryant said on Monday that Indiana is recruiting him the hardest, according to Steve Jones of the Louisville Courier-Journal.
Bryant is currently in Chicago for the McDonald's All-American Game, which takes place on Wednesday night, and he said he could have a college decision as soon as the end of this week.
A 6-foot-10, 240-pound center from Huntington Prep (W.V.), Bryant is rated the No. 27 prospect in the class of 2015, according to the 247 Composite. He is deciding between Indiana, Missouri, Syracuse and Kentucky.
But on Monday, Bryant told Jones that he has not heard from both Syracuse and Kentucky since January, and that Indiana is currently recruiting him the hardest. "They send me a ton of damn letters," he said. He also said that he is under the impression that there is a scholarship available for him at Syracuse.
Bryant and Huntington Prep are participating in the DICK'S Sporting Goods High School National Tournament that begins on Thursday in New York City. Huntington Prep plays Wheeler (Ga.) on Thursday in a game that will be televised live at 2 p.m. ET on ESPNU.
Since the start of the 2014-2015 school year, Bryant has taken two visits to Indiana — an official visit in mid-October and another for the Hoosiers' regular season finale against Michigan State. After his unofficial visit in March, Bryant told Inside the Hall he sees himself "fitting in there really well."
"Coach Crean told me he would utilize me as soon as possible and that he won't have me long and that I'll have to work," Bryant said. "But I love hard work. It makes it that much better and sweeter."
On Monday, Bryant said that to follow up with Crean's promises, he has been in touch with several current Hoosiers, including Yogi Ferrell, James Blackmon Jr., Robert Johnson and Troy Williams, according to Jones. And each have answered any of Bryant's questions.
"They were 100 percent honest with me that he was 100 percent honest that everything he told them in recruiting they're doing in the games right now," Bryant told reporters in Chicago.
Bryant also said that he sees how good the Hoosiers could be with just one more big man — that "they could be a real good team down in the long run."
And when asked about Crean's job security, he was confident that the Hoosiers coach will be back next season.
"I'm satisfied with (Crean's job security)," Bryant said. "He's still going to be at Indiana. I saw the stuff that they support him 100 percent, and I'm happy about that."
Filed to: Thomas Bryant