Glass reiterates support for Crean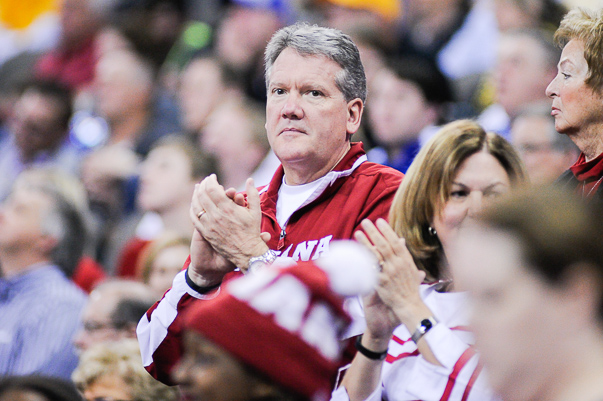 A week after Indiana's season-ending 81-76 loss to Wichita State in the NCAA tournament, athletics director Fred Glass spoke out in support of Tom Crean, who just finished his seventh season in Bloomington.
In a statement sent to The Indianapolis Star, Glass reiterated his support for IU's head coach, while also stating that he expects more from the school's signature athletic program in the future.
"While from a team perspective, there were certainly some positives this year, from a program perspective, we are not where we want to be," Glass told the Star.
The Hoosiers finished the season 20-14, but were at one point 15-4 overall and tied for second in the Big Ten standings after a win over Maryland on Jan. 22.
Indiana finished seventh in the conference, which was slightly higher than where the Hoosiers were projected by most at the beginning of the season. After there was speculation late in the season that Crean might be coaching for his job in IU's final home game against Michigan State, Glass told both The Bloomington Herald-Times and ESPN.com that wasn't the case.
And while Indiana has reached the NCAA tournament in three of the last four seasons under Crean, Glass went on record that expects more moving forward.
"My goals for this program are to perennially contend for and to win multiple Big Ten championships, regularly go deep in the NCAA tournament and win our next national championship," he told the Star. "Be elite, if you will. As a lifelong Hoosier and IU basketball fan, alumnus and current AD, nobody wants that more than me.
"Coach Crean's status should be based on his ability to achieve those goals going forward, not what he has or hasn't done in the past. Because I believe in the team he has assembled and is assembling, his leadership of it and their ability to start achieving our program goals, I continue to support Tom Crean as our coach."
Crean has five years remaining on his contract, which he signed in November of 2012.
Filed to: Fred Glass, Tom Crean