Hoosiers set to make return to NCAA tournament against Wichita State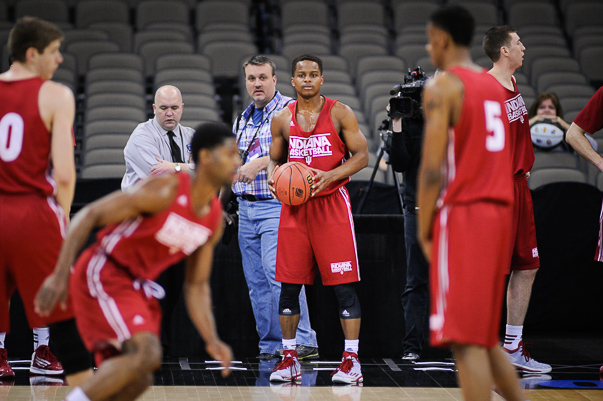 OMAHA, Neb. — Indiana's wait is just about over.
After a one-year absence from the NCAA tournament, the Hoosiers will make their debut in the 2015 edition of the "Big Dance" this afternoon as they face Wichita State at 2:45 p.m. ET in the CenturyLink Center.
It's a moment that Indiana's veterans been waiting for since their exit in the Sweet Sixteen in 2013. For Indiana's newcomers over the past two seasons, it's one they have been waiting for their entire lives.
"When I came to college, I assumed I would be in the NCAA tournament at some point," junior Nick Zeisloft said. "And now it's finally here. I'm excited and it doesn't really matter the venue, even though this is one of the greatest ones out here. I've played here before and it's going to be a great atmosphere."
The glory of playing in the NCAA tournament is something many of the Hoosiers dreamt of growing up. Only juniors Yogi Ferrell and Hanner Mosquera-Perea have experienced it in their careers.
Throughout the week, they have told their teammates of what that experience is like. For some, it's exactly what they came to Bloomington for.
"This is what we came to Indiana for," sophomore Troy Williams said. "These bigger stage games."
The luster of playing in the NCAA tournament hasn't faded for Indiana's opponents, either.
Wichita State today will be playing its ninth NCAA tournament game in the past four seasons. Its upperclassmen have experienced a final four trip in 2013 and the heartbreak of an early exit as a No. 1 seed just last season. And that has led them to not taking today's game for granted — despite the Shockers having a 63-5 record since the start of the 2013-2014 campaign.
"For me it's just something to look forward to each and every year," Wichita State junior Ron Baker said. "Each year has been pretty successful, obviously making it and then winning at least a game, so like Fred (Van Vleet) said, we're just focused. We're enjoying it.
"This is the highlight of television, everyone is watching. It's all over the media. This is a big-time thing, and we're very thankful to be here."
Once the ball is tipped, both Indiana coach Tom Crean and Wichita State coach Gregg Marshall agreed experience and youth will get tossed out the window. "It's just another basketball game," Marshall said.
It's a game, however, that presents plenty of challenges to each team.
The Shockers said they need to defend the three particularly well and that they need to be prepared for a "game of runs." The Hoosiers said their keys are to play "desperate," get back in transition defense and be tough on the boards.
But as much as both teams' veterans have emphasized it as just another basketball game, both understand the significance, as well. Baker said it will be about "playing your best basketball," and whoever does that will win. "It's just as simple as that," he said.
For the Hoosiers, though, today's game will be a culmination of a long wait. A return to what they have worked toward all season.
"This is really what we've been working for since the summer," Mosquera-Perea said. "All the things we have been doing, it's for this right here. We have wanted to be here for so long and now we're here."
Filed to: 2015 NCAA tournament, Wichita State Shockers