Hoosiers come up short defensively as season ends in 81-76 loss to Wichita State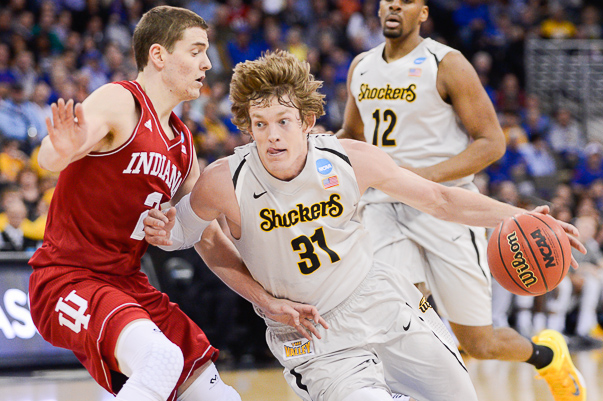 OMAHA, Neb. — Indiana had come back from the brink.
After a 15-3 run late in the second half put No. 7 seed Wichita State up by as many as eight points on Friday in the NCAA tournament second round, the No. 10 seed Hoosiers had clawed their way back once more. They trailed by two with less than a minute to go, needing a stop to extend their season.
But in an aspect of their game they struggled with against the Shockers — and throughout much of this season — they could not get that stop they desperately needed.
And the Hoosiers could never get over that hump, their 2014-2015 campaign ending with an 81-76 loss to the Shockers.
"At the end of the day, we should have been playing better defense," junior Yogi Ferrell said. "They scored so many points inside. If we could have got more stops in a row, which is what we wanted to do, and knocked down a couple of shots, we could have been right there."
All season long, the Hoosiers' lack of size in the post has attributed to plenty of defensive struggles in the paint. Their opponents scored 57.8 percent of their points on 2s, the 12th-worst mark in the NCAA.
On Friday, Indiana actually had an advantage over the Shockers in size. Yet, once again it faltered defensively.
This time, it was physicality that doomed the Hoosiers.
From the start, the Shockers forced the matter inside. They drove to the basket. They posted up. And they quickly got Indiana into foul trouble.
In the first half, starting center Collin Hartman was limited with two fouls. His backup, Emmitt Holt, picked up three. And Hanner Mosquera-Perea, who was still recovering from a dislocated right knee, was forced to play six minutes. In the second, Hartman picked up another two. Holt added a fourth. And Stanford Robinson, who helped with post defense, picked up four of his own.
It led to the Hoosiers playing tentative defense. They allowed Wichita State to score 44 points in the paint and another 29 from the free throw line.
"We had to be a lot more careful," Ferrell said. "And it kind of led to a lot more easy drives, being too tentative on defense, not wanting to foul."
One thing the Hoosiers did not struggle with for much of the season and again on Friday, though, was their fight.
After they held a slim lead at halftime, the Hoosiers fell behind after a 4-0 spurt from the Shockers to open the second half. Indiana responded with a 6-0 run of its own.
When it got down, 50-47, after coming up empty on five straight possessions, it went on a 7-0 run.
And again when the Shockers seemingly pulled away with their 15-3 run to take a 65-57 lead, the Hoosiers battled back. With 3-pointers from Hartman and Ferrell and two stops in between, they trimmed Wichita State's lead to just one with 2:21 to go.
"No matter how large the deficit is, we always stay together, we always say anything can happen," sophomore Troy Williams said. "We could easily go back and get two more threes or two more possessions, we get a bucket and we're right there in the game. We never see each other as out of the game. Like you said, Yogi's got us down 1 and we were right back in it after that."
But the crux of the game came after a Williams layup with just 1:04 to go to bring the Hoosiers back within two.
Out of a timeout, if the Hoosiers made a stop against the Shockers, they could have had the chance to tie the game or take the lead in the closing seconds. That stop never came.
Wichita State's Darius Carter found Tekele Cotton in the paint on that possession, and Cotton easily converted a layup to put the Shockers up by four points. Indiana would not get the chance to tie or take the lead again.
The Shockers, who were playing their ninth NCAA tournament game in the past four seasons, went 7-of-8 from the free throw line in the final 1:58 to seal their win over the Hoosiers.
And it left Indiana with an offseason to reflect, as those same defensive issues haunting them all season glared once again in its final game.
"Unfortunately for us the biggest difference was the points they were able to score inside of the paint," Indiana coach Tom Crean said. "When we have been able to keep that under control this year, we have been better.
"And when we haven't, that's when we have struggled. … We gave up too many easy baskets."
Filed to: 2015 NCAA tournament, Wichita State Shockers