Five takeaways from Indiana's loss to Wichita State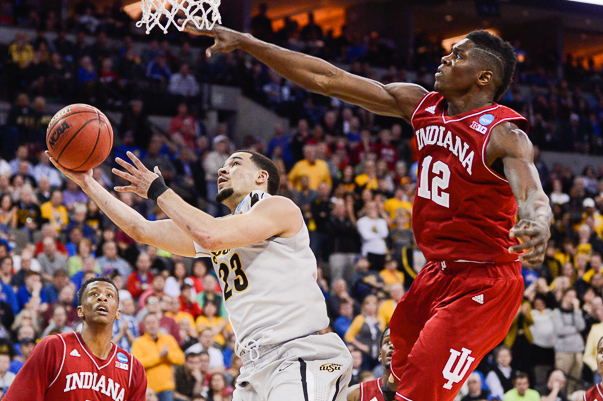 OMAHA, Neb. – Indiana's season ended in the NCAA tournament round of 64 on Friday afternoon as the Hoosiers fell to Wichita State, 81-76, in the CenturyLink Center.
Here's a look at five takeaways from the loss to the Shockers:
· Shockers win it at the foul line: For the second straight game, Indiana was outscored by a significant margin at the free throw line. In last Friday's loss to Maryland in the Big Ten tournament, the Terrapins took 33 free throws. Wichita State got there 34 times against the Hoosiers and outscored them by 12 from the stripe.
Indiana allowed a free throw rate (FTA/FGA) of higher than 50 percent on five occasions this season and it lost all five times. While there were calls on both ends that could have gone either way, Wichita State was ultimately rewarded for its aggressive play, particularly in the second half when the Shockers attempted just five 3-pointers.
The Hoosiers simply couldn't keep Wichita State's bevy of drivers out of the lane and it scored 16 points after halftime from the foul line. Ron Baker didn't shoot it well but hit nine of his 10 free throw attempts. And when Fred VanVleet wasn't shooting layups, he was getting to the line where he, too, made nine of 10 attempts.
· Lack of size doesn't stop Wichita State from scoring in the paint: The Shockers appeared to be a favorable matchup on paper for Indiana because of the size similarities between the two teams, but that didn't stop Wichita State from imposing its will in the paint.
The Shockers outscored Indiana 42-22 in the paint for the game and 26-8 in the second half, when they made 10 layups.
"Unfortunately for us the biggest difference was the points they were able to score inside of the paint," Indiana coach Tom Crean said. "When we have been able to keep that under control this year, we have been better and when we haven't, that's when we have struggled."
Indiana's defense has been a weakness all season and it was no different in this game as the Hoosiers failed to stop dribble penetration and Wichita State took major advantage.
· Second half turnovers prove costly: Indiana was winning the game and the turnover battle at halftime, but that changed in the final 20 minutes as Wichita State committed just two turnovers and Indiana had nine after the intermission.
Much of Wichita State's success has been built on taking care of the ball and playing in lower possession games where it can grind out wins down the stretch with a lead in hand.
This game was a perfect example of that as once Wichita State grabbed an eight-point lead with just under eight minutes to play, the Shockers were able to finish the game by taking care of the ball, getting to the line and capitalizing off of IU's unforced turnovers.
· VanVleet-Ferrell matchup lives up to its billing: Two of the nation's best point guards, Wichita State's Fred VanVleet and Indiana's Yogi Ferrell, both downplayed talk of a head-to-head battle in the lead-up to Friday's game. But both players put together high-level performances.
VanVleet matched a career-high with 27 points in 37 minutes while Ferrell countered with 24 points in 34 minutes. After Tekele Cotton had difficulty stopping Ferrell, Wichita State coach Gregg Marshall used VanVleet to attempt to slow him down, and that strategy proved effective at times.
"Yogi was having his way and Fred I thought did a wonderful job," Marshall explained postgame. "Besides scoring all of the points he did, he defended beautifully."
Indiana had no answer defensively for VanVleet as he exploded for 19 points in the first half and then scored eight and dished out four assists in the second half.
"He got some confidence, got to the rim, got some open shots," Indiana sophomore Stanford Robinson said. "We just helped him when we were failing in our (pick-and-roll) coverages. That's what got him going and he got some confidence and started hitting shots."
· IU players say they're looking forward to future, but offer no guarantees: The message across the IU locker room in the immediate aftermath of the loss was universal: This group isn't satisfied with just making the NCAA tournament and it has hopes of accomplishing more next season.
On paper, Indiana was the least-experienced team in this year's field and if everyone comes back, the potential is there to build on a season that included its fair share of highs and lows.
Most pivotal on the list of guys who may have decisions to make on their futures are Yogi Ferrell and Troy Williams. I asked Ferrell specifically if he'd be back and he said he's just living in the present for now and Williams was asked a similar question and said that he hasn't thought much about it yet.
With a pair of recruits already inked and a potential addition of Thomas Bryant, who will decide next month at some point, Indiana could easily be a top 25 team (or higher) in the preseason next season if everyone returns. Whether that happens, however, will have to play out over the next month as Bryant's decision is made and decisions on whether to pursue professional careers are made as well.
Filed to: 2015 NCAA tournament, Wichita State Shockers