Transcript: Crean, IU players address media ahead of Wichita State game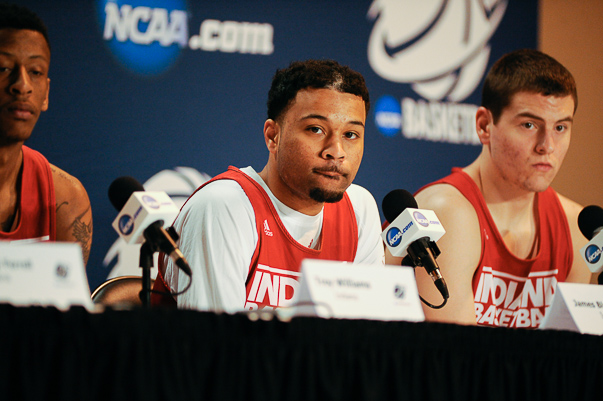 OMAHA, Neb. – Tom Crean, Yogi Ferrell, Nick Zeisloft, James Blackmon Jr. and Troy Williams addressed the media earlier today at the CenturyLink Center in advance of Indiana's game tomorrow
THE MODERATOR: Nick Zeisloft, James Blackmon, Jr., Troy Williams and Yogi Ferrell represent the student body of the Indiana Hoosiers. They're the No. 10 seed in the Midwest region; they're out of the Big 10 conference, they will play No. 7 Wichita State in Friday's second game.
Q. Yogi, as you look at Wichita State, what are some of the things that they present that make them a difficult match for you guys? What makes them good?
YOGI FERRELL: One thing about their team is they're a very solid team. They've got basically five solid positions, and that's what makes them such a great team. They start junior and seniors, so they're obviously a lot more experienced than we are. They've got great 3-point shooters; they've got great post presence. Like I said before, just a great experienced team.
Q. Nick, you have played against Wichita State several times. What do you try to impart to your teammates about what it's like to play against them?
NICK ZEISLOFT: Like what Yogi just said, they're a great team, very tough, and they know their roles on the court and they do those very well. They're much more experienced than we are. We can't let that affect us at all. They've been in this stage for plenty of years now. Their program is very well known and they are a winning program.
Q. Nick, from your firsthand looks at Tekele Cotton, how do you describe his defense and help teammates prepare for him?
NICK ZEISLOFT: He's one of the toughest players in the country. His strength and leadership and toughness is very tough to play against. He's one of the best defenders I've seen, and we're going to have to do a great job of putting him in areas that we can attack him on and know that he's a great defender out there and still play offense how we can.
Q. Yogi, what do you remember about Fred VanVleet from the AAU Circuit a few years back, and did you kind of see then the level of player he's become now?
YOGI FERRELL: Yeah, I definitely see that now, him being a great guard, leading; can definitely knock down the big shot. One thing I remember he's a great facilitator, so that's one thing he does very well, gets his guys involved and makes his teammates better. That's what I can remember from playing him at AAU.
Q. Seems like everyone is talking Kansas/Wichita State on Sunday. You guys hearing any of that? You feel like you're being slighted at all?
JAMES BLACKMON: We haven't been paying too much attention to that. We're just trying to read into what we can do on this game and we're focused on Wichita State and we want to get the win and play against Kansas.
TROY WILLIAMS: We heard about it, Coach told us about it. We don't see each other as a local team or a local act, so we're just going to put up a great fight against them.
Q. Yogi, problems in the off-season and this season. In what ways do you think your team has grown up and become more accountable to one another?
YOGI FERRELL: I think one of the ways we have grown up is when we took that trip to Montreal, I felt like as a team, getting to know each other and getting to know each other better, coming together. We have had our off-the-court problems before, but I felt like we've came a long way from that. When I listen to all the outside really, we're just all staying together as a team, not reading articles with our names in it, not listening to what anybody says. Just listening to our coaches and teammates. That's the only people that really help us.
Q. Yogi, Wichita State's mantra is to play "angry." If you had to describe how Indiana plays and how you need to play tomorrow, what would it be?
YOGI FERRELL: The way we want to play is the Indiana way. I feel like we know what we can do. We showed it in the Big Ten Tournament. I felt like those two games we played desperate, so that's what I'm giving off to these guys is to go out there and play desperate. We have to take every possession by control, because the game can come down to one possession. We just gotta go out there and play desperate and play our hearts out.
Q. Nick and Yogi, both of you mentioned Wichita State's experience in the NCAA Tournament. How much of a factor is that? How much is that going to matter what you start playing?
NICK ZEISLOFT: It's going to help them, as they've been here. But we're excited to be here right now and we're ready for them tomorrow. It's not going to be a big deciding factor, but we're ready to go. I think experience at this time of the year is going to be a huge key.
YOGI FERRELL: Definitely them being in the Tournament the past couple of years, that will help them, they got more feel to the game and a little bit more feel to the big stage. We've only got two players that have been to the NCAA Tournament, me and Hanner Mosquera-Perea our freshman year, so we've gotta just come out the gate early and swing hard, not get to hyped up about the big stage, just go out there and play the game like a normal game.
Q. Yogi, you mentioned the trip to Montreal. What was it about that trip that you said brought you guys together? Were there times you were worrying about those problems defining you guys and maybe talk a little more about how you kept that from happening.
YOGI FERRELL: The trip to Montreal was about a week. We just played a couple of teams, just to get to know each other better; basically had kind of a brand new team. I felt like at that time we kinda knew each other's games, learned about each other, about each other's background, and each other's basketball games. A lot of people were scrutinizing us about off-court situations, and like I said, we didn't read the articles online. We stayed together as a team; Coach was in our ear saying that people were going to down-talk us, but I felt like we kept each other's spirits up.
Q. Nick, when you came to Indiana this past summer, did you expect you would have the type of role that you have had and did you think that you were joining an NCAA-caliber team?
NICK ZEISLOFT: I could tell from the first week coming in and seeing the pieces that we had that we were capable of doing something special. We did have some ups and downs, but we've kept it even keel the whole year, despite the downs. We have rallied together, and I could tell that would happen in the first few months where we would just stick together through any adversity, I could tell that we could be a real great team.
THE MODERATOR: Anything else for the student-athletes of Indiana? Gentlemen, thank you very much and good luck tomorrow. Head Coach of the Indiana Hoosiers is with us, Tom Crean is joining us. Coach?
COACH CREAN: We're honored to be not only be in the tournament, but to be in Omaha. We have great respect for this city, and we've done some fun things since we've been here, but we know when we are in a city like this, that we are in the amateur sports capital really of the United States, and it's really easy to see it. When you look at everything that's gone on here, great players, great teams, Olympic swim trials. We took our team to Ameritrade Stadium yesterday. They'd have just as soon stayed out there and thrown baseballs rather than go practice, but we got to do both. It's a great city, and it's obviously a great state. We have got some knowledge certainly of it from playing for Nebraska. We are excited to be here and in this arena. We had a great visit yesterday with Josh and his family and his workers that are doing so much with Abide. And it's one of those experiences that you are hoping to impact some young people, but there is no question that our young people, especially with it being — we have the youngest team in the tournament, and there is no question that they were impacted by it. We're thankful to Brian Fish, who used to be at Creighton with Dana Altman, for putting us in touch with the Abide group and getting a chance to spend some time with some young people that really deserve to know that they will never be forgotten and they have great opportunities in life. That is really what our opportunity is right now. We have a great opportunity to play Wichita State, and it's an outstanding team. They are a team that plays extremely well on both ends of the court. Their rebounding is absolutely second to none. Gregg is a tremendous coach, he's got a great staff, he's done it — we coached against each other when I was at Marquette and he was at Winthrop. He's done a fantastic job of not only building a great program, but having a culture in his team of toughness, tenacity, the way they defend, get on the glass. And what we have seen in film is even more than ever, they're a fast team, they get up and down the court really well. Their pressure brings a lot of baskets, and it's a great opportunity, but at the same time it's going to be an incredible challenge for us, so we're excited for it.
Q. When the Selection Sunday came, Bill Self says Wichita State being a 7 blows him away. Do you get that?
COACH CREAN: We looked at Wichita State as a great program. I didn't get caught up in the seeds part of it. We just know that they're a great team. Seeds, they're relevant to some, but to us, they're really not. If we spent too much time talking about seeds and all that type of thing with our guys, that would defeat the purpose. They're excited to be here. They know the opportunity. We know what we are here for and we know that Wichita State is a great program. That's the bottom line. No matter what they're seeded, they're an outstanding team, and they are deserving every year of the champions that they are, because they find a way to do that in the nonconference; they find a way to do it in the conference, they find a way to do it on the road. Again, when you have that kind of toughness, especially on the glass, I mean, you can go back to some of the close games they've had, and it comes down to that loose rebound, that 50/50 ball, that loose ball on the ground, the next pass, they play the game so thorough. That's what we're more focused on than anything else.
Q. Coach, talk about the Fred VanVleet and Yogi match-up.
COACH CREAN: I think it's more about the Wichita State and the Indiana match-up, personally, because everybody is going to be guarding different people, and I'm not sure how they'll match up. I'm sure Gregg wouldn't trade Fred for anybody and I certainly wouldn't trade Yogi for anybody, so let's sum it up that way. Both high-character winners. I don't know Fred; I know of him, but I know Yogi. He puts winning first, extremely tough, smart, makes his teammates better, defends at a high level and I would imagine that's describing Fred, the one I've seen on film. Like I said, I can't give you personal knowledge, but the one I've seen on film, that's what he looks like to me.
Q. Tom, your players talked a little bit about the experience and Wichita State having more NCAA Tournament experience. How do you kind of approach that as a coach? Is there a way you can help them through that, if that's a factor?
COACH CREAN: There is really nothing we can do about that. Yogi is the only one that's played in NCAA Tournament games. Hanner was here, but he really was not a factor like he is now. So we can't do anything about that. It's been all year long, we've got to control what we can control. That's easier said than done, it sounds like "Coach speak" but it's really something you got to try to get out of them every day and try to help them understand that every day. And now it's the opportunity we have to come out and play with great energy and make sure that our execution is right. They will make it hard, they will make it hard for us to score, I don't think there is any question about that. We fully expect to be pressured, and certainly as a coach that's a concern because I think their pressure is really good. To me, when that shot goes up, it's not going to — we've got to be able to match that toughness, and they have tremendous, real toughness. There doesn't look like there is any trepidation, any nervousness, any of that when they play. They're a very, very confident group. And for one day we've got to have that same level of confidence like that. Hopefully our league and nonconference schedule and things like that prepare us for that. But they're one of the upper-echelon programs because they have one of the great teams every year. Obviously Mark Turgeon got it rolling there, and Gregg has just built upon it in such a big way. So we have to do a great job of just matching up with them on that toughness and execution level more than anything else.
Q. Tom, have you seen a player that is an individual player along the lines of Tekele Cotton and how he influences their team defense? Can you compare him to anybody you've seen?
COACH CREAN: He's one of the best, no doubt, but we see quite a few guys that really defend at a high level in the Big Ten, so I would put him — I they have great team defense, and Cotton has got that low center of gravity. He looks like he's long-armed; he can get into your body. He creates fouls; he can guard multiple dribbles, he's not a guy that needs a lot of help when he guards the ball, so we've got to do a great job of moving him and screening him and keeping him moving constantly inside the game. But again, their team defense is really good and their forwards cover a lot of ground. I don't look at them and see that there is a whole lot of weaknesses defensively really with anybody. I don't know their team like that; maybe he's the one that creates all that energy, but it's not like we're looking at it saying, we can really exploit this or we can exploit that. I think because they're very athletic, they're obviously very strong. That was the first thing that just pops out at you when you're watching them on tape is how strong they are, how physically strong they are. No matter what their size is, they're just strong. You've got to do a great job of moving them constantly. Our spacing is going to be — it's crucial for us all the time, but it's going to be especially crucial tomorrow.
Q. Tom, given what happened in the off-season, and the pre-season and dealing with the Devin Davis situation, has this been one of your most emotionally challenging seasons since you started at Indiana or Marquette?
COACH CREAN: I would say so, but I think this: It's been one of the most gratifying and fun seasons. Going all the way back to even some of the teams at Marquette that we had that won a lot of games, when you really, really enjoy watching them grow and they're so anxious to get better, and the resolve that they show and the togetherness that starts to get formed. Certainly adversity at the beginning is either going to pull you apart or pull you closer, and I don't think there is any question that it pulled us closer and it helped guys grow up and mature and obviously that's still an ongoing process, and anybody that's a parent knows that it's an ongoing process because you can't ever take anything for granted with young people, but I love coaching them; I really do. If you could have seen them yesterday with these young people, and it's all kids that are elementary age, but if you could have seen them, it was just an absolute honor to watch them interact with these young people. And hour, hour and a half, whatever the time was, I really believe they got as much out of it as anybody else. That's when you know that you don't have an entitled, expectant group. They're really in the moment of it, and they really want to learn and they want to grow and they're really good people. That's what's been fun, to watch that come out this year.
Q. Tom, how far has Hanner come? You talked about him Sunday night, said he was able to do some things, not too much how far has he come this week, and I guess if you could put a percentage or anything like that on it, is he able to be available tomorrow?
COACH CREAN: It's gotten better every day, much like we hoped it would. You will see him out there in a little bit. Really where we're at is every day it's let's try to do this, let's see how he responds to it. He's responded every day, and there is no reason to believe that he's not going to be available to play, but, again, in all honesty, that will not truly be substantiated until probably tonight and tomorrow, depending on how he continues to respond to the treatment and to the practice. We have not really had him in an all-out scrimmage, up-and-down-the-court situation, but he looks good; he's been monitored closely, his attitude is great, his energy is really good, and he's anxious to be there, but we will follow Dr. Ahlfeld and Dr. Rink and Tim's recipe there as we go, but it's been as good as we could possibly hope for.
Q. Seems like Emmitt Holt played well in the Big Ten, might be a key guy for you. Can you describe him a little bit and what he's given you?
COACH CREAN: I don't know how much you know about him, but he was a very late signee for us. In fact, we didn't start recruiting him until early August, I guess, when we first started to check on him and got him in at the end of the — right before school started, because he was going to go to Vermont Academy, which would have been a good place for him, because he would have played for a very good coach, but we're certainly glad that he decided to come with us and that we had the foresight and Chuck Martin had the foresight to really dive into it. He's gotten better; he's gaining confidence, he's learning more all the time. He's been thrown into the rigors of high-level college basketball since really his first time that he really started to show things where it was in the Pittsburgh game back in early December or November, whatever that was. He's continued to progress, had a very good weekend. Playing with more confidence, he's understanding the college game more, he's understanding the speed of the game more, and his best years are ahead of him because he really still doesn't yet know just how good he can be, and I wouldn't expect him to be, considering he was going to be a senior in high school this year. But we're proud of him. He will definitely be a factor for us if we're going to have success in this tournament, no question.
Q. Coach, your players are rather inexperienced when it comes to the NCAA Tournament, but you're not. What are some of the things, lessons that you've learned and instilled in them for what it's like to play in this setting?
COACH CREAN: Well, I think you can spend too much time talking about it, and it becomes a distraction based on the what-ifs and the what you don't know, so you have to be very careful with that. I think it's really staying — especially in a week like this where you've got more time. It's not all about practice. The meetings, maybe there is a few more of them, but they're a little bit shorter. And we certainly, really in the last month and a half have not been where I would look at it that we — we have been very good on our practice times. There was probably a time a couple of weeks ago where I didn't think maybe we were going enough, and so we adjusted that a little bit, because you're worried about all the different walls that young players hit. I don't think there is any question that we hit that. I don't think we're there now, but I think we've hit that a couple times this year, because we've got some young guys that are playing a lot of minutes. I think the most important thing for them is to understand that they've got a strategy, all right, and if something comes up, that they have a confidence level and an answer for it and they know what to do, and they've gotten better at time-and-score situations; they've gotten better at momentum situations. They've got better at situational basketball, be it offensive or defensive. They're very sharp on knowing what another team wants, and I think those are the things you have to control more than anything else. I think the biggest thing in a nutshell is to keep them understanding that you don't go and reinvent yourself or change yourself or get out of character as an individual or as a team, because that can easily happen, in these type of settings with these type of lights; right? I think the fact that we have played in Madison Square Garden a couple of times, that we've played in this league, that we've played other NCAA Tournament teams during the nonconference and the conference some successful, some not as successful, but learning from every one of them, and you hope that they understand basketball games and not as concerned about the setting and the time of the year.
Q. Tom, Wichita State's mantra is to play angry. What style do you need to play with tomorrow to be successful and how do you kind of define those type of things?
COACH CREAN: Well, I think the players define it, and mantras are good, okay, but at the end of the day you have to make sure you can carry it out, and the thing for us is to make sure that we understand them. We're going to have a pretty good understanding of what they want to do. Okay? The bottom line is will we be able to keep coming at it time and time again. That's what it's going to come down to, because they keep coming time and time again. When I watch them play, they don't take possessions off; they're always going to have people on the glass. It's a special preparation in the way that VanVleet is going to offensive rebound when he's under the foul line extended as much as anybody else because of their ability to get to the offensive glass. So those are the kind of things, and one thing we say to them all the time is that everything matters, right? So your blockouts matter. It doesn't matter 80% of the time or 70% of the time; it matters every time! That's what we've got to make sure that we understand, because this team that we're playing, they look like they understand that.
Q. Tom, you talked about the heightened accountability amongst your players. How have you seen that manifest itself? What have you seen happen within the team construct that makes you feel better about their accountability to one another?
COACH CREAN: Well, they're young kids. I think the fact that they're the youngest team that's made this tournament says a lot about it right there. And the fact that they've weathered different storms, weathered adversities, had wins and losses, but responded and gotten better. That's the most important thing. I mean, it's very hard to improve on the basketball court if you're not improving in your schoolwork or in your personal life, just like it's very hard to flip those two things. So I think they've done a good job of that, and that's not to say that mistakes won't happen; it's not to say that everything is beautiful every day, it's not. The basketball team is just another microcosm of a family. I mean it really is. It's just played out in public a lot more and in a lot of cases a lot more people have an interest in it. So they understand, I think, that not only are they representing Indiana and not only are they representing their families and not only are they representing each other, but they're representing themselves. And I've seen that grow. Again, it seems like at times some of these sophomores are older than what they really are. Well, they're still just sophomores. Other than Yogi and Hanner, this is their first time in a tournament like this. So I would say they have made sustainable growth by being as consistent as they could possibly be with their work ethic, with their academics, and we just hope we can continue to stay on that path. And the fact of the matter is, when mistakes come up, will they be able to respond that much quicker, and that's the bottom line to me.
Q. Coach, Yogi got recruiting rankings as a fourth and fifth grader. Is he kind of the poster child for handling that the right way and even living up to it?
COACH CREAN: That's an interesting point. I've never had that question asked like that. He's a winner, and he won in high school. I'm not really sure what he did in junior high and things like that; I would imagine he won. Since I've known him, he's won. Runner up state champion as a sophomore, state champion as a junior and senior, point guard on a fairly veteran team, even though Cody and Victor were still young on the team his first year. Guys like Christian Watford, Derek Elston, Jordan Hulls, guys like that, he came in and showed very good leadership in that. He's growing constantly because he takes both ends of the court extremely serious. He's getting better all the time. He is as hard of a worker when it comes to extra work as we have. It's a very common sight for him to be in that gym and our practice facility, 9, 9:30, 10:00 at night. The gun is set up where he can shoot and just in there working for an hour, whatever it is. That's not on top — that's on top of what he does in practice, when he does with film and weights and what is required with us. You can't be as serious about his — the game as he is and not do those things and have it carry out and be successful. I say it all the time; I say it back home, I wouldn't trade him. There is a lot of great guards that are his age and his style of play, I wouldn't trade him for any of them.
Q. You mentioned that adversity can bring a team together or pull them together and you said it brought you together. At what point did you notice it was tipping one way or the other?
COACH CREAN: I don't think you can do that. Personally I guess I can't. It was gradual. When we had the things happen in November, we had already been through things as a team. We were through things last year, we were through things in the summer. Even though they don't become public they're all part of the fabric of how your team grows up, and some guys mature quicker than others, but when you're helping each other mature, then you have a chance to speed that growth up, and I think that's what's happened. Everybody learns different and responds differently, but when you have a team of guys that are trying to get aligned in the same mission and the same — the realm of what's possible. Having them understand what's possible was really important, but it was only going to be possible if they were getting better constantly, if they were keeping themselves away from the distractions and keeping themselves insulated as a group as much as they could from, you know, maybe things that they were hearing or reading or any of those type of things. But understand that all they can do is get better with it, okay? We've got to grow from it. I think that's just a process. I don't know of many companies or many teams that have that one Eureka moment, here it is! I can't name one either. There are games that I would go back to that we really learned a lot in. SMU game was a big one; Pittsburgh game was a big one, how we responded from Eastern Washington after losing that game was a big one, and the list goes on and on. There might be games over those moments, but I think it's built up over time. What has happened is the work ethic was really good to begin, and it's gotten a lot better. When you see that kind of growth in a team and we have not wavered one bit academically, so I think those are the kinds of things that show signs of it over a period of time.
Q. Tom, I was just wondering with so many talented guards at your disposal, how much have you had to change your style of play? Did you do that on the fly or did you kind of plan on that going into the year?
COACH CREAN: You're one that can attest to what it was like at Marquette, it's inherent with those guards. Even before the Dominic James, Jerel McNeal, Wes Matthews time, it was really a time when we had Dwyane Wade and Travis Diener and Cordell Henry and guys like that. Three guards have always been a big thing for us, and one thing I learned from Larry Brown a long time ago, and it was at Marquette at an early age is if you could get three multidimensional versatile guards and find a couple of people that could be game changers in other areas, you could be really good. So then there was a Steve Novak, or now there's a Troy Williams, and guys like that certainly when you get to Indiana and you have a chance to recruit Cody Zeller, Noah Vonleh, people like that that are difference makers, I think you do your players a disservice if they're not getting better every day and you do them a disservice if you're not playing to their strengths. It becomes about your system, and you can recruit to it, great, but when you are trying to recruit guys that might not have this, might not have that, might not have this ranking, that ranking, might not have that school recruiting them, but yet you see something in them, it's your responsibility to bring it out. That's kind of how I was brought up from Ralph Willard and Tom Izzo, and that's really what I've tried to alway be about in building a team. It really hasn't been that hard to change at all; it really hasn't, because we've done those things, and when we knew we weren't going to be as strong as we were inside with Noah leaving early like he did and not being able to replace it like that as late as it was, it was really, really important that we could shoot the ball and space the court as good as possible. And we have gotten better at it, but at the same time they have learned; we've had games where the shooting has not been nearly as good, and we have struggled because then our rebounding wasn't as good; our defensive pressure wasn't as good; our activity wasn't as good, and we get — the maturity of our team — the lack of it at times at times has been when the shots aren't falling, we don't bring it as hard as we need to in the other areas and that becomes a problem, but hopefully we're continuing to grow out of that all the time.
Q. Tom, what Wichita State has done the last two or three years, does that mean that you don't have to spend any time convincing your guys they're a really good team, whereas a few years ago there would have been a name recognition difference?
COACH CREAN: I think you got to give college basketball players more credit than that. I think there has been a name recognition with Wichita State for a long time, and when Mark took that team to the Sweet 16, I know I started loving college basketball with Aubrey Sherrod and Xavier McDaniel and Coach Smithson when you're following it. Kids today, they watch a lot of games. Wichita State gets a lot of attention. They were undefeated in the regular season last year; they've earned it. There is no thought process, no conversation, no should we cover this or that that has anything to do with anything other than how great of a team they are. Along the way, you keep pointing out the staples of why their program is so good, be it the toughness on defense, be it the rebounding, be it how many guys; 4 and 3 guys are constantly on that offensive glass. And we can probably go back the last couple of years and show them the same thing. Every team is different, but there is a lot of guys in this game that played in that Final Four that were part of that run. Certainly they played in the undefeated team last year until the tournament came, and they have had the 28-4 run that they've had this year. Those guys can play anywhere. I don't think there is anybody — I don't think any coach worth his salt would look at them as anything other than one of the best teams in the country.
Q. Tom, what has it meant for you to have Devin around these last couple of months and being with you guys?
COACH CREAN: I'll put it in context. It's funny you say that because he's going to get to go with us out here. It's been a lot. As you know, as other people that cover us know, there was certainly no guarantee of that in early November. There wasn't a guarantee of that in December. He's come back and he's done everything he can possibly do to be in the position that he is in right now. That position is not close to him being able to play in a college basketball game. It's not, and he's got a lot more hurdles to go before that time comes, and that's just in conversations with our doctors and his doctors and people of that nature. But to be where he was and to be where he is now, and now he's going to get an opportunity — you know, the thing that breaks my heart, and there is really no way around it, we don't have enough seats on the bench, we didn't have them in Chicago, we don't have them now — that he could be on that bench. We would love to have him be on it, but you just don't get enough seats, and for the people that are actually playing and that have to work in part of the game. But he's going to get to go through this practice, and that's kinda cool, because in our other practices when I'm working him out, he does no contact, he takes no hits. When somebody is getting popped with a pad, he is not getting popped with it, so everybody has to adjust, but it will be meaningful for him to be out there, and that's meaningful to me and to us because he has — he's got a long way to go, and he's got to continue to grow up, and he hasn't been faced with those challenges yet of once he does come back. But to go from where he was, getting hurt and dealing what he dealt with and being where he is right now, it would be hard to say I could be any prouder of somebody than what I am over these months for what he's done.
THE MODERATOR: Thank you, Tom, good luck.
Filed to: 2015 NCAA tournament, James Blackmon Jr., Nick Zeisloft, Tom Crean, Troy Williams, Yogi Ferrell