News and notes from Tom Crean's radio show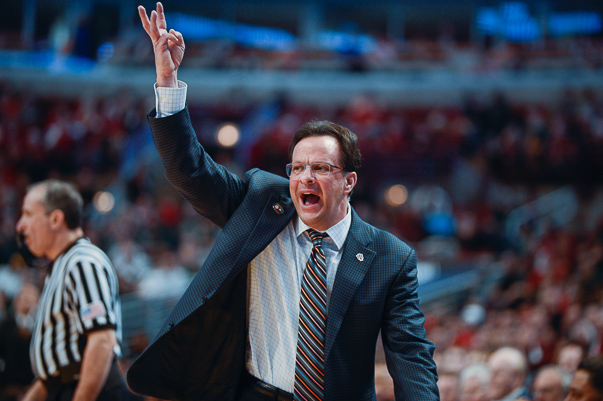 On Monday evening, Indiana coach Tom Crean spoke at his final weekly radio show of the season hosted by Don Fischer and looked ahead to the Hoosiers' NCAA tournament opener against Wichita State on Friday, among several other topics.
Below are news and notes from what the Hoosiers' coach had to say:
On Indiana women's basketball coach Teri Moren
At the start of the show, Crean glanced at a TV, which was showing NCAA women's basketball tournament selection show. It sparked the seventh-year Hoosiers coach to open with a vote of confidence for Indiana women's coach Teri Moren.
The women's team finished the season 15-16 after Moren took over the squad on August 9, less than three months before the start of the season following Curt Miller's resignation.
"It's just a matter of time before she and her staff get this program exactly where it should be," Crean said. "They walked into a tough, tough situation. And those girls lost a coach obviously that they cared a lot about. And those are hard deals.
"But I see her work. I see her staff. I see the time they put in. I see the way that culture has grown over there. And everybody just needs to absolutely stay behind her in a supportive way. It energizes you when you hear about what kind of coach and what kind of person she is — and we've only known her a short time. But when you get around other people and you hear about what she's capable of and you hear about her toughness and you hear about her perseverance and style of play, she has been a great teammate in the short time she has been there. And it's just an absolute matter of time."
On bubble talk and the difference between "opinion" and "insight"
In the lead-up to the announcement of the NCAA tournament field, the Hoosiers faced plenty of outside noise regarding whether or not they would be among the 68 teams chosen. But Crean made a point of telling his players long before Selection Sunday that there are two things out there — opinion and insight — and that there is a huge difference between the two. Opinion, Crean said, comes from a lot of people from the outside. They get paid, which is great because they can make a living, he said, and they get exposure. But at the end of the day, insight is what matters, Crean said. Because insight ultimately comes from the selection committee, the ones who are actually deciding the field.
"The people in the room are going based on what people have earned," Crean said. "And it's certainly not a popularity contest."
And that's why it doesn't do any good to speculate about whether they are in the field or not, Crean said. He said he especially is proud of his players — that they are "mature beyond their years" for not letting those outside opinions get to them.
On defensive performance against Northwestern
Looking back at Thursday's win over Northwestern, Crean commended his players for their defensive performance against the Wildcats — that they applied what they needed to do and stayed aggressive, which in turn led to better offense. He said the Hoosiers' priorities were to pressure the ball more and take away the Wildcats' scoring — especially their leading scorer, Tre Demps, who hurt the Hoosiers in the two teams' first matchup in Evanston (23 points).
The Hoosiers were effective in shutting down Demps on Thursday (four points), but Crean said on Monday that he voted the Wildcats guard as first team all-Big Ten and added that he respected how Demps carried the Wildcats this season.
On James Blackmon Jr.'s shooting struggles
Crean was asked about James Blackmon Jr.'s inconsistencies on the court — as epitomized by his 25 points against Northwestern on Thursday and six against Maryland on Friday. Crean made the point of noting that Blackmon is on the front page of scouting reports and therefore is not getting a lot of free looks. And that also comes down to the fact that since the Hoosiers don't have much of a frontcourt presence, teams can key in on certain players and scoring threats like Blackmon.
"If there was double-team in that post, could you imagine the open looks those guys would be getting?" Crean said. "It's not there."
That said, Crean noted Blackmon is constantly getting better in understanding when to shoot or shot-fake and that ultimately he is a freshman that has played a lot of minutes — and he needs to be applauded for that.
On Wichita State and how they remind him of several other teams
At several points in the show, Crean talked about how difficult of a matchup Wichita State will be on Friday — from their physicality to their experience to their backcourt talent. But Crean said the Shockers are unique. He said they are almost a mix of several opponents the Hoosiers have already faced this season.
"They have a composure and a confidence of Wisconsin, a toughness on the glass of Michigan State, physicality of Purdue," he said.
He said he knows just how good the Shockers have been over the past two seasons — since the start of the 2013-2014 season they have a 63-5 record. "You can tell they have been together for a while," Crean said — but when it coms down to Friday's game, all bets are off.
"We just want to make sure on Friday they are 0-1," he said.
On his family dealing with the stress of basketball
One member of the show's audience thanked Crean for turning his wife into a basketball fan. That fan went on to say he is sure Crean's wife is a fan of basketball, too — only for Crean to counter that statement just seconds after.
"I'm not sure my wife enjoys basketball," he said. "I don't think there's anything enjoyable about her going to see one of her son's games or going to see her husband's games. I think there's a lot of anguish there."
On whether Crean sees Emmitt Holt as a future Indiana starter
After freshman Emmitt Holt's performance in the Big Ten tournament, Crean did not rule out starting the 6-foot-7 New York native on Friday against Wichita State.
"He's definitely a player that is capable of being a starting player," Crean said. "And he is doing an outstanding job."
Crean reminded fans that as of August, Holt was planning on attending prep school this year instead of college. But while he has had freshman moments this season, Crean said Holt has had "tremendous ones, too." He commended Holt for his work ethic in and out of practice and that he sees Holt as being "hungry." More than anything, though, Crean said he is fortunate to have Holt as a part of the program.
"Could he be a starter in this program?" Crean said. "There is no question about that."
On IU fans support and working alongside Fischer
Finally, in the closing part of the show, Crean took time to acknowledge the fans in attendance for their support over the past season.
"The support all of you have shown over the years and especially the last week — I can't tell you what that meant to me to walk in here and see so many people being that way," Crean said. "That gave me a huge jolt for the rest of the week. And again, it's little things like that that make you really appreciate what people are all about. And the way this place was and the way you have been all year long and the support that you show — it's beautiful outside today but we've also come in here when it was zero degrees out. And the loyalty that all of you have to Indiana basketball and what you've shown to the Creans and what you've shown to us, that never ever goes unappreciated. I promise you."
Crean also thanked Fischer for the past seven years the Hoosiers coach has been at Indiana, reflecting on what an honor it has been, he said, to work alongside the broadcasting legend.
"There is a lot of great honors you can get in any walk of life, especially in coaching basketball, but being able to partner up with you (Don Fischer) for the last seven years and being able to be in here with you this year and being here at this podium with you, I'll put that right at the top, and I'm dead serious," Crean said. "So thank you, for everything."
Filed to: Emmitt Holt, James Blackmon Jr., Teri Moren, Wichita State Shockers