Primer: NCAA tournament time, TV and streaming information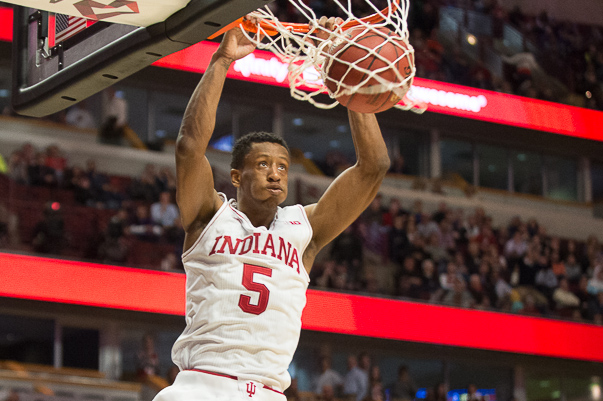 Indiana will open the NCAA tournament against Wichita State in Omaha, Nebraska on Friday at approximately 2:45 p.m. ET.
The game will be televised on CBS and Marv Albert, Chris Webber, Len Elmore and Craig Sager will handle broadcasting duties.
Indiana-Wichita State is part of Fridays's first session ticket at the CenturyLink Center.
If Indiana tops Wichita State, the Hoosiers will face the winner of No. 2 Kansas and No. 15 New Mexico State (Fri., 12:15 p.m. ET). The winner of that game will advance to the Sweet 16 in the tournament's Midwest region in Cleveland, Ohio.
Full weekend schedule, bracket, streaming video and ticket information after the jump.
Weekend Schedule:
Thursday, March 18
Practices (open to media and general public, all times local)
Noon-12:40 p.m. New Mexico State
12:45-1:25 p.m. Indiana
1:30-2:10 p.m. Kansas
2:15-2:55 p.m. Wichita State
4:25-5:05 p.m. Oregon
5:10-5:50 p.m. Wisconsin
5:55-6:35 p.m. Oklahoma State
6:40-7:20 p.m. Coastal Carolina
Friday, March 19
SESSION 1:
12:15 p.m., CBS: Kansas vs. New Mexico State
2:45 p.m., CBS: Wichita State vs. Indiana
SESSION 2:
6:50 p.m., TBS: Oregon vs. Oklahoma State
9:20 p.m., TBS: Wisconsin vs. Coastal Carolina
Sunday, March 21
SESSION 3:
TBD
View a full television schedule for the opening rounds of the NCAA tournament here.
Streaming Information:
All NCAA tournament broadcast will be available over the internet at NCAA.com/march-madness. As well as on the NCAA March Madness app on the iPhone, iPod and select Android devices.
Ticket Information:
Official: Ticketmaster.com
Midwest Regional:
The Midwest regional semifinals and finals will be played at Quicken Loans Arena in Cleveland, Ohio. Midwest regional games are scheduled to be played on March 26 and 28.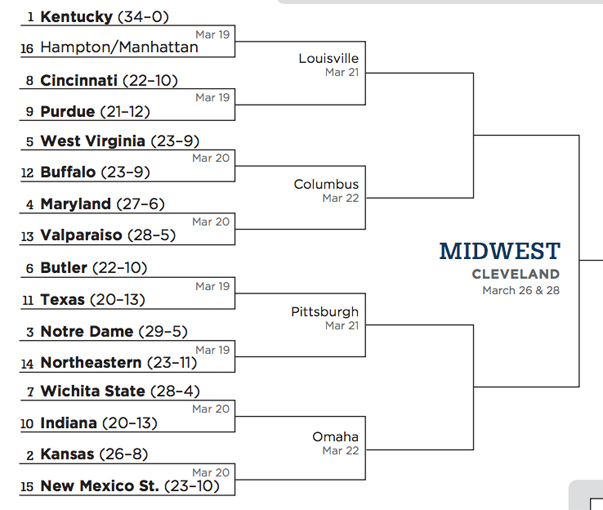 Filed to: 2015 NCAA tournament