Indiana has 'pure, unbridled joy' after NCAA tournament selection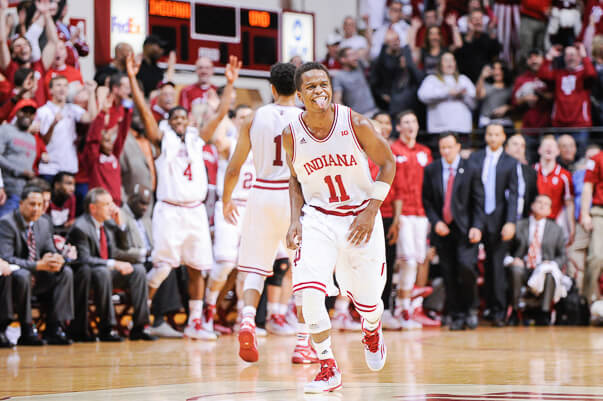 Indiana coach Tom Crean looked away from the TV and examined the scene inside the Hoosiers' locker room.
Players were jumping up and down, yelling in celebration. His family and other coaches families embraced. Crean, himself, was in shock.
The Hoosiers, who were on the bubble according to many bracketologists, had been selected into the 2015 NCAA tournament. And not only were they in the field of 68, they were selected as a No. 10 seed, scheduled to play No. 7 seed Wichita State in Omaha on Friday at 2:45 p.m. ET.
"I was stunned," Crean said. "I'd be lying to say I saw a 10 seed coming."
Since their loss to Maryland in the Big Ten tournament on Friday, the Hoosiers have been on edge. After all, they had nothing else to occupy their time in the hours leading up to the NCAA tournament selection show on CBS.
With a 20-13 record, an RPI of 60 and a 5-9 record to close the season, the Hoosiers had plenty of reason to be nervous. ESPN bracketologist Joe Lunardi projected them as his last team out of the tournament. Several others predicted them participating in a play-in game in Dayton, Ohio.
When the players arrived in Assembly Hall on Sunday morning for weightlifting and practice, Crean could immediately tell his players were anxious. The selection show was hours away, but it clearly was weighing on his players' minds.
"I think most of us were just a little nervous at times," junior Nick Zeisloft said. "We just had a lot of doubt, we just didn't know and we had to wait for that name to come up."
At 6 p.m., Crean, the players, staff members and family members congregated to the Hoosiers' locker room to watch the 68-team field be revealed. It was the moment the players had been waiting for since that loss to the Terrapins — one that Troy Williams said on Friday would be "the longest wait ever."
As the Midwest Region bracket was revealed — the first that CBS unveiled — Crean sat, watching the screen. He saw Kansas was a No. 2 seed. And then he saw Wichita State was a No. 7 seed. He thought, "Wow, Wichita State can play Kansas in the second round."
And then, he saw the name "Indiana" pop up on the screen.
"Whoa, there's Indiana," he said. "It was just one of those deals. That was my thought process and then I turned around to catch them."
He saw his players hugging, jumping up and down and yelling in celebration. Some posted videos to Instagram. Others tweeted in excitement. Anxiety turned into "pure, unbridled joy."
"We were all excited," Yogi Ferrell said. "As you could probably think, any reaction would be from any team that doesn't know if they're in the tournament or not, jumping up around, hugging each other, getting hyped.
"Just a great feeling inside to know that we're one of the top 68 teams to make the NCAA tournament."
Not only were the Hoosiers one of the 68 teams in, they were far off the bubble as well.
The NCAA tournament selection committee rated them as the top No. 10 seed and not even among the last four byes. The Hoosiers, in contrast, admitted they expected an 11 or 12 seed if they were to even be selected into the field at all. And that added to the excitement even more.
Indiana was back in the field of 68, its third selection in four years.
"It's a great, great feeling to watch people that put so much into it — being it the players, the coaches and the families — and see them have that kind of expression of just pure, unbridled joy," Crean said. "It's just no question that's what it was. It was exciting."
Filed to: 2015 NCAA tournament, Nick Zeisloft, Tom Crean, Yogi Ferrell