Hoosiers taking away positives from loss to Maryland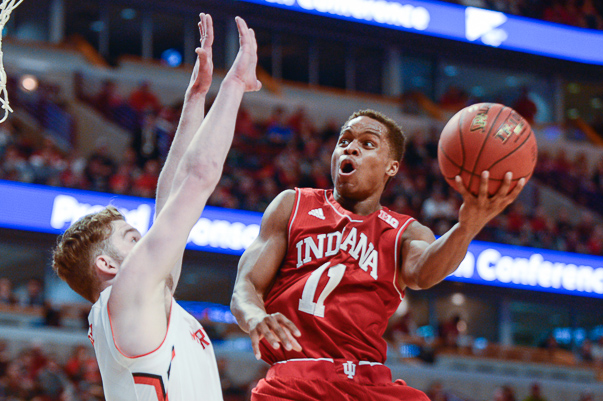 CHICAGO — Indiana's players on Friday night held their heads high in the postgame locker room following their 75-69 loss to Maryland.
Yes, the Hoosiers were knocked out of the Big Ten tournament and now face an uncertain fate on Sunday when the NCAA tournament field is announced.
But it was not for a lack of effort against the Terrapins.
"We understand that we've got to play defense at a high level and energy and a hustle game at a high level, and I think we've come to Chicago and done that," Indiana coach Tom Crean said. "Unfortunately we're walking out of here without the win today, but we're getting better. Our defense has gotten better. We got a lot of really good basketball from a lot of people."
Off less than 24 hours of rest, the Hoosiers faced the high-flying Terps (27-5) — who had won seven straight games — yet gave them trouble throughout the night. Playing energetic, man-to-man defense for the second straight night after Thursday's 71-56 win over Northwestern, the Hoosiers forced eight Maryland turnovers in the first half alone, scoring 10 points off of those mishaps.
Maryland had plenty of success offensively by halftime, however — to the extent of a 55.4 eFG%, 13 second-chance points, eight offensive rebounds and a 15-7 edge on the rebounding boards. That said, the Hoosiers trailed by just two.
"When you have a lot of energy playing defense, get out in transition, that opens the floor for us," freshman Robert Johnson said. "Let us get a rhythm early. And then once you have rhythm you try to ride that through for as long as you can.
"And sometimes in the second half, the shots just don't fall."
Indiana in the second half shot just 7-of-31 from the field — a 22.6 percent mark in contrast to its 48.4 percent rate from the field in the first half. The shots weren't going in, as many Hoosiers said following the game.
But they weren't necessarily bad looks. Johnson missed a 3-pointer in the final minute from the left wing. Yogi Ferrell missed two open ones, as well.
The sentiment from the Hoosiers after the game was clear, though. There were no regrets in any of their shot selections in the second half.
"Sometimes they just don't fall," junior Nick Zeisloft said. "They were great looks. I would love to have Rob have the same shot in any game, and Yogi the same way. They just didn't go in. That's fine. Nothing you can do about it at this point. They were great looks for us."
All the while, Indiana stayed close with Maryland throughout the second half and up until the final minutes.
It limited the Terrapins to just three second half offensive rebounds. It didn't allow a single second-chance point. It was within three free throws of the Terrapins — and that's including a late barrage in the final seconds.
Staying within striking range throughout the second half, the Hoosiers got within two points on three separate occasions in the final 4:30, including once with 38 seconds remaining.
But those missed shots came back to haunt them as Maryland sealed the game at the free throw line.
"Sometimes the ball is just not going to fall your way," sophomore Stanford Robinson said. "It just didn't fall the way you wanted to. But I mean I'm proud of this team. We still battled even though shots weren't falling."
Indiana leaves Chicago with a 20-13 record and with no assurance they will be in this year's NCAA tournament field. After the game, Maryland's Jake Layman told the media, "I think our mindset tonight was crushing someone's dreams."
The Hoosiers' dreams were not crushed by the Terrapins, they said. Instead, they left the United Center feeling optimistic more than anything.
They now have something to build on.
"I'm proud of our players," Crean said. "I'm proud of the way we've approached the week. I'm proud of the way we responded to a couple of tough games at the end, and with a team like this, the youth that they have, the fact that they're getting better this time of year is a very encouraging thing for us."
And Crean wasn't alone in that conviction.
"Even I'm thinking 'Where has that been at the whole season?'" Ferrell said. "But I just keep telling these guys, 'play desperate, play desperate.' We don't want to lose. We don't want our season coming up short. We know when we just didn't give it our all.
"We gave it our all. We did everything we could do, and we've just got to tip our hats to the opponent. "
Filed to: Maryland Terrapins