Hoosiers look forward to rubber match with Terps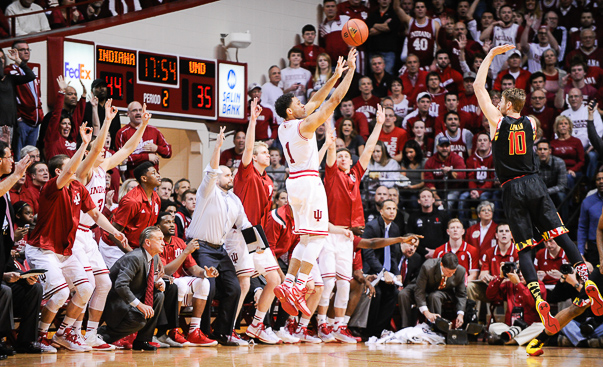 CHICAGO — Indiana knows its position in regards to the NCAA tournament field. It knows it can improve on it tonight.
Heading into this evening's game at 6:30 ET against No. 2 seed Maryland (26-5) in the Big Ten tournament quarterfinals, the Hoosiers (20-12) could move themselves off the bubble with a win over the Terrapins.
And with both teams exchanging wins on their home courts this season, it's a matchup the Hoosiers are excited to have.
"We know the position we're in," freshman James Blackmon Jr. said. "We're not really thinking about it. We know that we can win these games, though, and that's what we're going to try to do."
In their prior two games against the Terrapins this season, the Hoosiers have had promising performances in each.
The first was an 89-70 drubbing of the Terps in Assembly Hall, a game in which the Hoosiers had their best offensive performance of the Big Ten season — all the while still allowing 1.09 points per possession. The second, in College Park, saw the Hoosiers have the chance to win at the buzzer, only for a Yogi Ferrell 3-pointer and put-back to miss.
And if those two games have indicated anything, freshman Emmitt Holt said, it's that tonight's game should be an exciting one.
"It's definitely going to be a fun game, I can tell you that much," Holt said. "First game was a good game, second game we was right there, didn't get it. I'm looking forward to it."
The Hoosiers are aware, though, of the challenge the Terrapins present — especially on such short notice.
Following Thursday's win over Northwestern, the Hoosiers said they would return to the team hotel and watch film on the Terrapins, their game-planning significantly shortened by the quick turnaround.
And during his press conference on Thursday, Indiana coach Tom Crean said it's not a matter of stopping just one or two guys on the Terrapins like Dez Wells or Melo Trimble. It's about game-planning to take away things from them as a whole.
"We've got to stop the team," Crean said. "It's not about individual match-ups. Obviously those are two very good players, but once you start focusing so much on them, then Jake Layman, Evan Smotrycz, the freshman guards like Wiley and Nickens and Pack, those guys make you pay."
On Thursday, Indiana snapped a three-game losing streak to earn its 20th win — potentially keeping its NCAA tournament spot as well. The Hoosiers were pleased with just how hard they played in that game.
Tonight, they can win back-to-back games for the first time since their four-game winning streak from Jan. 10 to Jan. 22 and earn another signature win.
But to do just that, Ferrell said, they will have to play even harder.
"We know Maryland is a great team," he said. "They've got great guard, great bigs down low. We've just got to go out there and do what we do."
Filed to: Maryland Terrapins