Five takeaways from Indiana's loss to Maryland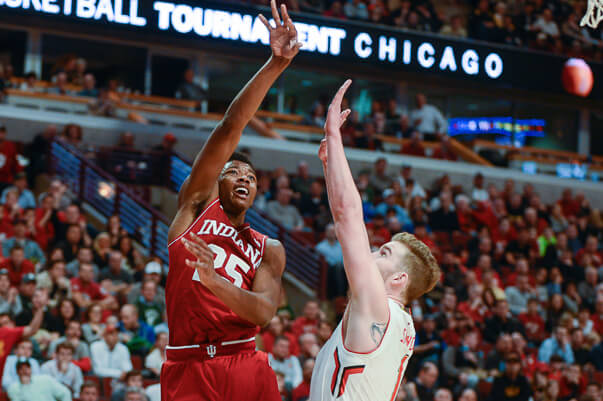 CHICAGO – Indiana kept things interesting for Selection Sunday with a 75-69 loss to Maryland on Friday night in the quarterfinals of the Big Ten tournament at the United Center.
The loss dropped the Hoosiers to 20-13 overall and kept them firmly on the NCAA tournament bubble. Here's a look at five takeaways from the loss to the Terrapins:
· Maryland won the game at the free throw line: In our preview on Friday morning, we mentioned Maryland's ability to get to the foul line as a major key to the Terrapins' success offensively. That ability was on full display in this game as Maryland got to the line 33 times for a free throw rate (FTA/FGA) of 67.3 percent.
This wasn't just the usual suspects for Maryland, it was a team effort. Dez Wells and Melo Trimble combined for 16 attempts, but Evan Smotrycz and Jake Layman each got there six times and Jared Nickens and Damonte Dodd found their way to the stripe as well.
The end result was Maryland taking 11 more free throw than Indiana and outscoring the Hoosiers by seven from the line. In a game that was tight and well contested throughout most of the second half, it was the difference.
· Indiana's shooting goes cold in second half: Through 20 minutes, it appeared this game was destined to end in the 80's as Maryland went for 1.23 points per possession in the first half and Indiana wasn't far behind at 1.17 points per trip.
But neither team shot it well after intermission. Maryland hit just 8-of-21 shots in the second half and Indiana was even worse at 7-of-31. The Hoosiers were particularly cold from behind the 3-point line as evidenced by a 3-of-16 performance from deep after halftime.
So was this just an instance of Indiana not getting good looks or shots just not falling?
"(It was) shots not going in," Troy Williams said. "Even in the last two or three minutes, Yogi (Ferrell) and Rob (Johnson) had a nice 3 that they usually make, but they just didn't fall."
· Emmitt Holt continues his strong play: Freshman forward Emmitt Holt was moved into a bigger role due to the absence of Hanner Mosquera-Perea and he looked much like the player who dazzled early in the season against Pittsburgh in the Big Ten-ACC Challenge.
Holt finished with a team-high 12 rebounds, six of which came on the offensive end, and also had six points in a career-high 25 minutes. He also had three blocked shots. Depending on the availability of Mosquera-Perea moving forward, Holt could be in line for significant minutes in IU's next game, whether it be in the NCAA tournament or the N.I.T.
"I just did what I do every game," Holt said postgame. "Crash the class, go hard, set screens. Just everything that we need to do."
· Troy Williams was IU's best player: When Troy Williams is engaged, it typically leads to Indiana either winning or being competitive and against the Terps, he was Indiana's best player.
Williams was efficient offensively as he knocked down five of his nine field goals and he also went 6-of-6 from the foul line and added nine rebounds in 29 minutes. Foul trouble limited his minutes a bit in the first half, but in a span of 3:11 in the first half, he scored 10 of Indiana's 13 points.
"The bottom line is that he just keeps improving on both ends of the court," Tom Crean said. "And it really is just really about that, that when he really locks into getting better, and he locks into being where he needs to be – and really it's about taking the next step defensively for him because look what he's done with the rebounding, look what he's done with his efficiency, look at his shot making today. That's basically what it is."
· Indiana couldn't match the physicality of Dez Wells: While Williams was a difference maker for the Hoosiers, it was Dez Wells who was the best player on the floor on this night.
Wells, who is a difficult cover for IU's guards because of his physicality, did a little bit of everything in finishing with 22 points. When he wasn't finishing tough shots around the rim, he was making his way to the foul line, where he hit eight of his nine attempts. With Yogi Ferrell spending much of his time guarding Melo Trimble, Indiana struggled to keep Wells in check for much of the evening.
"He's a really tough matchup just from the aspect that he's a bigger guard," Robert Johnson, who spent significant time on Wells, said. "He's kind of unconventional in the fact that in today's game, he likes to post up. He makes the simple play."
Filed to: Emmitt Holt, Troy Williams