Indiana sets the tone early and tops Northwestern, 71-56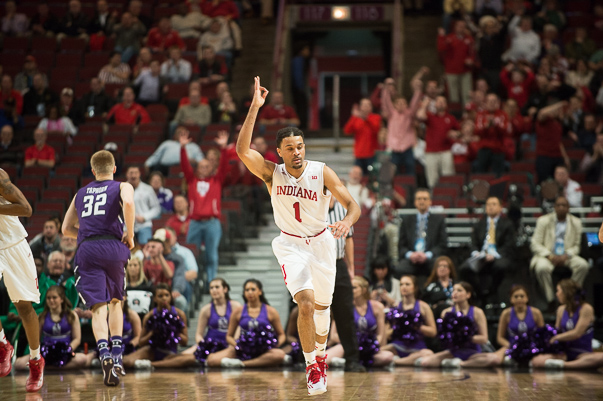 CHICAGO — Indiana's players knew it was guaranteed only one game in the Big Ten tournament.
They played on Thursday like they wanted more.
In a dominant 40 minutes, the Hoosiers (20-12) fought their way to a 71-56 win over Northwestern in the United Center, snapping a three-game losing streak started by the Wildcats just over two weeks ago, 20 miles away in Evanston.
"We're only guaranteed one game," junior Yogi Ferrell said. "And that was this game right here. So we wanted to keep this season going on.
"And we don't want it to end early and pack up going home."
After three straight losses, the Hoosiers spent much of the lead-up to the Big Ten tournament having energetic practices — ones that were so good they gave the team its confidence and edge back, Collin Hartman said. It showed against the Wildcats.
From the start of Thursday evening's game, the Hoosiers set the tone with an aspect of their game they have not been known for: their defense. They pressured the ball. They played man-to-man and used zone defense sparingly. And not only did they force turnovers, they forced misses.
"Tonight we came out and set the tone early of how we wanted the game to be," freshman Robert Johnson said.
In fact, at one point in the first half Indiana forced 11 straight stops on defense. It turned into offense.
By the 10:14 mark, the Hoosiers got off to a 24-6 start against the Wildcats. They did not look back.
"Like everybody knows, we're not the tallest team in the league," freshman forward Emmitt Holt said. "So once we all box out like we needed to and get defensive boards, that starts the break out for all of us. Once we get out and run, everything good happens."
At the end of the first half, the Hoosiers held a healthy 14-point lead. They had eight assists to just three turnovers. They allowed just four offensive rebounds and just two Wildcats 3-pointers — two aspects of the first matchup that the Hoosiers struggled with.
And they continued to nurse a double-digit lead throughout the second half.
But by the time nine minutes were left on the clock, the Wildcats got within 11 points. Indiana had eight empty possessions in its past 10. They were playing through a rut.
In that same span, however, the Hoosiers forced seven stops of their own. The drought ended with a James Blackmon Jr. 3-pointer.
"We knew they weren't going away," junior Nick Zeisloft said. "We had to keep playing, keep getting stops. A few of the shots we hit were big ones to keep them out of the game and keep the momentum on our side."
Indiana continued to hit shots. It continued to stop the Wildcats.
The Hoosiers held Northwestern to just five offensive rebounds, just three second-chance points and just five 3-pointers on Thursday. To counter, Indiana had 20 offensive rebounds, a 42-25 edge on the boards and 20 second-chance points.
It all allowed Indiana to extend its season, into Friday's game against No. 2 seed Maryland and perhaps into the NCAA tournament.
But that didn't come as any surprise to the Hoosiers.
"We were playing hard, pushing, sharing the ball, playing defense," Ferrell said. "Even at the end we didn't want to give up any points, try and shut them out.
"When we do that and go out there and not have little segments where we play hard, where we play hard the whole game, we can't lose."
Filed to: Northwestern Wildcats