Five takeaways from Indiana's win over Northwestern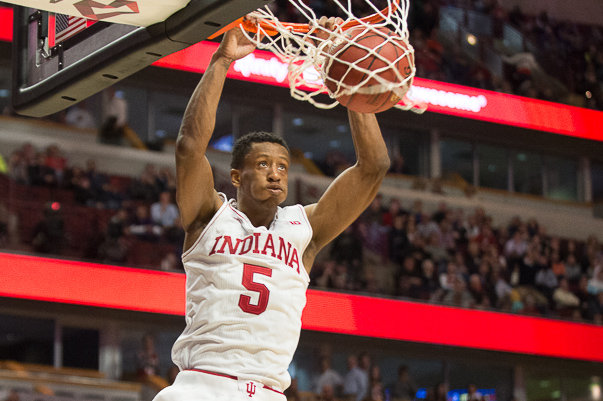 CHICAGO – Indiana advanced to the quarterfinals of the Big Ten tournament on Thursday night with a 71-56 win over Northwestern at the United Center.
Here's a look at five takeaways from the win over the Wildcats:
· Indiana played its most complete game in a while: The Hoosiers have struggled since beating Maryland 89-70 back on Jan. 22 and a 4-8 record over its last 12 had this group facing a must-win situation in its postseason opener.
It was fair to wonder how Indiana would respond in a pressure filled situation, but the Hoosiers started strong and never really let off the gas in its most complete effort in over a month. It was the third best defensive performance against a Big Ten team this season (.97 points per possession allowed) and a significant improvement over the first meeting in Evanston when the Wildcats torched IU for 1.25 points per trip.
Indiana's renewed energy was evident early as it crashed the offensive boards and made things uncomfortable for Northwestern offensively by ramping up the ball pressure, getting into the passing lanes and holding to just 22 first half points. That set the tone for the rest of the evening as Indiana built a lead and was never really challenged from there.
"We moved the ball extremely well, but the pressure of our defense, the energy, the tenacity, all those things were really, really strong," Tom Crean said. "I'm extremely proud of the coaches and the way that they prepared them and the way these guys and their teammates, the way that they played."
· James Blackmon Jr. fills the stat sheet: James Blackmon Jr. has been one of the best scorers in the Big Ten all season and his full offensive repertoire was on display against Northwestern as he hit 8 of his 15 shots from the field and added four free throws for a game-high 25 points.
But it wasn't just the scoring that set Blackmon Jr. apart in this one. He added a career-high seven assists, grabbed six rebounds and had just one turnover. Clearly, the loss last month in Evanston was still on IU's mind.
"We felt like we owed them one," Blackmon Jr. said. "We learned a lot from the film, the staff, and we basically knew everything we had to do to win, and we're just going to try to carry it into tomorrow."
· Indiana owned the rebounding battle: As he took questions in front of his locker following IU's win, sophomore Troy Williams didn't hesitate when he was asked what the difference was on the glass.
"All rebounding and defense is effort," he explained, succinctly.
In that case, score the effort battle in favor of the Hoosiers. Indiana rebounded 50 percent of its misses as Williams soared through the air for five offensive boards, Blackmon Jr. added four of his own and freshman Emmitt Holt emerged from the bench to grab three. In all, Indiana had 20 offensive rebounds and turned them into 20 second-chance points. Northwestern, meanwhile, had just five offensive boards and three second-chance points.
"Their physicality tonight, I thought, knocked us back in the game, and the proof is in the pudding," Northwestern coach Chris Collins said. "20 offensive rebounds, points in the paint."
· Emmitt Holt plays well and could be pivotal moving forward: Indiana's win came at a price as the Hoosiers lost junior Hanner Mosquera-Perea at the 10:34 mark of the second half when Northwestern's Alex Olah took a charge and his head collided with Mosquera-Perea's right knee.
It's the same knee that forced Mosquera-Perea to miss seven games during the conference schedule and the United Center fell silent when the Colombia native went to the deck.
It's unclear if Mosquera-Perea will be able to play again this season, but if there was an encouraging sign that IU will be able to overcome the loss, it was the play of Holt, who came off the bench to score eight points and grab four rebounds in 15 minutes.
· Indiana is one step closer to a NCAA tournament bid: This win didn't take Indiana off the bubble for the NCAA tournament, but a loss would have probably put the Hoosiers in the lock category for the N.I.T. In that sense, it was a must-win and with its back up against the wall, Indiana delivered a much-needed win.
IU's players didn't want to talk about whether they feel they're a NCAA tournament team, but Crean was asked about it in his postgame press conference and offered some extended thoughts.
"Well, I don't know. You know, I really don't know, and no one knows. That's the beauty of it all. I would think when you look at criteria, I would think when you look at what we've done with the RPI wins, what we've done with the non-conference scheduling and winning some of the games that we did, who you choose to play, I would hope so.
"I think when you win 20 games and you end up winning now the tenth conference game in this league, I know it was 9 and 9 during the league and beat some of the teams that we've beaten, I would hope so. We're getting better. "
Filed to: Northwestern Wildcats