What to Expect: Northwestern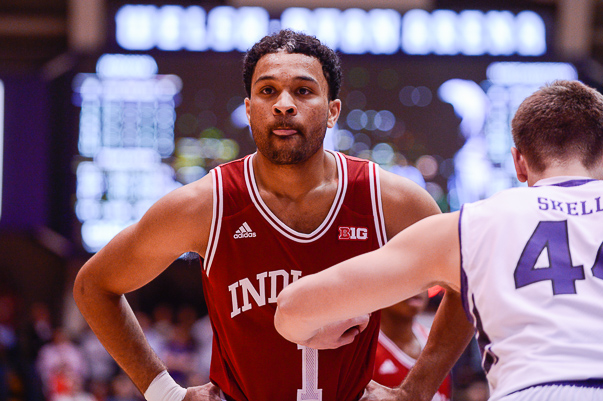 Indiana begins postseason play on Thursday evening in the Big Ten tournament at the United Center. The seventh-seeded Hoosiers will open against Northwestern. The Wildcats won the only regular season meeting between the teams, 72-65, on Feb. 25 in Evanston.
The game will be broadcast at 6:30 p.m. ET on ESPN with Mike Tirico, Dan Dakich and Quint Kessenich on the call:
For the second straight season, Indiana heads to the conference tournament following a loss. But unlike a season ago where the Hoosiers went 3-3 in their final six Big Ten games, this Indiana team finished the regular season just 2-4 in its final six contests and in the midst of a three-game losing streak.
As documented in Tuesday's March Watch, it's been a steep fall for the Hoosiers in recent weeks from a team that looked like a very solid bet to return to the NCAA tournament to squarely on the bubble for selection. While there's no certainty that Indiana will make the tournament by winning Thursday's game against Northwestern, a loss probably seals IU's fate as a N.I.T. team.
The notion of the "must-win game" is often tossed around as cliché, but in this instance, it's an accurate description of where Indiana stands in terms of the NCAA tournament. Win and there's still a discussion to be had. Lose, and well, start prepping for another year with no March Madness.
ANOTHER LOOK AT THE WILDCATS (All stats are for conference games only)
Northwestern's win over Indiana in Evanston on Feb. 25 gave the program its first four-game winning streak in the Big Ten since 1967. Since that win, the Wildcats are just 1-2, with the lone win a double overtime triumph over Michigan that was essentially a miracle. The two losses, at Illinois and at Iowa, came by an average of 21.5 points. That said, this is a team that has responded from a 10-game losing streak with a 5-2 mark in its final seven league games, proof that there's still fight in a team without much chance to make the postseason.
In the first meeting, Indiana had no answer for juniors Tre Demps and Alex Olah. Demps took the game over in the second half and finished with 23 points as IU's switching of defenses mid-possession did little to confuse Northwestern. Demps finished the Big Ten schedule as the team's leading scorer at 13.7 per game and hit 43 percent of his 3s. Here's his shot chart in conference games, via Shot Analytics: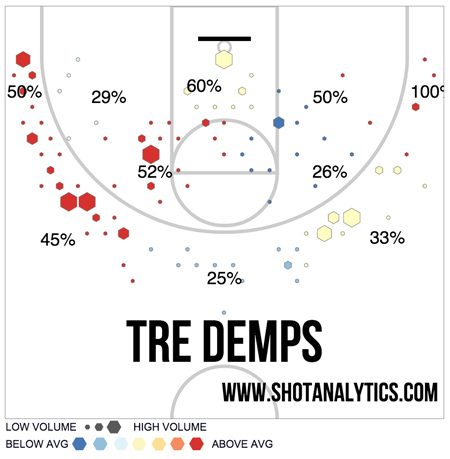 Olah, meanwhile, destroyed Indiana in the paint in his 35 minutes of action, finishing with 17 points and 11 rebounds. Three of those boards were of the offensive variety and if Indiana doesn't get a body on Olah this time on missed shots, it could again prove costly. Senior wing JerShon Cobb, who missed the last game, returned for Northwestern's final two games and should be in the starting lineup tomorrow as well. Cobb is averaging just 6.6 points in league play, but has been efficient. He's making 56.5 percent of his 2s and 43.2 percent of his 3s. He's most comfortable in the corner, as he's hit 50 percent of his left corner 3s and 57 of his right corner 3s in league play.
Freshman Vic Law was also effective in the first game in Evanston as he finished with 14 points and eight rebounds in 28 minutes off the bench. Law is another capable 3-point shooter as he knocked down all three of his attempts in Northwestern's win over IU and is making over 44 percent against Big Ten opponents. Law is another guy that hurt the Hoosiers on the offensive glass.
Bryant McIntosh, arguably the league's most underrated freshman, finished his first Big Ten season third in the league in assist rate and as the team's third leading scorer at 11.4 points per game. McIntosh is best served in the facilitator role as he hit 34.8 percent of his 3s and just 46.4 of his 2s in league play.
A third freshman, Scottie Lindsey, figures heavily in the rotation and while he played just 12 minutes and scored three points in the first meeting, he's a solid defender who can knock down the occasional 3. Sophomore Sanjay Lumpkin started 12 Big Ten games, but is a low-usage, average efficiency player who fills a role but not the stat sheet. Lumpkin is averaging just 2.3 points in league play, but scored seven against Indiana.
There are a few other Wildcats who could figure into Thursday's outcome. Backup point guard Dave Sobolewski is a non-threat offensively and essentially just a space filler for when McIntosh needs a break. Sophomore Nathan Taphorn is a 3-point specialist who hit 50 percent of his 3s in Big Ten games. And freshman Gavin Skelly serves as a frontcourt backup who rarely contributes statistically.
A LOOK AT THE NUMBERS, OTHER THOUGHTS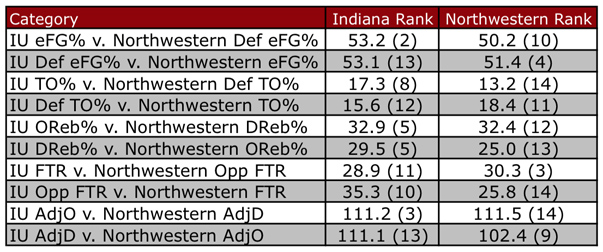 IU's loss in Evanston was defined by a mind-boggling second half stretch in which the Hoosiers went 10:06 of clock time without a point. This was after a first half in which both teams lit up the scoreboard to the tune of 40 points. In the postgame press conferences, Indiana coach Tom Crean said that his team just missed shots, while Troy Williams questioned why the Hoosiers settled for so many jump shots rather than attacking the rim.
Whatever the explanation, it's a performance that Indiana simply cannot afford to repeat on either end of the floor. The 1.24 points per possession Indiana surrendered to Northwestern were the most the Wildcats scored in a Big Ten game this season. And even with 10:06 of game time elapsing without a point, Indiana still managed 1.12 points per possession, slightly above average for the Hoosiers in conference play.
So what are the keys for the Hoosiers? Don't be surprised to see Indiana turn up the ball pressure and try to create some turnovers and easy scoring opportunities rather than sitting back in a zone. It worked last against the Wildcats and perhaps the Hoosiers will switch things up after finding success with some pressure late against Michigan State as well. Perhaps more man-to-man will lead to a better job on the defensive glass as Indiana surrendered an offensive rebounding percentage of 33.3 in the first meeting.
WHAT IT COMES DOWN TO
Pomeroy's ratings, as they did for the first meeting, have the Hoosiers as a favorite (this time by five) with a 68 percent chance of an IU victory. The Vegas line opened with IU as a 4.5-point favorite, but is down to 3.5 as of Wednesday afternoon. Sagarin, like Pomeroy, favors Indiana by 5.
In terms of setting itself up for a run in the Big Ten tournament, Indiana couldn't have asked for a better draw by getting the Big Ten's worst defensive team in the opener and the potential for a Friday matchup with Maryland, a team it crushed at home and lost to narrowly in College Park.
But in a season where Indiana could have wrapped up a NCAA tournament bid by just going .500 over its final 12 games, the Hoosiers find themselves in a compromising situation needing a win to even keep hopes alive. Indiana hasn't played its best game in a while, the pressure to win this game is significant and quite simply, it's gut check time to see where this group is with four days to prepare for a winnable game. Can the Hoosiers deliver and make Selection Sunday intriguing? Or does the limp to the finish line continue with a fourth straight loss and a ticket punched to the NIT?
Filed to: Northwestern Wildcats