Inside the Hall's 2015 Big Ten tournament preview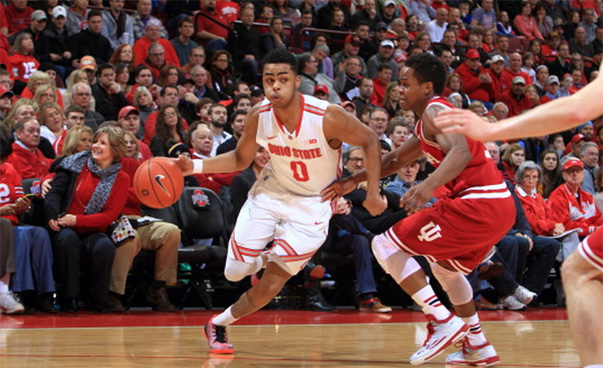 We'll have our traditional what to expect series previewing Northwestern on Wednesday, but first up, Inside the Hall previews the Big Ten Tournament as a whole. The event tips off on Wednesday evening:
2015 Big Ten Tournament bracket
Location: Chicago (United Center)
Dates: March 11-15
Teams with a bye to Thursday: Michigan, Illinois, Iowa, Northwestern, Indiana, Ohio State
Teams with a double bye to Friday: Wisconsin, Purdue, Maryland, Michigan State
Television: BTN, ESPN, ESPN2, CBS
Most friendly path to Sunday: Wisconsin. It's only appropriate that the league's best team has the most favorable road to the championship game, right? The Badgers only need to beat Illinois or Michigan on Friday to reach the semifinals and then will likely get Iowa or Purdue, who they finished the regular season 3-0 against. Wisconsin absolutely owned Iowa in the regular season, so a Saturday game against the Hawkeyes would be particularly favorable.
Most intriguing Thursday matchup: The only two Thursday matchups that are set both hold importance for the higher-seeded teams. To open Thursday, Illinois will face Michigan — a team it split a pair of overtime games against this season. It's a must-win to keep hopes alive for a NCAA tournament berth. And then in Thursday night's opener, Indiana gets a second shot at Northwestern, in a must-win game for the Hoosiers to remain on the right side of the NCAA tournament bubble. We'll know a lot more about the Big Ten's bubble situation by the end of the night on Thursday.
Team with the most to prove: Indiana. There's an argument to be made for Illinois, but realistically, Indiana is the stronger possibility to make the NCAA tournament field of the two teams and given how poorly the Hoosiers limped to the finish line in the regular season, there's a lot of uncertainty surrounding how this group will respond. A 15-4 record has deteriorated to 19-12 and there's tremendous pressure on Indiana to at least win Thursday's game against Northwestern to keep its tournament hopes alive. A loss seals a NIT bid in all likelihood, but a win sets the Hoosiers up for a showdown with Maryland, a team that it's played well against twice.
Players to keep an eye on:
· D'Angelo Russell, Ohio State: This will be D'Angelo Russell's first (and last) Big Ten tournament and as the most talented player in the conference, he's more than capable of leading the Buckeyes on a run. Russell is a star, a certain lottery pick and is the most fun guy to watch in the conference. Enjoy him while you can, Big Ten fans.
· D.J. Newbill, Penn State: The Big Ten's leading scorer was snubbed for All-Big Ten first team honors in the eyes of some and coming off his buzzer-beating heroics at Minnesota, he'll be looking to extend his final collegiate season as far as possible. Newbill on his own isn't enough to lead Penn State on a run, but he's not going down without a fight.
· Branden Dawson, Michigan State: We all know that Dawson is a force when fully healthy, but his status seems a little bit up in the air entering the Big Ten tournament after suffering a head injury last week in a win over Purdue. The Spartans need Dawson on the floor to be at their best.
· Traevon Jackson, Wisconsin: The Big Ten tournament was the original targeted return date for Jackson, who broke his foot in a loss at Rutgers in January. Time is running out to get him back into the fold and while he could get a few tune-up opportunities early in the NCAA tournament, it would be huge for the Badgers to have him available in Chicago.
Bids on the line: Wisconsin, Maryland, Michigan State, Ohio State and Iowa are NCAA tournament locks. Purdue is likely in, but probably needs to beat Iowa (or Nebraska or Penn State) to feel completely safe. Indiana is the team with the most on the line in Chicago and if the Hoosiers don't beat Northwestern on Thursday, they're headed to the NIT in all likelihood. Illinois is still technically in the tournament picture as well, but probably needs to beat both Michigan and Wisconsin to get on the right side of the bubble. The Michigan win seems feasible, but beating a Wisconsin team that is playing for a No. 1 seed in the NCAA tournament is no small task.
Filed to: 2015 Big Ten tournament