Inside the Hall's 2015 All-Big Ten teams, awards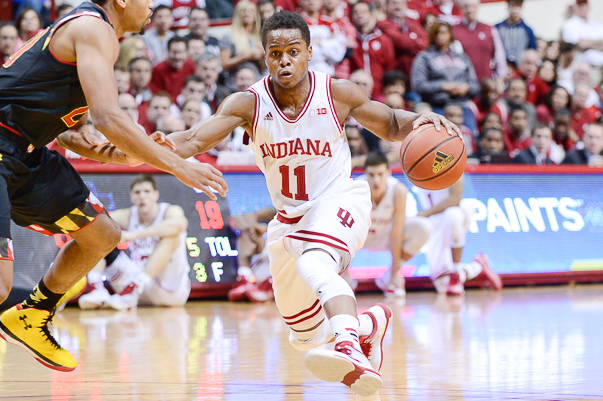 The Big Ten will announce its All-Big Ten teams and awards later tonight, but here's the Inside the Hall staff's selections for the various honors that will be handed out:
All-Big Ten freshman team
· D'Angelo Russell, Ohio State; Melo Trimble, Maryland; James Blackmon Jr., Indiana; Bryant McIntosh, Northwestern; Vince Edwards, Purdue
Comment: The first three selections were clear cut and then McIntosh and Edwards get the nod ahead of Robert Johnson (Indiana), Aubrey Dawkins (Michigan), Leron Black (Illinois), Ricky Doyle (Michigan), Isaac Haas (Purdue), Muhammad- Ali Abdur-Rahkman (Michigan), Vic Law (Northwestern), Nate Mason (Minnesota), LouRawls Nairn (Michigan State) and Jae'Sean Tate (Ohio State). Overall, this was a much stronger freshman group than last season.
All-Big Ten defensive team
· Shannon Scott, Ohio State; A.J. Hammons, Purdue; Branden Dawson, Michigan State; Dez Wells, Maryland; Josh Gasser, Wisconsin
Comment: Each of these five guys were instrumental to their teams defensively for different reasons. Hammons has the ability to lock down the paint. Scott, Wells and Gasser are terrific as perimeter defenders and Dawson is the league's best rebounder and was top 11 in the conference in both block and steal percentage.
All-Big Ten teams
· Third team: Malcolm Hill, Illinois; Denzel Valentine, Michigan State; Travis Trice, Michigan State; Nigel Hayes, Wisconsin; Jake Layman, Maryland
· Second team: Melo Trimble, Maryland; Sam Dekker, Wisconsin; D.J. Newbill, Penn State; A.J Hammons, Purdue; Branden Dawson, Michigan State
· First team: Frank Kaminsky, Wisconsin; D'Angelo Russell, Ohio State; Dez Wells, Maryland; Aaron White, Iowa; Yogi Ferrell, Indiana
Comment: Three of the first team picks were clear cut in Kaminsky, Russell and White and then it was between Wells, Ferrell and Trimble for two spots. Even though Wells missed time in Big Ten play, he anchored the Big Ten's best defense and received the nod over Trimble because of it.
Big Ten coach of the year: Mark Turgeon, Maryland
Comment: Turgeon started the season on the hot seat and guided Maryland to a second place finish in the program's first season in the Big Ten. No one had Maryland as a top 10 team in the preseason and that's where the Terrapins currently sit. And for that, Turgeon deserves major credit.
Big Ten freshman of the year: D'Angelo Russell, Ohio State
Comment: There's no debate here as Russell is clearly the lead guy in a very good group of Big Ten freshmen. As terrific as Trimble and Blackmon Jr. were for their respective teams, Russell was more dominant on a consistent basis and is the league's second best player behind Kaminsky.
Big Ten sixth man of the year: Gabriel Olaseni, Iowa
Comment: Few teams have the luxury of bringing a guy with the size and athleticism of Olaseni off the bench and the numbers show that he was one of the league's better big men. He finished the conference season as the league's second best offensive rebounder and also in the top 10 in block percentage.
Big Ten player of the year: Frank Kaminsky, Wisconsin
Comment: This was an absolute no contest as Kaminsky is arguably the best player not just in the Big Ten, but in the country. It was his presence that led Wisconsin to a 16-1 mark in conference games in which he appeared with the lone blemish coming at Maryland last month.
Filed to: Robert Johnson, Yogi Ferrell